Schwarzenegger Legacy
---
Gov. Schwarzenegger's Legacy Assessed

UC Riverside political scientist Shaun Bowler says the governor left expectations unfulfilled.

(December 21, 2010)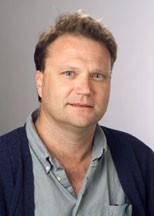 Shaun Bowler
RIVERSIDE, Calif. – When angry voters recalled Gray Davis and chose Arnold Schwarzenegger as California's governor in 2003, the former Mr. Universe and Hollywood action hero vowed to reform government and reunite a deeply divided state. Did he succeed?
Shaun Bowler, professor and chair of the Department of Political Science at UC Riverside, says the governor will not leave office in January with the kind of legacy he likely envisioned.
The governor did introduce reforms into the workers compensation system, Bowler says. "He has also tried to claim credit for several political reform efforts – like re-districting. But given how every third person in California seems to be intent on reforming state government and circulating an initiative to fix it, claiming credit for political reform in the state is like claiming credit for the sunshine. A lot of this stuff would have happened without him."
But he did have some "soft" accomplishments, Bowler added. One was to restore some public confidence in their government in 2003.
"Back in 2002 Gray Davis generated pretty widespread anger and dismay about state government," the political scientist recalled. "It wasn't just talk radio-driven, but seemed pretty widely felt. Arnold Schwarzenegger's election seemed to turn that feeling around. That, I think, is important."
The governor also has been "an unequivocally positive ambassador and booster for the state. Given how much we depend on tourism and trade, that is a terrific boost."
Some of Schwarzenegger's biggest accomplishments are intangible and may seem modest, but they've made people feel better about the state, Bowler says.
"He's governed like the movies," Bowler explains. "Movies aren't real life. You go see one and your life doesn't change, but for a while it makes you feel better, and those feelings are why the movie business is worth millions.
"But I think there is a big lesson here about being realistic. Arnold Schwarzenegger came in to office – like lots of other 'reformers' such as Vicente Fox in Mexico – with people having very high expectations. But the reality is he couldn't possibly fulfill those expectations."
All candidates make claims that they can't possibly fulfill, and the governor wasn't any different, Bowler notes.
"He couldn't turn it around either and for similar reasons," Bowler says. "Sure, he had a hand in raising expectations and trying to govern via TV and initiative, and maybe he raised expectations higher than usual. But he was brought to earth by the same kinds of things that every politician has to deal with – two-thirds rule and lobbying, for example. So maybe – given how obviously underwhelming his governorship has been – we can be more realistic in our expectations for future governors."
Bowler predicts that future governors will have an easier time of governing because the two-thirds requirement for approving the state budget vote has been removed.
Schwarzenegger was successful as a moderate Republican figure, however, Bowler says.
"GOP partisans haven't liked that moderation at all. But he's been the major statewide GOP success this decade. He can be a lesson – and a lifeline – to the GOP hard-liners. Whether they draw the lesson is up to them."
RELATED LINKS
ADDITIONAL CONTACTS
The University of California, Riverside (www.ucr.edu) is a doctoral research university, a living laboratory for groundbreaking exploration of issues critical to Inland Southern California, the state and communities around the world. Reflecting California's diverse culture, UCR's enrollment has exceeded 21,000 students. The campus opened a medical school in 2013 and has reached the heart of the Coachella Valley by way of the UCR Palm Desert Center. The campus has an annual statewide economic impact of more than $1 billion.
A broadcast studio with fiber cable to the AT&T Hollywood hub is available for live or taped interviews. UCR also has ISDN for radio interviews. To learn more, call (951) UCR-NEWS.