Morrison Retires from UC Riverside
---
UC Riverside's Morrison to Retire as Director of Athletics
Longtime Highlander supporters praised Morrison's service to UCR.
(January 13, 2011)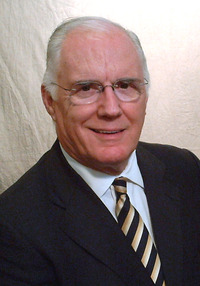 Enlarge
Stan Morrison
RIVERSIDE, Calif., (www.ucr.edu) -- University of California, Riverside Athletics Director Stan Morrison will retire effective August 15, 2011, it was announced today by Morrison and UCR Chancellor Timothy P. White.
Morrison is nationally known for his work on the NCAA Men's Basketball Committee – and for his almost 50 years of service to collegiate student-athletes as a coach, athletics administrator, and academic mentor.
In his work at the Riverside campus of the University of California, Morrison oversaw a transition for Highlander Athletics to NCAA Division I, and brought the campus to a total of 17 intercollegiate athletics programs in men's and women's competition. During his time, the campus saw the addition of several athletics facilities, most notably, Amy S. Harrison field, the Highlander Soccer Stadium, new locker rooms for men's and women's basketball and creation a new outdoor strength training facility.
"I am very grateful for Stan's commitment and service to UCR and the community. There is no bigger fan of Highlander Athletics, and the academic and athletic success of our student-athletes, than Stan Morrison," said White.
"He has been very helpful to me as I have learned about our university and community, and I know that I will seek his advice and counsel in the years ahead. I wish Stan and his wife Jessie the very best for all that is next in their lives."
White said a search committee for a new athletics director had been organized, and will be chaired by Joseph Childers, professor of English and dean of the UCR Graduate Division.
Longtime Highlander supporters praised Morrison's service to UCR.
Nicholas H. Goldware, former chair, UCR Foundation Board of Trustees, and executive vice president, Hub International of California, Riverside said: "Stan Morrison has been at the apex of our athletic growth and his energy and enthusiasm are legendary both on campus and in the community. His commitment to UCR should be a guide to those that follow and the foundation and leadership he has provided will allow the University to benefit greatly in the years ahead. My best wishes and thanks go to both Stan and Jesse!"
Trustee and UCR Charter Hall of Fame athlete Amy S. Harrison, chair of the Highlander Athletics Association said: "Stan Morrison has been a real dynamo and I'm going to miss him as our athletics director. He had a real energy, compassion and vision to his role here. He brought UCR to the Division I arena that we needed to reach. I know that he will continue with that same passion to make contributions to our community in coming years and because of him, we now have a great base to build upon in UCR athletics. I look forward to helping the university as we forge new frontiers."
Anthony Norman, professor emeritus of biochemistry and biomedical sciences and former long-time UCR faculty athletics representative said: "Amongst Stan Morrison's many career contributions to collegiate athletics, he always focused on the quality education provided to student-athletes by the University of California. Stan has also been a tireless advocate for enhancing student-athlete academic support programs, and has been an effective translator in describing to the faculty at UCR the challenges of managing Division I intercollegiate athletics."
Prior to joining UCR, Morrison served as vice president for The Dudeck Group, an executive effectiveness-coaching program for high achieving individuals. Before that, he achieved national recognition as a basketball coach or athletics administrator at four Division I universities -- San Jose State, the University of Southern California, the University of the Pacific, and the University of California, Santa Barbara. He also has worked as a sports broadcaster.
Morrison said, "I'm so very grateful for the 12 years I have spent at UC Riverside. I've worked with wonderful coaches, student-athletes and supporters and I'm very fond of the campus. My wife Jessie and I are also extremely fond of the Riverside community --some of the nicest people we've ever met reside here. I'm thrilled that Chancellor White and the faculty at UCR are leading the way forward for the athletics program."
Morrison was a member of the University of California, Berkeley men's basketball team, as the Bears won the NCAA title in 1959 and were runners-up in 1960. After earning a bachelor's degree in physical education in 1961, Morrison was a European All-Star and helped the Real Madrid team to the European Cup finals. He returned to Cal in '62 as a graduate assistant and played AAU basketball for the San Francisco Olympic Club, earning All-American honors.
Morrison's first collegiate head coaching position was at the University of the Pacific (1972-79), where he led the Tigers to the Pacific Coast Athletic Association championship and a berth in the NCAA Tournament in 1979. He moved to the University of Southern California for seven seasons (1979-86) and led the Trojans to the NCAA Tournament in 1982, then repeated the feat in 1985 after USC won a share of the Pacific-10 championship.
In 1986 Morrison was appointed Director of Athletics at the University of California, Santa Barbara. While at UCSB (1986-89), he was administrator over the Gauchos 21-sport athletics program, helped raise significant funds annually for UCSB Athletics and served on the NCAA Division I Women's Basketball Tournament Committee. In 1989, he returned to the coaching ranks at San Jose State University, guiding the Spartans for nine years (1989-98). His stay in San Jose was highlighted by a Big West Co-Championship in 1994, and Big West Tournament Championship, NCAA bid, and first round match-up with Rick Pitino's Kentucky Wildcats in 1996. He is one of a handful of coaches to take three different schools to the tournament, and the only individual to do it with three schools from the same state.
Upon leaving San Jose State, Morrison served as a personal coach and consultant to then Los Angeles Lakers' center Shaquille O'Neal. He has also worked as a color commentator for Pac-10 and West Coast Conference basketball for FOX Sports and BAY TV.
Morrison has served in a number of community-based and support organizations, including High Five America, the Olive Crest group homes for abused teenagers, the Inland Empire Boy Scouts of America, the Mary S. Roberts Pet Adoption Center, the ARC Riverside County, and as a participant for "The Unforgettables" which provides dignified burials for children from poverty stricken homes. He also contributed time and effort to the Leukemia and Lymphoma Society "Light the Night" event on the UCR campus.
Morrison and his wife have two grown children and four grandchildren, and reside in Riverside.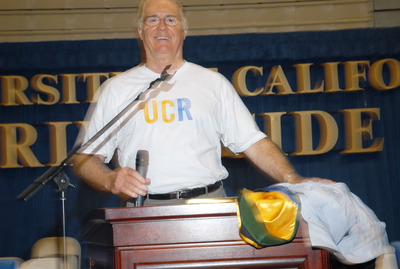 Enlarge
One tradition at UCR's annual student convocation is a pep rally led by Stan Morrison
The University of California, Riverside (www.ucr.edu) is a doctoral research university, a living laboratory for groundbreaking exploration of issues critical to Inland Southern California, the state and communities around the world. Reflecting California's diverse culture, UCR's enrollment has exceeded 21,000 students. The campus opened a medical school in 2013 and has reached the heart of the Coachella Valley by way of the UCR Palm Desert Center. The campus has an annual statewide economic impact of more than $1 billion.
A broadcast studio with fiber cable to the AT&T Hollywood hub is available for live or taped interviews. UCR also has ISDN for radio interviews. To learn more, call (951) UCR-NEWS.