Demand Rises for UC Riverside
---
Demand is up for a Spot at UC Riverside
This year there will be no students taken from the UC's referral pool
(January 14, 2011)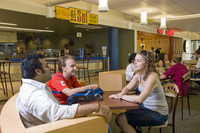 Enlarge
"People are becoming increasingly aware of what we do here, and that has resulted in a rise in applications," said Jim Sandoval, UCR's longtime vice chancellor of student affairs.
RIVERSIDE, Calif. (www.ucr.edu) -- Freshman applications to UC Riverside jumped 8.5 percent in this last application cycle, and applications from transfer students went up a whopping 31.2 percent over last year.
That is well over the UC system average of 5.7 percent for freshmen and 6.3 percent for transfer applicants.
This year a record-breaking 34,290 students applied for admission to UC Riverside.
"People are becoming increasingly aware of what we do here, and that has resulted in a rise in applications," said Jim Sandoval, UCR's longtime vice chancellor of student affairs, after seeing UC system application statistics, released to the public today. "We have been very successful in promoting our academic programs."
Campus rankings, faculty awards and even well-known speakers and performers can influence an applicant's choice of campus. While it is difficult to know what is influencing the rise in applications, UCR has been marketing campus research in national media to raise the campus profile with a campaign called
Living the Promise
High profile speakers this past year included Maya Angelou and Cornel West.
"I suspect that regular communication like the
Chancellor's Friday Letter
is more influential than we even realize," said Sandoval, mentioning a weekly letter from UCR Chancellor Timothy P. White that offers his thoughts on a particular issue.
Sandoval said that for the first time, UCR will have the advantage of admitting only students who applied directly to this campus. In past years some of UCR's admitted students have been from a referral pool of students who applied to other campuses but were not accepted. Now UC Merced will be the campus offering a spot to students who are eligible for admission to the UC but did not receive an acceptance letter from the campuses they targeted.
"Last year we took some engineering majors from the referral pool, but this year we will not take anyone," Sandoval said. "We have increasingly become a campus of first choice, but this year we will be able to say categorically that no one will come in through the referral process."
Applications are the first step in a longer admissions process. Students will know if they have been accepted at UC Riverside by March 1. Freshman need to commit to a campus by May 1 and transfer students by June 1. Deadlines are strictly enforced.
"We do advise people to pay very close attention to the required deadlines. It would be a shame to work hard enough to qualify academically for the University of California and then to be shut out by a missed filing deadline. But I have definitely seen that happen," Sandoval said.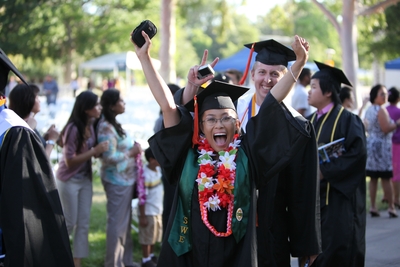 Enlarge
Graduation is the ultimate celebration at UC Riverside. This picture, from 2010, was taken by Sean Mahoney at the ceremony for engineering students.
The University of California, Riverside (www.ucr.edu) is a doctoral research university, a living laboratory for groundbreaking exploration of issues critical to Inland Southern California, the state and communities around the world. Reflecting California's diverse culture, UCR's enrollment has exceeded 21,000 students. The campus opened a medical school in 2013 and has reached the heart of the Coachella Valley by way of the UCR Palm Desert Center. The campus has an annual statewide economic impact of more than $1 billion.
A broadcast studio with fiber cable to the AT&T Hollywood hub is available for live or taped interviews. UCR also has ISDN for radio interviews. To learn more, call (951) UCR-NEWS.