Rains Caused Extra Work at UCR
---
Work at UC Riverside During a Deluge of Rain Brings a Shower of Thanks
A community sings the praises of staff for dedication during December rainstorms
(January 20, 2011)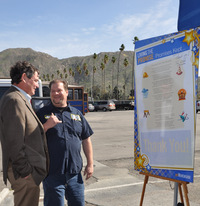 Enlarge
Chancellor Timothy P. White talks with Robert Mazza from UCR Fleet Services. (Photo credit: Kris Lovekin)
RIVERSIDE, Calif. (www.ucr.edu) -- Loyalty from UC Riverside's support staff is typical. But last week Chancellor Timothy P. White decided to sing their praises.
First came a deluge of rain, washing out agricultural fields, threatening the campus electrical grid and leaking water onto freshly mopped floors, right before the holiday break. About 250 of UCR's support staff including trades people, custodians and grounds people, kept working, even when it interrupted their own family gatherings.
Next came a deluge of thanks.
First the workers were celebrated in the Chancellor's Friday Letter of Jan. 7:
"The rains began in earnest the Wednesday before Christmas, and their direct impact lingered through Christmas Day and into the following week," White wrote. "Most of our employees in physical plant, environmental health and safety, and transportation and parking came in on short notice during their scheduled time off or vacations."
The chancellor offered to take good wishes to the workers, and those wishes poured in by the hundreds from staff, alumni, students and faculty, telling small stories of their own experiences.
"Dear Maintenance Crew, I was out of town, with family, gorging on tamales while you all were going the extra mile for us. You guys are truly awesome and appreciated. I have to shout: THANK YOU SO MUCH."
"To all the folks behind the scenes, the ones that keep the heat heating, the air conditioned, the water running, and most especially, the drainage draining, thanks for all your "above and beyond" efforts to avert any damage or problems that the late December torrent might have created. Please keep up the good work, and know that we respect and notice your efforts."
One student wrote: "On Dec. 22 I was walking down Big Springs Rd. to the Orbach Science Library in torrential rain. Turbulent water overflowed the gutters at East Campus Dr. making it impossible to cross. A Parking Services truck picked me up on one side and drove me across the street. This employee is truly exceptional as is his partner who stood out in the cold storm directing traffic during this emergency."
Parents of UCR students wrote, thanking campus worker for keeping their young people safe from harm year round, even though those same young people were warm and dry around the dining room table.
The mother of a third year student wrote: "He often comments how he enjoys the physical surroundings and how it adds to his experience there in what is now his new home. Thank you for taking care of our kids! Thank you, also, for your example of dedication and commitment to your work. That is, also, an important lesson for our kids to be learning and seeing."
The deluge sparked the imagination of associate chancellor Cindy Giorgio, who did a little quick creative writing. Her poem, called "The Night of the Deluge," casts Mike Miller, associate vice chancellor for facilities, in the role of Santa.
"… The lots were all flooded; the grounds were all soaked.
Mike knew right away that this was no joke.
He sprang to his phone, to his team gave a call,
And to campus they flew, 250 in all.
They left their own family and warm fireplace,
To come save their campus, with tools did they race.
Electricians fixed switches; plumbers fixed pipes.
Carpenters hammered, fixing holes of all types….."
Chancellor White said that while hard work and loyalty is not unusual, he wanted to take the opportunity to say thanks for this episode, as well as the everyday support.
"The efforts of you and your colleagues created the opportunity for us to thank you," White said, at a pizza and soda party Jan. 14 in the transportation yard on a clear, breezy day. "Hundreds of people wrote me after they read about your work."
Miller added, "You are absolutely the best. We could not fulfill our mission, if it were not for what you do every single day."
Julie Zeno, a supervisor from dining services, recalled the heavy rains in December, mopping up puddles of water leaking from the ceiling of a dining hall. "We had water dripping on our backs as we mopped it up," she said. One of the custodians had just detailed the floors and as he walked through, he just kept saying, Oh no…. Oh No!"
Asked if she had to come back in during the break, the answer was a matter of fact yes, like it was not that surprising.
Not surprising, but it was remarkable.
The University of California, Riverside (www.ucr.edu) is a doctoral research university, a living laboratory for groundbreaking exploration of issues critical to Inland Southern California, the state and communities around the world. Reflecting California's diverse culture, UCR's enrollment has exceeded 21,000 students. The campus opened a medical school in 2013 and has reached the heart of the Coachella Valley by way of the UCR Palm Desert Center. The campus has an annual statewide economic impact of more than $1 billion.
A broadcast studio with fiber cable to the AT&T Hollywood hub is available for live or taped interviews. UCR also has ISDN for radio interviews. To learn more, call (951) UCR-NEWS.