Prized Collection of Water Resources Arrives in Southern California
---
Prized Collection of Water Resources Arrives in Southern California
Formerly at UC Berkeley, Water Resources Center Archives is being transferred for partnership between UC Riverside and Cal State San Bernardino
(January 21, 2011)
NEWS MEDIA CONTACT
Name:

Iqbal Pittalwala


Tel:

(951) 827-6050


E-mail:

iqbal@ucr.edu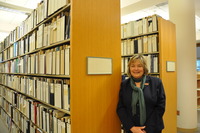 Enlarge
Linda Vida is the director of the Water Resources Center Archives. Photo credit: UCR Strategic Communications. (More photos below.)
RIVERSIDE, Calif. – The University of California, Riverside is now home to a significant portion of the nationally acclaimed Water Resources Center Archives (WRCA), which began its move last week from Northern California to Southern California. Movers will complete the transfer of the prized collection from UC Berkeley to UC Riverside this week.
The move of the WRCA to UC Riverside sets the stage for planning a statewide network to be collaboratively supported by UCR and California State University San Bernardino (Cal State San Bernardino will receive WRCA materials at a later date).
"Water has played an enormous role in the development of Southern California, and UC Riverside, as the former long-time home of the systemwide Water Resources Center, has conducted research on water quality, availability, and management for decades," said Thomas O. Baldwin, the dean of the College of Natural and Agricultural Sciences. "Having the WRCA located here will allow access to the collection by a large number of environmental researchers and managers."
Founded in 1958 by the legislature as part of the California Water Resources Center, the WRCA contains historical and contemporary water-related materials of great value to water agencies, governmental bodies, environmental groups, engineering firms, attorneys, historians and researchers including faculty and graduate students.
A premier and world class collection of information and materials about water development in California and the West, the archive currently consists of approximately 200 archival collections, 200,000 technical reports, 1,500 specialized newsletters, 5,000 maps and videos, 2,200 serials, 25,000 land photographs, 45,000 aerial photographs of coastlines, and digital resources in the form of CDs, DVDs, VHS tapes, and websites.
The collection, along with the water research resources currently held by Cal State San Bernardino, will be managed jointly by UC Riverside and Cal State San Bernardino. The collections to support the digital network will be located at UCR's
Orbach Science Library
and Cal State San Bernardino's
John M. Pfau Library
. Specifically, the libraries' administrations — UCR University Librarian Ruth Jackson and Cal State San Bernardino Library Dean Cesar Caballero — will jointly manage the archives, expanding accessibility state- and nationwide.
The WRCA collection is expected to greatly enhance research being done at both institutions on water issues. UCR is home to the
Water Science and Policy Center
, which works to facilitate sound water policy solutions for California. Cal State San Bernardino is home to the
Water Resources Institute
.
"We are very excited to have the archives here in Southern California, where environmental studies and research frequently relate to water issues," Jackson said. "We at UCR will utilize resources of Cal State San Bernardino and the WRCA to create a statewide digital network that makes water resources widely accessible. Currently, our main challenges are moving the collection safely, getting material on the shelves, determining a future direction for this unique collection, mass digitizing the material to expand accessibility, and developing document delivery, interlibrary loan services, and lending policies."
The WRCA has two main components: a circulating collection, to be housed on the main floor of the Orbach Science Library; and the non-circulating archival collections, to be housed on the ground floor along with UCR's extensive map collection.
When formed, a joint management team, comprised of officials at UCR and Cal State San Bernardino, will be responsible for overseeing the project at every stage. Special advisory boards also will be established soon.
Researchers, water agencies, government agencies and others will be able to use the collection starting April 25, 2011, when the WRCA officially opens.
Linda Vida, the director of the WRCA, recently located to UCR from UC Berkeley to serve as the collection's Southern California liaison. She will be assisted by Paul Atwood, an archivist and associate librarian, who will serve as the collection's Northern California liaison (a small portion of the circulating collection will remain at UC Berkeley).
"We have been building this collection steadfastly for more than 50 years," said Vida. "The collection contains more than 100 years of California water history. It has material not found anywhere else in the world."
Funding for managing the collection and building the network is provided by UCR's College of Natural and Agricultural Sciences, Cal State San Bernardino's College of Natural Sciences, and libraries at both institutions.
The University of California, Riverside (www.ucr.edu) is a doctoral research university, a living laboratory for groundbreaking exploration of issues critical to Inland Southern California, the state and communities around the world. Reflecting California's diverse culture, UCR's enrollment has exceeded 21,000 students. The campus opened a medical school in 2013 and has reached the heart of the Coachella Valley by way of the UCR Palm Desert Center. The campus has an annual statewide economic impact of more than $1 billion.
A broadcast studio with fiber cable to the AT&T Hollywood hub is available for live or taped interviews. UCR also has ISDN for radio interviews. To learn more, call (951) UCR-NEWS.