Donor Commits to Fund Clean Energy Research
---
Winston Chung Commits to a $10 Million Gift to UC Riverside
Prominent Chinese businessman provides an endowment supporting UC Riverside's Bourns College of Engineering
(January 24, 2011)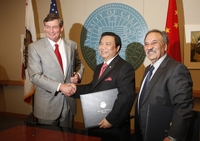 Enlarge
After signing a memorandum of understanding that will lead to a $10 million gift to UC Riverside, Chinese inventor and businessman Winston Chung and UC Riverside Chancellor Timothy P. White shake hands as Reza Abbaschian, dean of the Bourns College of Engineering, looks on. Photo credit: Peter Phun
RIVERSIDE, Calif. (www.ucr.edu) -- The University of California, Riverside announced Monday that Winston Chung, a Chinese battery technology scientist, inventor and entrepreneur, has expressed his intent to give $10 million to support clean battery power, solar energy and sustainable transportation research at the Bourns College of Engineering.
Chung and UC Riverside Chancellor Timothy P. White in January signed a memorandum of understanding that will lead to the gift, which will make Chung the largest individual donor to the campus in UC Riverside history.
The campus received the gift on Friday, April 29, 2011.
Chung is the founder of Winston Global Energy Limited and inventor of the rare earth lithium yttrium battery.
"The University of California, Riverside welcomes Mr. Winston Chung as an integral partner in our educational and research mission," White said. "His investment in this university will result in generations of students and faculty sharing their knowledge with local and global communities, and in new materials and new energy sources for an energy-hungry world. This gift is a wonderful testimony to the current strengths and aspirational future of the UCR Bourns College of Engineering."
Reza Abbaschian, dean of the Bourns College of Engineering, said Chung's work on electric vehicles is a perfect match with the Bourns College of Engineering-Center for Environmental Research & Technology (CE-CERT) and the Southern California Research Initiative for Solar Energy (SC-RISE) at UC Riverside.
"Mr. Chung has created a clean and efficient energy storage that is an expression of a sustainable future," Abbaschian said. "We are talking about vehicles that go for 180 miles on a single charge and can be recharged in the time it takes to stop and drink a cup of coffee." He said he is excited by the prospect of future research collaborations, and by the opportunities the gift would mean for engineering students.
When an endowed fund is created in Chung's name, UC Riverside will:
• Name the building currently known as Engineering Building II as Winston Chung Hall.
• Support two named professorships in the Bourns College of Engineering: the Winston Chung Professorship in Energy Innovation and the Winston Chung Professorship in Sustainability.
• Establish the Winston Chung Global Energy Center within CE-CERT. The center will initially focus on Life Source Rare Earth Lithium batteries, which Chung invented, bio-inspired technology and the development of clean energy and energy storage.
Since arriving in the United States, Winston Global Energy Ltd. announced it will provide $310 million to MVP RV, which is based in Riverside, to promote motorhome exports to China. Additional money will fund development of all-electric RVs and fast-charging electrical systems.
The deal was one of about 70 between the U.S. and China announced in connection with the official state visit by Chinese President Hu Jintao, in what was called a demonstration of cooperation between the two countries.
MVP RV expects to export more than 30,000 motorhomes, valued at approximately $5 billion, to China over the next three to four years. The joint venture will push the number jobs at MVP RV from 130 to more than 1,400.
In November, Balqon Corporation, a California developer and manufacturer of zero-emission heavy-duty electric vehicles and drive systems, and Winston Battery jointly showcased their drive systems and battery technologies at The World Electric Vehicle Symposium and Exposition in China. The companies demonstrated the world's first all-electric recreational vehicle, with a range of 200 km on a single charge. The 45-foot RV can be fully charged within 20 minutes, as compared to 8 hours using traditional methods.
The University of California, Riverside (www.ucr.edu) is a doctoral research university, a living laboratory for groundbreaking exploration of issues critical to Inland Southern California, the state and communities around the world. Reflecting California's diverse culture, UCR's enrollment has exceeded 21,000 students. The campus opened a medical school in 2013 and has reached the heart of the Coachella Valley by way of the UCR Palm Desert Center. The campus has an annual statewide economic impact of more than $1 billion.
A broadcast studio with fiber cable to the AT&T Hollywood hub is available for live or taped interviews. UCR also has ISDN for radio interviews. To learn more, call (951) UCR-NEWS.