Research in the Community
---
A Win-Win for Students and the Community
Undergraduates are conducting research for community organizations through a unique program at UC Riverside
(January 26, 2011)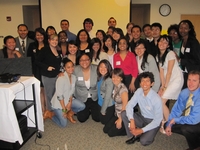 Enlarge
Students who are taking part in the Undergraduate Research in the Community program.
RIVERSIDE, Calif. (www.ucr.edu) -- It's not an internship. It's not community service. It's not a volunteer program.
It's Undergraduate Research in the Community. And it's making a difference at the University of California, Riverside and the surrounding communities.
Launched in September 2009, the Undergraduate Research in the Community office connects undergraduate students with community organizations. The students, who receive academic credit while working on their own or in teams, conduct faculty-mentored research or creative activities that community organizations have identified as important needs.
The model represents a new direction for universities, which have traditionally routed undergraduate students to internships and volunteer and community service opportunities.
"We are among a handful of institutions putting emphasis on undergrads using their acquired skills, with faculty supervision, to produce a deliverable product that a community organization needs to prosper," said David Fairris, a professor of economics and vice provost of undergraduate education, who created the office.
Fairris hired Samantha Wilson, who graduated from UC Riverside in 2009, to run the office. Since, the program has taken off.
"This is what students want now," Wilson said. "They want to leave the classroom. They want something meaningful."
During the 2009-10 academic year, Wilson's office matched 58 undergraduate students with more than 25 community partners on 19 community-based research projects.
Currently, there are about 20 projects being implemented or in early development.
Here are a few of their stories:
900 Magnolia Project
Scope: Research and employ mentorship and outreach techniques at a local high school. Serve as mentors to study best practices in mentorship and outreach.
Twice a week, a 20-student team, under the guidance of Scott Brooks, an associate professor of sociology at UC Riverside, meets with students at Ramona High School in Riverside. They help teenagers acquire skills related to time management, interpersonal relationships and stress management. During the winter quarter, the team hopes to hold one-on-one sessions to help resolve personal problems.
"There are many programs that cater to high achieving students," said Carlos Cardenas, a third year sociology law student. "900 Magnolia caters to the many others who are left behind."
Eventually, 900 Magnolia would like to establish programs in every Riverside high school.
Urban Garden Student-led Seminar
Scope: Use community-based research techniques to study community gardens in the Riverside area. Students will train in scientific data collection techniques from different areas of study and engage in urban horticulture at UCR's community garden.
The student team - including Fortino Morales, Elizabeth Tizcareno and Cynthia De Leon - devised the syllabus and class content, which they offered for the first time last spring. Their goal is to gather information on community gardens to inform operators of other community gardens about what works and what doesn't.
Their efforts have garnered a $25,000 Social Innovation Generation grant.
Elizabeth Tizcareno, a second-year environmental science student, looks forward to hosting workshops at community centers for adults and children to raise awareness about the social and environmental benefits of local Riverside food.
"The best way to learn is to interact with different people, young and elderly, in order to create more self sustained communities," Tizcareno said.
Within Her Strength
Scope: Provide women and girls with the means to feel confident and secure through Kenpo, a martial art, as a way to heal and reconnect with the self.
Within Her Strength is a six-person team comprised of current students and recent graduates using martial arts as a means for survivors of violence to reconnect with their bodies in a safe environment and engage with people with greater confidence.
Jessica Yamane, a UCR alumna who started the project as a student, continues to run it with help from the Donald A. Strauss Public Service Scholarship, a grant that supports students who have demonstrated a lifelong commitment to public service and education.
"I believe in this work because we realize that the elimination of violence requires our emotional investment, intellectual energy, and sustained physical presence," Yamane said. "There are people who witness violence and choose not to take a stand, who choose not to take responsibility. Within Her Strength is about (re)training people to feel confident enough in to intervene and to intercede because they recognize their role in their larger community's well-being."
Kids for Peace: Shutterbugs Photo Club
Scope: Create an after-school photography program for grade-school children and examine what they believe are the social boundaries in segregation in hopes of preventing these beliefs in their future.
Fourth-year biology student Joseph Molina, who is passionate about photography, will implement this program in the winter quarter. Molina will distribute disposable cameras to children to take home. He will give them a theme for their photography. Once the photos are developed, the kids will explain why they took the photo.
"The information I research would be a good resource for elementary school teachers to help identify what would prevent segregation and create a more comfortable learning environment for the children," Molina said. "Ultimately this would foster peace and unity."
The University of California, Riverside (www.ucr.edu) is a doctoral research university, a living laboratory for groundbreaking exploration of issues critical to Inland Southern California, the state and communities around the world. Reflecting California's diverse culture, UCR's enrollment has exceeded 21,000 students. The campus opened a medical school in 2013 and has reached the heart of the Coachella Valley by way of the UCR Palm Desert Center. The campus has an annual statewide economic impact of more than $1 billion.
A broadcast studio with fiber cable to the AT&T Hollywood hub is available for live or taped interviews. UCR also has ISDN for radio interviews. To learn more, call (951) UCR-NEWS.