Professor Advises Film Makers
---
UC Riverside Professor Advised Film Makers About Adults With Mental Retardation
(June 25, 2002)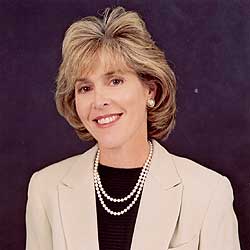 RIVERSIDE, Calif. – June 24, 2002 – The feature film "Pumpkin," about a sorority girl who falls in love with an athlete with mental retardation, owes much of its realism to the advice of Janet Blacher, a professor of education and an expert on developmental disabilities at the University of California, Riverside.
"Pumpkin" stars Christina Ricci, who plays the sorority girl charged with the charitable project of coaching an athlete known as Pumpkin, played by Hank Harris. The two fall in love and consummate their relationship, bringing up the controversial issue of whether adults with mental retardation can give knowing consent. The MGM/ United Artists film goes into general release Friday June 28.
Blacher has advocated allowing adults with mental retardation to live as independently as possible, a facet of which includes sexual relationships. It is an aspect that has been largely ignored by the families of those with mental retardation, Blacher has said.
Her role in the making of the film included first, educating filmmakers Adam Larson Broder, Tony Abrams and Francis Ford Coppola's production company about mental retardation and about how the film might fit in with others that deal with the subject. Secondly, she read and commented on the script to make Pumpkin's behaviors consistent with those of adults with his level of mental retardation. Thirdly, she was on the set during some of the filming to advise on how to make Pumpkin's behavior more believable. "Pumpkin" debuted at the Sundance Film Festival in January to good reviews. Blacher flew to Park City, Utah to answer press questions about her role in the film.
Professor Blacher is known nationally for her research on mental retardation, other developmental disabilities and in special education. She is frequently asked to appear as an expert witness in education-rights lawsuits involving children with autism, mental retardation or other learning disorders.
Since February, she has written Research Reflections, a column in "Exceptional Parent Magazine," that serves as a forum for communicating exclusively with parents of children with developmental disabilities.
Her expertise is, in part, an outgrowth of her leadership on the UC Riverside Families Project, an ongoing study since 1982, of more than 600 families of children with severe disabilities. Their participation has resulted in an important expansion of knowledge on family coping, the cultural context of retardation and the process of transition to adulthood for those with severe retardation and for their families.
Blacher is one of 15 members of the Committee on Disability Determination for the National Research Council at the National Academies of Science. The committee recently wrote guidelines, which advise the Social Security Administration on ways to improve their definition of disability that are consistent with the best current scientific and community practices. The report, which includes suggestions for topics of future research, is scheduled for release later this summer.
Blacher received her A.B. in Psychology from Brown University in Providence, R.I., and her Ph.D. in Special Education/Developmental Psychology from the University of North Carolina at Chapel Hill.
The University of California, Riverside offers undergraduate and graduate education to nearly 15,000 students and has a projected enrollment of 21,000 students by 2010. It is the fastest growing and most ethnically diverse campus of the preeminent ten-campus University of California system, the largest public research university system in the world. The picturesque 1,200-acre campus is located at the foot of the Box Springs Mountains near downtown Riverside in Southern California. More information about UC Riverside is available at www.ucr.edu or by calling 909-787-5185.
The University of California, Riverside (www.ucr.edu) is a doctoral research university, a living laboratory for groundbreaking exploration of issues critical to Inland Southern California, the state and communities around the world. Reflecting California's diverse culture, UCR's enrollment has exceeded 21,000 students. The campus opened a medical school in 2013 and has reached the heart of the Coachella Valley by way of the UCR Palm Desert Center. The campus has an annual statewide economic impact of more than $1 billion.
A broadcast studio with fiber cable to the AT&T Hollywood hub is available for live or taped interviews. UCR also has ISDN for radio interviews. To learn more, call (951) UCR-NEWS.