UC Riverside Scientists to Explore New Genetic Tools in Mosquito Research
---
UC Riverside Scientists to Explore New Genetic Tools in Mosquito Research: Transposable Elements
Three-year research project funded by W. M. Keck Foundation
(February 11, 2011)
NEWS MEDIA CONTACT
Name:

Iqbal Pittalwala


Tel:

(951) 827-6050


E-mail:

iqbal@ucr.edu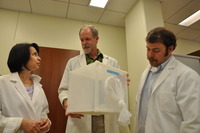 Enlarge
Susan Wessler (left), Peter Atkinson (center) and Jason Stajich will explore news genetic tools in mosquito research. Photo credit: UCR Strategic Communications. (More photos below.)
RIVERSIDE, Calif. – A team of scientists at the University of California, Riverside has begun working on a mosquito research project that, if successful, will provide valuable genetic resources capable of transforming the way mosquito research is conducted around the world.
The three-year project, funded by a $1 million grant from the
W. M. Keck Foundation
, commenced this month.
Led by
Susan R. Wessler
, who holds a University of California President's Chair and is a distinguished professor of genetics in the
Department of Botany and Plant Sciences
, the researchers will study mosquito genome sequences to identify "transposable elements" – DNA pieces that can move from one genomic location to another.
Transposable elements (TEs) play vital roles in gene and genome evolution by changing DNA amount and building up mutations. They contribute the raw material used by plants and animals to adapt to an ever changing environment. They are the most abundant component of the genomes of virtually all
eukaryotes
, accounting for almost 50 percent of the human genome.
"The mosquito genome-wide immune system is designed to inactivate TEs, and functions like a surveillance system," said Wessler, a world leader in the computational and experimental analysis of TEs. "In this project, when we search for TEs that can move within and between mosquito chromosomes, we will focus on endogenous mosquito TEs – those encoded by the mosquito genome – that have adapted to overcome the mosquitoes' immune systems. These TEs are not inactivated and may play a role in how mosquitoes adapt to their environment."
Specifically, Wessler and her team will focus on a type of TE called miniature inverted repeat transposable element, or MITE, discovered more than two decades ago in Wessler's laboratory. MITEs are known to be especially abundant in the three sequenced mosquito genomes – those of
Anopheles gambiae
(responsible for the spread of malaria);
Aedes aegypti
(responsible for the spread of yellow fever, dengue and multiple forms of encephalitis); and
Culex quinquefasciatus
(responsible for the spread of many types of encephalitis and lymphatic filariasis).
"MITEs have evolved ingenious mechanisms to spread through mosquito genomes and overcome the mosquitoes' immunity," Wessler explained. "We plan to catch a mosquito MITE that is active or 'amplifying,' meaning a MITE that is increasing the number of its copies. Such a MITE can help us understand at the molecular level how mosquitoes adapt to their nutritional and external environments and go on to vector diseases. It can also clue us on how mosquitoes could be genetically altered as a means to control the spread of disease."
According to Wessler, the project is considered "high risk" in that there is no guarantee that active MITEs will be found in mosquito genomes.
"This is possibly why this project would not be funded by federal agencies," she said. "Past failures have led most in the field of mosquito biology to abandon TEs as valuable tools in genetic research, despite their use as powerful genetic tools in many other organisms."
Wessler, however, remains optimistic. Her team includes
Peter Atkinson
, a professor of
entomology
and an expert in mosquito genetics and genomics. His lab pioneered the development of a technique for introducing foreign DNA into mosquito genomes and has developed several active TEs. Most recently his lab led the successful international consortium that published the
genome sequence of Culex quinquefasciatus
in 2010. Wessler and Atkinson will be joined by
Jason Stajich
, an assistant professor of
plant pathology and microbiology
and an expert in bioinformatics, evolutionary genomics and next generation sequencing analysis.
All three researchers are members of UCR's
Institute for Integrative Genome Biology
and conduct research work in a building designed to facilitate and encourage interdisciplinary work. Stajich's laboratory is on the first floor of the Genomics building, Atkinson's is on the second floor, and Wessler's is on the fourth floor.
"Close proximity allows for frequent interaction and collaboration, which is how modern science is best done," said Wessler, who
came to UC Riverside
from the University of Georgia in 2010. "We will take full advantage of the proximity our building affords and leverage the expertise of our three laboratories to identify the needle in the haystack: active MITEs in the mosquito genome. While it's true the project is high risk, a positive outcome would have considerable impact within the mosquito research community, leading to a renewed interest and use of transposable elements as research tools for the genetic manipulation of mosquitoes."
The researchers also plan to host on campus an annual seminar in transposable elements to present and discuss results of their research with colleagues in their fields.
Wessler is a member of the National Academy of Sciences (NAS) and a fellow of the American Academy of Arts and Sciences. This week, she was
elected home secretary of the NAS
. Atkinson, the director of UCR's
Center for Disease Vector Research
, was a member of the National Institute of Allergy and Infectious Diseases study section on vector biology for five years; he chaired the panel for two years. Stajich is an associate editor at
Eukaryotic Cell
and a section editor at
Public Library of Science One
. They will be assisted in the research by three postdoctoral fellows, yet to be appointed.
Based in Los Angeles, the W. M. Keck Foundation was established in 1954 by the late W. M. Keck, founder of the Superior Oil Company. The Foundation's grant making is focused primarily on pioneering efforts in the areas of medical research, science and engineering and undergraduate education. The Foundation also maintains a Southern California Grant Program that provides support for the Los Angeles community, with a special emphasis on children and youth.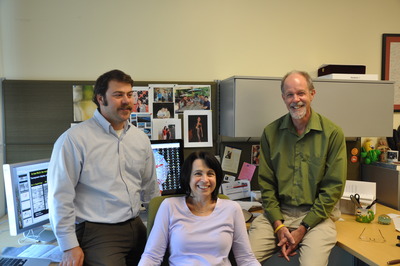 Enlarge
Jason Stajich (left), Susan Wessler (center) and Peter Atkinson will study mosquito genome sequences to identify transposable elements that may play a role in how mosquitoes adapt to their environment. Photo credit: UCR Strategic Communications.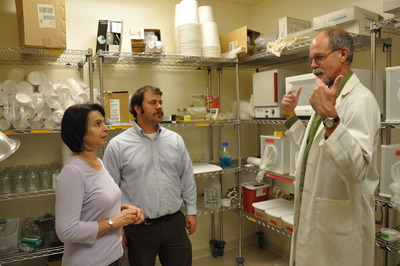 Enlarge
Susan Wessler (left), Jason Stajich (center) and Peter Atkinson discuss aspects of the three-year research project being funded by the W. M. Keck Foundation. Photo credit: UCR Strategic Communications.
The University of California, Riverside (www.ucr.edu) is a doctoral research university, a living laboratory for groundbreaking exploration of issues critical to Inland Southern California, the state and communities around the world. Reflecting California's diverse culture, UCR's enrollment has exceeded 21,000 students. The campus opened a medical school in 2013 and has reached the heart of the Coachella Valley by way of the UCR Palm Desert Center. The campus has an annual statewide economic impact of more than $1 billion.
A broadcast studio with fiber cable to the AT&T Hollywood hub is available for live or taped interviews. UCR also has ISDN for radio interviews. To learn more, call (951) UCR-NEWS.