State Legislative Analyst to Speak at UCR
---
State Legislative Analyst to Speak at UC Riverside

Mac Taylor will address California's budget issues on March 10.

(March 4, 2011)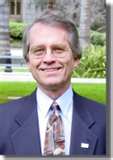 Mac Taylor
RIVERSIDE, Calif. – Mac Taylor, California's legislative analyst, will discuss the state budget crisis in a public lecture on Thursday, March 10, from 2:10 to 3:30 p.m. in the Genomics Auditorium at UC Riverside.
Admission is free. Parking costs $6.
The lecture – "The California State Budget: Where Are We Headed?" – is part of the UCR College of Humanities, Arts and Social Sciences (CHASS) California Futures Initiative, an informal series organized by faculty in fall 2010 to bring to campus speakers who offer unique perspectives on challenges facing California government.
"The California Futures Initiative brings an Inland Southern California perspective to state issues, such as immigration policy, ethnicity, the environment, and the economy," said CHASS Dean Stephen Cullenberg. "These speakers offer insightful analyses that are particularly relevant to our community and region."
Previous speakers were Manuel Pastor, professor of American studies and ethnicity at the University of Southern California, who discussed immigrant integration; Mark Paul, former deputy treasurer of California and deputy editorial page editor of the Sacramento Bee; and Joe Mathews, senior fellow at the New America Foundation. Paul and Mathews presented the thesis of their new book "California Crackup."
A 30-year employee of the Legislative Analyst's Office (LAO), Taylor worked for 17 years as deputy to legendary analyst Elizabeth Hill until his appointment as legislative analyst in October 2008. He is only the fifth person to serve in that capacity since the office was created in 1941. He earned his bachelor's degree in political science at UCR in 1976, and a master's in public affairs from Princeton University.
"UCR is proud to count Mac Taylor as a distinguished graduate," said Gary Dymski, UCR professor of economics and former director of the University of California Center in Sacramento. "He plays a unique and irreplaceable role in the California political process ... a role that sometimes puts him into the press spotlight precisely because he must assure fairness and objectivity in California budgetary policy-making."
The Legislative Analyst's Office is the gatekeeper in the California political process; it is organized in such a way that the legislative analyst is accountable for the analyses produced by the office, Dymski noted.
"LAO's figures for revenue estimates and budget balances are accepted as definitive by Democrats and Republicans, by the governor and the Legislature," Dymski said. "The office provides authoritative feedback to proposed gubernatorial budgets and to proposed compromises. LAO also does in-depth analyses of program efficiency and effectiveness, and analyzes long-term budgetary implications of state funding commitments."
The LAO is organized in such a way that the legislative analyst is accountable for the analyses produced by the office, Dymski noted.
"In a political process as complex as California's, with 'third house' lobbyists pushing their own interpretations of legislative impacts, the legislative analyst provides the authoritative, non-partisan perspective that both sides of the aisle – and lobbyists and state agencies alike – must respect," he explained." Mac Taylor thus follows his four predecessors in a unique, and uniquely important position in our state's policy and political process."
Members of the California Futures Initiative steering committee are Cullenberg; Anil Deolalikar, CHASS associate dean and Public Policy Initiative director; Georgia Warnke, CHASS associate dean and director of the Center for Ideas and Society; Shaun Bowler, chair of the political science department; Dymski; and Karthick Ramakrishnan, associate professor of political science.
The University of California, Riverside (www.ucr.edu) is a doctoral research university, a living laboratory for groundbreaking exploration of issues critical to Inland Southern California, the state and communities around the world. Reflecting California's diverse culture, UCR's enrollment has exceeded 21,000 students. The campus opened a medical school in 2013 and has reached the heart of the Coachella Valley by way of the UCR Palm Desert Center. The campus has an annual statewide economic impact of more than $1 billion.
A broadcast studio with fiber cable to the AT&T Hollywood hub is available for live or taped interviews. UCR also has ISDN for radio interviews. To learn more, call (951) UCR-NEWS.