Are Teens Driving Dad Crazy or Vice Versa?
---
The University of California, Riverside and Arizona State University
Study Dads and Teens With $3.5 million Grant

(July 25, 2002)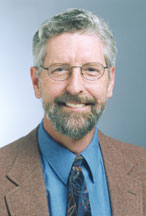 RIVERSIDE, Calif. July 25, 2002 -- Two researchers from the University of California, Riverside are teaming up with three researchers from Arizona State University to study how fathers and stepfathers influence the mental health and behavior of teenagers. The five-year comprehensive research will be funded with a $3.5 million grant from the National Institute of Mental Health.
UC Riverside Professor of Sociology Scott Coltrane and Ross Parke, distinguished professor of psychology, will cooperate on the project with three psychologists from ASU: Sanford Braver, William Fabricius and Delia Saenz. The grant funding is separate, with each campus working with approximately $1.7 million.
"While the role of mothers has been well-studied, researchers have paid scant attention to fathers," said Coltrane, a principal investigator. "The limited research that has been done on fathers shows that they have profound and lasting effects on their children. We would like to help enlarge the literature about what makes families work and how both fathers and mothers can help their children through the sometimes turbulent adolescent years."
The study will consist of interviews with 400 families recruited from public schools in the areas around Riverside, Calif. and Phoenix, Ariz. Each family will include a seventh-grader who will finish 10th grade by the end of the study. Family members will be questioned about how the family functions, how each family member views the role of fathers, and how those ideals influence the well-being or success of the adolescent. Researchers hope to include school records and teacher assessments in their analysis, Coltrane said.
"The study will be conducted among Mexican American families and European American families to see if cultural differences influence the outcome, and among step fathers and birth-fathers to test how biological bonds influence the relationship between fathers and their teenage sons and daughters," Coltrane said.
Recruitment of families for the study will take place in Spring, 2003 and the end of the study is expected in June, 2007. Already, the researchers have created focus groups with Mexican American and European American mothers, fathers, and children to define important questions related to fatherhood.
The study fits into "The Fatherhood Initiative," a federal directive in June, 1995 to document, understand, and support the roles of fathers in families.
Understanding how fathers affect their adolescent children for better or worse is an important step to understanding important social and cultural factors in our society, said Sanford Braver, ASU lead investigator. "Adolescence is the stage where kids tend to fall off the path, but also when fathers tend to take on a special and important role in protecting their children from the perils of adolescence."
The University of California, Riverside offers undergraduate and graduate education to nearly 15,000 students and has a projected enrollment of 21,000 students by 2010. It is the fastest growing and most ethnically diverse campus of the preeminent ten-campus University of California system, the largest public research university system in the world. The picturesque 1,200-acre campus is located at the foot of the Box Springs Mountains near downtown Riverside in Southern California. More information about UC Riverside is available at www.ucr.edu or by calling 909-787-5185.
The University of California, Riverside (www.ucr.edu) is a doctoral research university, a living laboratory for groundbreaking exploration of issues critical to Inland Southern California, the state and communities around the world. Reflecting California's diverse culture, UCR's enrollment has exceeded 21,000 students. The campus opened a medical school in 2013 and has reached the heart of the Coachella Valley by way of the UCR Palm Desert Center. The campus has an annual statewide economic impact of more than $1 billion.
A broadcast studio with fiber cable to the AT&T Hollywood hub is available for live or taped interviews. UCR also has ISDN for radio interviews. To learn more, call (951) UCR-NEWS.