Design and Function of Genetic Machinery of Living Systems
---
Teaching Old Genomes New Tricks
In public lecture at UC Riverside on April 14 geneticist Susan Wessler will explain how transposable elements create genetic diversity

(March 31, 2011)
NEWS MEDIA CONTACT
Name:

Iqbal Pittalwala


Tel:

(951) 827-6050


E-mail:

iqbal@ucr.edu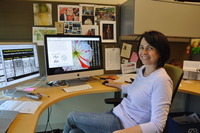 Enlarge
Susan Wessler is a distinguished professor of genetics at the University of California, Riverside and the University of California President's Chair. Photo credit: UCR Strategic Communications.
RIVERSIDE, Calif. – What are transposable elements, what role do they play, and what percentage of the genome of organisms do they comprise? Is there an explanation for the genetic diversity we see around us? Why, for example, are corn kernels spotted? What is the genetic basis for this spotted trait?
World-class geneticist
Susan Wessler
will give a free public lecture at 6 p.m., Thursday, April 14, at the University of California, Riverside that will answer the above questions and, in the process, also discuss the work of Nobel laureate
Barbara McClintock
and how a seemingly trivial discovery by her started a revolution in biology.
The hour-long lecture, titled "The Dynamic Genome: Unintelligent Design," will take place in Rooms D-E, University Extension Center (UNEX). Doors open at 5:30 p.m. Seating is open.
Wessler's lecture will be introduced by a science teacher from one of the local school districts, and will end with a question-and-answer session. Parking at UNEX will be free for lecture attendees.
Wessler holds a University of California President's Chair and is a distinguished professor of genetics in the
Department of Botany and Plant Sciences
. She is internationally recognized for her work in plant genome structure and stability. She is a member of the National Academy of Sciences (NAS) and a fellow of the American Academy of Arts and Sciences. In February 2011, she was
elected home secretary of the NAS
. She
came to UC Riverside
from the University of Georgia in 2010.
"Our genome has 2.5 billion letters – that's about 1000 textbooks of 1000 pages each with no pictures," she said. "More than 50 percent of our genome is derived from transposable elements, which are DNA pieces that can move from one genomic location to another. In my talk I will explain how these transposable elements create genetic diversity."
The talk is being hosted by UC Riverside's
College of Natural and Agricultural Sciences
(CNAS) and the
Science Circle
, a group of university and community members committed to advancing science at UCR and in Inland Southern California.
The talk is the first of four lectures scheduled this year. The lecture series, titled "
Science & Society: Major Issues of the 21st Century
," aims to boost the public's awareness and understanding of science and of how scientists work.
"We are facing a number of great challenges in the coming decades, as a state, as a nation, and as a planet," said Thomas Baldwin, the dean of CNAS. "Science has the potential to meet and overcome these challenges, but it is important that citizens understand our options, and their benefits and risks, so that they can make informed decisions. For example, in recent years we have made enormous strides in understanding how genetics works."
Other speakers in this year's lecture series are
Mark Hoddle
, the director of the Center for Invasive Species Research ("What's in Your Garden? Protecting California from Invasive Species"; April 28);
Cheryl Hayashi
, a professor of biology ("Designs from Nature: A New Spin on High-Performance Materials"; May 5); and
Jeanie Lau
, an associate professor of physics ("Size Matters: Nanotechnology & Other Wonders in Carbon Flatland"; May 19).
More information about the lecture series can be obtained by visiting
www.cnas.ucr.edu
, calling (951) 827-6555 or emailing
Carol Lerner
.
Teachers interested in receiving professional development credit for attending the lecture series must make arrangements in advance with University Extension [
awebb@ucx.ucr.edu
; (951) 827-1653].
More about Wessler
Wessler began her career at the University of Georgia in 1983 as an assistant professor of botany, rising through the ranks to full professor of botany and genetics in 1992. In 1994 she was awarded the title of Distinguished Research Professor which she held until 2004 when she was named a Regents Professor. In 2008 she was named the first University of Georgia Foundation Chair in the Biological Sciences. She moved her program to UC Riverside in August 2010. Her scientific interest focuses on the subject of plant transposable elements and the evolution of plant genomes.
In 2006 she was selected as a Howard Hughes Medical Institute (HHMI) Professor and was awarded $1 million to implement her project which was to replicate her research laboratory as an undergraduate classroom. She is a fellow of the American Association of the Advancement of Science and the American Academy of Arts and Sciences. She is the recipient of the Creative Research Medal (1991) and the Lamar Dodd Creative Research Award (1997) from the University of Georgia. In addition she was the first recipient of the Distinguished Scientist Award (2007) from the Southeastern Universities Research Association (SURA). She is on the Board of Directors of the Genetics Society of American and the Rosalind Franklin Society.
Wessler is co-author of The Mutants of Maize (Cold Spring Harbor Press) and of more than 120 research articles. She is one of the principal authors of Introduction to Genetic Analysis, a leading textbook used in introductory genetics courses in colleges and universities throughout the world. In addition, she is an Associate Editor of the
Proceedings of the National Academy of Sciences
and is on the Editorial Board of
Current Opinions in Plant Biology
and on the Board of Reviewing Editors of the journal
Science
.
RELATED LINKS
ADDITIONAL CONTACTS
The University of California, Riverside (www.ucr.edu) is a doctoral research university, a living laboratory for groundbreaking exploration of issues critical to Inland Southern California, the state and communities around the world. Reflecting California's diverse culture, UCR's enrollment has exceeded 21,000 students. The campus opened a medical school in 2013 and has reached the heart of the Coachella Valley by way of the UCR Palm Desert Center. The campus has an annual statewide economic impact of more than $1 billion.
A broadcast studio with fiber cable to the AT&T Hollywood hub is available for live or taped interviews. UCR also has ISDN for radio interviews. To learn more, call (951) UCR-NEWS.