$9 Million USDA Grant Will Study Potato and Tomato Disease
---
UC Riverside Researcher Receives $9 Million USDA Grant to Study Potato and Tomato Disease
Five-year grant aims to control late blight, reduce on-farm costs and fungicide use, train future plant pathologists
(March 30, 2011)
NEWS MEDIA CONTACT
Name:

Iqbal Pittalwala


Tel:

(951) 827-6050


E-mail:

iqbal@ucr.edu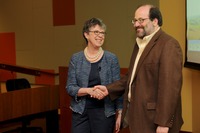 Enlarge
USDA Under Secretary for Research, Education and Economics Cathie Woteki (left) visited UC Riverside March 30 to make a formal announcement of the research grant to UCR's Howard Judelson. Photo credit: UCR Strategic Communications. (More photos below.)
RIVERSIDE, Calif. – Late blight, caused by a fungus-like microbe, is a plant disease that mainly attacks potatoes and tomatoes, is difficult and economically challenging to eradicate, and was largely responsible for the Irish potato famine of the mid-19th century.
Given that world potato production is about 320 million tons per year (20 million tons per year in the United States) and world tomato production is about 120 million tons per year (13 million tons per year in the U.S.), late blight is a major problem worldwide even today. With total costs of the disease estimated at more than $7 billion per year, it can drive farmers out of business and increase food prices.
Howard Judelson
, a professor of
plant pathology
at the University of California, Riverside, has received a $9 million five-year grant from the United States Department of Agriculture, National Institute of Food and Agriculture (
USDA-NIFA
) to research late blight and ensure a sustainable and long-term control of this devastating disease.
"Late blight is a global problem," said Judelson who will lead a multidisciplinary team of extension faculty and researchers – plant pathologists, molecular biologists, epidemiologists, plant breeders, sociologists and economists – at universities, government labs and a nonprofit research institution. "To manage this disease, which is favored by cool, moist weather, we need a multipronged approach. In this research project, we will develop an integrated plan of research, education and extension that includes developing diagnostic tools, resistant plants through breeding and biotechnology, and systems to provide improved management guidelines to growers."
USDA Under Secretary for Research, Education and Economics Cathie Woteki visited UC Riverside today (March 30) to make a formal announcement of the research grant and meet with Judelson as well as other UCR scientists and administrators.
"More than 40 percent of current crop production among the top 10 food crops is lost to pests and diseases annually and that is a huge loss for farmers," Woteki said. "USDA is funding this project to help agricultural producers win the future by ensuring our country can keep producing the food needed to meet rising global demand in a sustainable way."
Late blight symptoms include the appearance of dark lesions on leaf tips and plant stems. In humid conditions, white mold appears under the leaves. Infected potatoes show gray or dark patches outside; inside, such potatoes show reddish brown lesions. A threat to home gardeners and commercial farmers, the disease can wipe out tomato and potato fields within a week.
The disease is caused by
Phytophthora infestans
, the most significant pathogen of potato, and a noteworthy tomato pest. Spores of the pathogen primarily travel in air, eventually landing on plants where the spores colonize leaves and cause them to die. Spores also can enter the soil, reach potato tubers, and destroy them. Available fungicides tend to be expensive and have potentially adverse environmental effects. Moreover, some strains of the pathogen are resistant to some fungicides.
"This grant to Dr. Judelson builds on historic UC Riverside strengths in research on this pathogen and is one more acknowledgement that UC Riverside is a leader in agricultural research," said Donald Cooksey, divisional dean for agriculture and natural resources in UCR's
College of Natural and Agricultural Sciences
. "By leading research on managing late blight, we will help protect the productivity of tomato and potato farmers worldwide."
The research project will emphasize providing growers with better tools for managing the disease. These include better systems for making disease management decisions, plant varieties that are more resistant, tools for rapid identification of the pathogen, and tools for characterizing pathogen strains. The researchers also will test and expand the use of social media and smartphone technology to communicate with growers.
In the United States, late blight is seen predominantly on potato in eastern states like Maine, New York and Pennsylvania, and outbreaks also occur in the Midwest and West. Tomato production from Florida up the East Coast is also vulnerable to the disease. In California, late blight is mostly seen in the central valley in the early season, when conditions are moist and cool.
"For many years, UCR has been on the cutting edge of research to eradicate agricultural pests," said Rep.
Ken Calvert
(R-Calif.). "This grant acknowledges the valuable work that UCR does and with the grant they will be able to help farmers around the world deal with late blight. I commend Professor Judelson for his work in plant pathology and the entire staff of the UCR College of Natural and Agricultural Sciences for the contributions they will be making to combat the devastating impacts of late blight."
Judelson will be joined at UCR by
Thomas Girke
, an associate professor of bioinformatics, who will help sequence strains of
Phytophthora infestans
, and scientists at Cornell University, N.Y.; USDA-Agricultural Research Service, Corvallis, Ore.; the University of Idaho; the Scottish Crop Research Institute; North Carolina State University; the University of Florida; the University of Kentucky; La Universidad Autónoma Chapingo, Mexico; Boyce Thompson Institute, N.Y.; the University of Maine; Oregon State University; Pennsylvania State University; the University of Wisconsin; the University of Maryland; the University of South Carolina; and Purdue University, Ind.
The grant, which became effective March 1, 2011, has a strong undergraduate research component. Of the $9 million total award, $4.3 million is budgeted to UCR for research and education activities; the rest will be shared by the other 16 institutions.
The University of California, Riverside (www.ucr.edu) is a doctoral research university, a living laboratory for groundbreaking exploration of issues critical to Inland Southern California, the state and communities around the world. Reflecting California's diverse culture, UCR's enrollment has exceeded 21,000 students. The campus opened a medical school in 2013 and has reached the heart of the Coachella Valley by way of the UCR Palm Desert Center. The campus has an annual statewide economic impact of more than $1 billion.
A broadcast studio with fiber cable to the AT&T Hollywood hub is available for live or taped interviews. UCR also has ISDN for radio interviews. To learn more, call (951) UCR-NEWS.