Tomás Rivera Honored in Musical Tribute
---
Tomás Rivera Honored in Musical Tribute April 22

The annual conference celebrates the legacy of the late UCR Chancellor.

(April 1, 2011)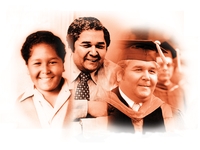 Enlarge
"We Are Not Alone"
RIVERSIDE, Calif. – The 24th annual Tomás Rivera Conference will take the form this year of a musical tribute to the life, struggles and achievements of the late UC Riverside chancellor, a performance that will be presented on Friday, April 22, at 6:30 p.m. in the Barbara and Art Culver Center of the Arts in downtown Riverside.
"We Are Not Alone," a performance integrating multiple musical genres, was written by Carlos Cortés, UCR professor emeritus of history and creative/cultural adviser for Nickelodeon's "Dora the Explorer"; Juan Felipe Herrera, an award-winning poet and the Tomás Rivera Endowed Chair in creative writing at UCR; and composer Bruno Louchouarn, professor of music, multimedia and cognitive science at Occidental College. Herrera coordinated the production, Cortés developed the show's story line and wrote the script, and Louchouarn composed much of the show's music.
Tickets are $20 for general admission seating on the main floor of the Culver Center atrium and $5 for the balcony (no seating; standing room only), and may be purchased online at
culvercenter.ucr.edu/performances
. The Culver Center is located in the UCR ARTSblock at 3834 Main St.
The annual
conference
honors the legacy of Rivera, who was UCR's chancellor from 1979 until his death after a heart attack in 1984. Rivera was the first Hispanic and first minority chancellor in the UC system.
Rivera was an award-winning writer of poems, short stories and literary essays and the first winner of the Quinto Sol Award in 1971 for "… y no se lo tragó la tierra" ("… and the Earth Did Not Swallow Him"). Quinto Sol was a publishing company that focused on Chicano literature.
Herrera said the four-act musical portrait recalls Rivera's childhood as the son of migrant farmworkers, his love of learning, and his significant contributions to higher education and Chicano literature.
"Perhaps more than anything else, in this musical we will get to witness the inner life, the poetic intensity and the illuminating voice of Tomás Rivera; a rare glimpse of a giant whose footsteps still resound in our midst," Herrera said. "It is a magnificent tribute jeweled with the genius of our students, faculty, staff and community."
The title of the musical tribute comes from Rivera's epic poem "The Searchers," Cortés said.
Over the years Rivera conferences have varied, he said.
"We've held traditional academic gatherings with formal papers," Cortés said. "There have been banquets with nationally known speakers, like Henry Cisneros, Dolores Huerta, Luis Valdez, Lucille Roybal-Allard, and Edward James Olmos. Sometimes we've addressed critical issues facing Latinos; other times we've celebrated Tomás' literary accomplishments. Occasionally, we've presented original performance pieces commemorating his life and work."
Most of the musical groups are from Riverside, and cast members are current or former students, faculty or staff at UC Riverside.
"The cast embodies the rich intercultural significance of Tomás' life," Cortés said.
Musical performers include: Onda Sound project, a chamber ensemble Louchouarn founded; Karen Wilson and Blue Wave West jazz and blues group; Mayupatapi, the UCR Department of Music's Andean ensemble, led by music professor Jonathan Ritter; IE Hip Hop Crew, a hip hop performing group composed of UCR students and Inland Empire residents, led by UCR theater professor Rickerby Hinds; Senryu Taiko at UCR; and Maracatú Rivera Naçáo Brazilian Drum and Dance Ensemble of the Bay Area, led by Jimmy Biala, who teaches Brazilian and Cuban percussion in the United States, China and Canada, and Maria Vanderhorst, who teaches at Humboldt State University.
Cast members are: Jackie Balderrama, a second-year creative writing major; Estella Acuña, director of Chicano Student Programs; Eliud Martínez, novelist and professor emeritus of creative writing; Alfredo Figueroa, assistant dean of students; Lindsay Patterson, a music graduate and resident artist with the Riverside Lyric Opera Company; Tina Whitley, a music graduate and private instructor and church pianist; Randy Lee, a business and music graduate; Michael Atienza, academic advisor in the Department of Media and Cultural Studies; Karen Wilson, assistant director of the Gluck Fellows Program of the Arts; Melisa García, a fourth-year double-major in poetry and Spanish literature; and Angel García, a first-year poet in the Master of Fine Arts program.
The event is sponsored by the Tomás Rivera Endowment and UCR Department of Creative Writing, and co-sponsored by UCR's Chicano Student Programs, CHASSF1RST, departments of Music and Theatre, Office of Student Affairs, Culver Center of the Arts and UCR Libraries, as well as the Inlandia Institute and Leer Es Triunfar (Reading Is Succeeding), a program of the Riverside County Library System.
For more information contact the UC Riverside Department of Creative Writing at (951) 827-5570 or go to
www.creativewriting.ucr.edu/TRC/
.
RELATED LINKS
ADDITIONAL CONTACTS
The University of California, Riverside (www.ucr.edu) is a doctoral research university, a living laboratory for groundbreaking exploration of issues critical to Inland Southern California, the state and communities around the world. Reflecting California's diverse culture, UCR's enrollment has exceeded 21,000 students. The campus opened a medical school in 2013 and has reached the heart of the Coachella Valley by way of the UCR Palm Desert Center. The campus has an annual statewide economic impact of more than $1 billion.
A broadcast studio with fiber cable to the AT&T Hollywood hub is available for live or taped interviews. UCR also has ISDN for radio interviews. To learn more, call (951) UCR-NEWS.