Earth Week Activities Offer Green Info
---
UC Riverside Earth Week Activities Offer a Range of Green Ideas
Activities include a zero-waste breakfast to encourage community engagement.
(April 8, 2011)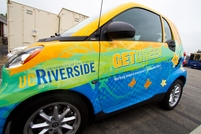 Enlarge
Photo by Steve Brazill
UC Riverside will bring out the green with a range of activities on campus during Earth Week, April 18-22.
The events kick off at 9 a.m. on April 18 with a Sustainable Commune(ity) Breakfast in HUB 268. The free event, sponsored by the campus Office of Undergraduate Research in the Community, will showcase opportunities for community service, especially those pertaining to the environment and sustainability. The event will also be the campus' first sustainable/zero net waste event, featuring local and organic food. In addition, service settings will be reusable glass or ceramic and any waste will be composted or recycled.
Paper products will be from post-consumer renewable sources, coffee will be free-trade and all products will be bulk — no single packets. In addition, attendees will have a public transport option for attending the breakfast.
The event is open to the public but space is limited, so attendees are asked to RSVP by contacting Samantha Wilson at samantha.wilson@ucr.edu or (951) 827-7739.
Daily exhibits will be held from 10 a.m. to 2 p.m. at the UCR bell tower. Each day of the week will represent a different sustainability topic. All events are free and open to the public, but there is a fee for parking on campus.
Exhibits include:

• April 18, Materials: Visitors can bring an empty disposable plastic water bottle and trade it for a Pilot pen made from recycled bottles. There will also be a demonstration in which visitors will walk through a sidewalk chalk depiction of the process for getting a building certified under LEED (Leadership in Energy and Environmental Design) for Existing Buildings: Operations & Maintenance (EBOM) guidelines. UCR is in the process of getting its first LEED EBOM building certification for Glen Mor I residence halls.

• April 19, Waste: What would a trash can say if it could talk? Find out by visiting the UCR talking trash cans. Other demonstrations include exploring the anatomy of a waste bin and how to recycle a coffee cup.

• April 20, Carbon: Using cardboard boxes that represent a metric ton of CO2, visitors will have the opportunity to envision their impact on the environment by stacking the boxes that equate to their carbon footprint. UC Riverside's Transportation and Parking Services will have information about alternative transportation and will display some of the campus' hybrid, compressed natural gas and electric vehicles. There will also be information on how to improve gas mileage through vehicle maintenance.

• April 21, Water: Can you physically carry your daily water use? And how much water do you really use to make a cup of coffee or drive your car? Find out at these demonstrations. Also, answer a question about sustainability, then put your name on a tag. Each tag will represent a plant that will be donated to UCR's student garden. There will be a tree planting at 11 a.m. on the mall lawn in front of Pierce Hall and Science Laboratories 1. UC Riverside Chancellor Timothy P. White and Jared Blumenfeld, Environmental Protection Agency (EPA) regional administrator for the Pacific Southwest, will plant a tree to celebrate a memorandum of understanding, signed last year between UCR and the EPA, which is designed to increase EPA's outreach to diverse and underserved communities by offering internships, joint projects, and scientific research opportunities to students and faculty. Students will help in the planting process.

• April 22, Energy: Find out how much energy it takes to get things done and learn about some renewable energy options. A solar oven will be used to cook bread or fruit cobblers. After Earth Week the oven will be moved to a campus residence hall for student use.

Other activities, not on campus:

• Several UCR representatives will take part in the Naval Surface Warfare Center's Earth Day activities on April 19 in Norco. Sadrul Ula, a research faculty member for the College of Engineering-Center for Environmental Research (CE-CERT), will travel to Norco to demonstrate a solar well pumping system for remote regions. His work is related to UCR's Southern California Research Initiative for Solar Energy (SC-RISE). UCR's chapter of the American Society of Mechanical Engineers (ASME) will showcase a human-powered vehicle; and the Department of Geology will have an informational booth.

• In Washington, D.C., student teams from the Bourns College of Engineering will participate in the National Sustainable Design Expo April 16-17. They will compete against other college and university teams from around the country in the EPA's People, Prosperity, and the Planet (P3), program. According to the event's website, the program encourages students from around the country to "address challenges from a wide range of categories: agriculture, built environment, materials and chemicals, energy, and water." UCR's teams won the first phase of the competition held earlier this year. That win provided the funding to allow them to fine-tune their project and go on to the next and final phase of the competition at the Expo. Winners of that competition will receive up to $90,000 to take their design to a real-world application.
RELATED LINKS
ADDITIONAL CONTACTS
The University of California, Riverside (www.ucr.edu) is a doctoral research university, a living laboratory for groundbreaking exploration of issues critical to Inland Southern California, the state and communities around the world. Reflecting California's diverse culture, UCR's enrollment has exceeded 21,000 students. The campus opened a medical school in 2013 and has reached the heart of the Coachella Valley by way of the UCR Palm Desert Center. The campus has an annual statewide economic impact of more than $1 billion.
A broadcast studio with fiber cable to the AT&T Hollywood hub is available for live or taped interviews. UCR also has ISDN for radio interviews. To learn more, call (951) UCR-NEWS.