Engineering Students Win International Contest
---
Engineering Students Win International Environmental Design Contest
Team's system focuses on cleaning hard, brackish water for municipal water districts
(April 13, 2011)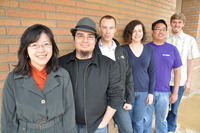 Enlarge
From left to right, Kawai Tam, James Gutierrez, Andrew Mikkelson, Cindy Brito, Alfred Liu and Caleb Stanton.
RIVERSIDE, Calif. (www.ucr.edu) -- A team of University of California, Riverside
Bourns College of Engineering
students placed first last week at an international environmental design competition for a system they created to clean hard, brackish water for municipal water districts.
The team's cumulative score was the highest in the 21-year history of the
Waste-Management Education & Research Consortium contest
in Las Cruces, N.M. Past participants have included the Massachusetts Institute of Technology, Stanford University and Cornell University.
"This is a historic achievement," said Kawai Tam, the students' advisor and a lecturer at the Bourns College of Engineering.
In addition, one of the team members, James Gutierrez, received the Terry McManus Outstanding student award. Gutierrez, a graduate of Rancho Verde High School in Moreno Valley, served in the Army Reserves for six years before enrolling at UC Riverside. The senior environmental engineering major will be pursuing his Ph.D. at Yale University starting in September.
"This award was about a commitment to sustainability," Gutierrez said. "This has to be something that is part of your life, the way you think and a fundamental concern every day. Even so, I was very surprised and speechless during the awarding."
The other four team members are senior chemical engineering majors:
Alfred Liu, of San Gabriel, who is looking for a post-graduation job; Cindy Brito, of Anaheim, who will be pursuing her Ph.D. at UC Santa Barbara in the fall; Andrew Mikkelson, of Hemet, who after graduating will be spending two years in school to be an officer on a Navy nuclear submarine; and Caleb Stanton, of Escondido, who will be attending Loma Linda University to seek a master's degree in geology this fall.
Nineteen teams from 14 universities competed at the contest hosted by New Mexico State University's Institute for Energy and the Environment. The UC Riverside team, which was sponsored by the Western Municipal Water District, took home a first place trophy and received a $2,500 prize.
The team, which called itself Waterwerx and created stickers with the team name to affix to their cell phones during the competition, was judged on its oral presentation, written paper, bench-scale prototype and poster presentation. They were told by judges that their system had the potential to be adopted by municipal water districts.
The team's challenge was to study the efficiency and economics of magnetic treatment on brackish water in a reverse osmosis treatment plant. Cleaning brackish water is a huge industry because of the high concentration of it throughout the world and U.S., especially in the Southwest, Midwest and Southern California.
Reverse osmosis uses high pressure to drive water through a semi-permeable membrane, creating a purified stream of water and a waste stream of the concentrated brackish water.
In the last decade, reverse osmosis has become the world's leading desalination technology. In the U.S., most reverse osmosis plants are concentrated on the coasts because they can inexpensively dispose of the waste stream in the ocean.
At inland reverse osmosis plants, waste disposal is more expensive and water supply is often limited. Consequently, inland plants need to operate at the maximum recovery rate to minimize concentrated waste. However, at high rates of recovery reverse osmosis membranes tend to break down. Membrane replacement and maintenance constitute nearly 35 percent of operating costs.
The students found that cost can be cut and water saved by using magnetic treatment in tandem with a chemical precipitation process, a method already used industrially that involves adding chemicals to cut the amount of salt collecting on the membrane. This method increases water recovery from 80 percent to 96 percent, they found.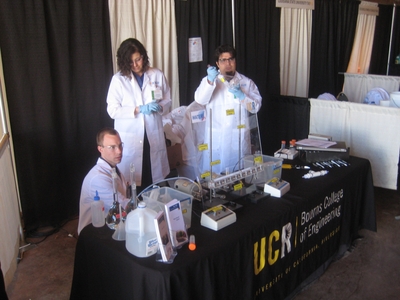 Enlarge
From left to right, Andrew Mikkelson, Cindy Brito and James Gutierrez at the team's table at the Waste-Management Education & Research Consortium contest in Las Cruces, N.M.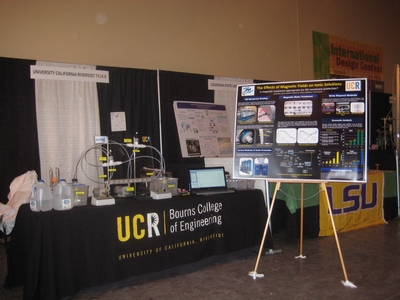 Enlarge
The team's table and poster at the Waste-Management Education & Research Consortium contest in Las Cruces, N.M.
The University of California, Riverside (www.ucr.edu) is a doctoral research university, a living laboratory for groundbreaking exploration of issues critical to Inland Southern California, the state and communities around the world. Reflecting California's diverse culture, UCR's enrollment has exceeded 21,000 students. The campus opened a medical school in 2013 and has reached the heart of the Coachella Valley by way of the UCR Palm Desert Center. The campus has an annual statewide economic impact of more than $1 billion.
A broadcast studio with fiber cable to the AT&T Hollywood hub is available for live or taped interviews. UCR also has ISDN for radio interviews. To learn more, call (951) UCR-NEWS.