Following Nature's Lead
---
How Nature's Best Ideas Inspire Innovative New Technologies
In public lecture at UC Riverside on May 5, spider silk expert Cheryl Hayashi will discuss how these technologies are helping solve human problems
(April 28, 2011)
NEWS MEDIA CONTACT
Name:

Iqbal Pittalwala


Tel:

(951) 827-6050


E-mail:

iqbal@ucr.edu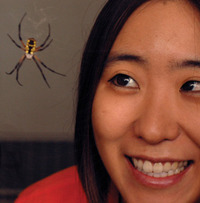 Enlarge
Cheryl Hayashi is a professor of biology at UC Riverside. Photo credit: UCR Strategic Communications. (Another photo below.)
RIVERSIDE, Calif. – Human existence has always depended on harvesting from nature for food and shelter, but we now increasingly look to nature for technological ideas. Indeed, the guiding principle behind "biomimicry" – designing from nature – is that the evolutionary process has already performed innumerable experiments over many millions of years.
Next week, spider silk expert
Cheryl Hayashi
will give a free public lecture at UC Riverside about biomimetic technologies in our lives today as well as those envisioned in the future.
Titled "Designs From Nature: A New Spin on High-performance Materials," the hour-long lecture will begin at 6 p.m., May 5, in Rooms D-E,
University Extension Center
(UNEX).
Doors open at 5:30 p.m. Seating is open. Parking at UNEX will be free for lecture attendees.
"Humans have and will continue to draw inspiration for new technologies from the incredibly rich results of evolutionary experiments that began millennia before we first appeared," said Hayashi, a professor of
biology
at UC Riverside.
A U.S. Presidential Scholar, National Merit Scholar, and a MacArthur Fellow, Hayashi specializes in the molecular and mechanical characterization of spider silks. Her lab at UCR does extensive mechanical testing of silk fibers from different spider species.
In her lecture, she will cover a few of the spectacular ways that organisms cope with the challenges they face, and relate how people have borrowed concepts from nature to invent new biomimetic technologies, such as Velcro fasteners and sharkskin-surfaced swimsuits. She will discuss the science behind these innovations and the challenges of adapting natural solutions to manmade problems.
As a case study, she will talk about spiders and the efforts to replicate their silks.
"Remarkably, spiders have evolved silks that outperform nearly all natural and manmade fibers in terms of strength, energy absorption, and stretchiness," she said. "These factors, plus a host of other outstanding attributes, make spider silk possibly one of the greatest biomimetic materials of tomorrow."
Scientists have long been fascinated with spider silks – used by spiders to move, trap and store food, and to reproduce – because of their extraordinary mechanical properties. Different proteins are made and mixed in the silk glands of spiders to create the silk.
Hayashi's talk is being hosted by UCR's
College of Natural and Agricultural Sciences
and the
Science Circle
, a group of university and community members committed to advancing science at UCR and in Inland Southern California.
The talk is the third of four lectures scheduled this year. The lecture series, titled "
Science & Society: Major Issues of the 21st Century
," aims to boost the public's awareness and understanding of science and of how scientists work.
More information about the lecture series can be obtained by visiting
www.cnas.ucr.edu
, calling (951) 827-6555 or emailing
Carol Lerner
.
Teachers interested in receiving professional development credit for attending the lecture series must make arrangements in advance with University Extension [
awebb@ucx.ucr.edu
; (951) 827-1653].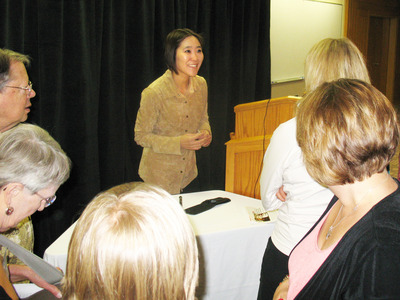 Enlarge
Cheryl Hayashi, a professor of biology, listens to a question from an audience member after her presentation, May 5. Photo credit: S. Clausen, UC Riverside.
The University of California, Riverside (www.ucr.edu) is a doctoral research university, a living laboratory for groundbreaking exploration of issues critical to Inland Southern California, the state and communities around the world. Reflecting California's diverse culture, UCR's enrollment has exceeded 21,000 students. The campus opened a medical school in 2013 and has reached the heart of the Coachella Valley by way of the UCR Palm Desert Center. The campus has an annual statewide economic impact of more than $1 billion.
A broadcast studio with fiber cable to the AT&T Hollywood hub is available for live or taped interviews. UCR also has ISDN for radio interviews. To learn more, call (951) UCR-NEWS.