UCR Plant Scientist Receives 2011 USDA E. Kika de la Garza Fellowship
---
Fellowship to UC Riverside Botanist Encourages Hispanic Students to Take Up Research
Louis Santiago is UCR's first recipient of the USDA E. Kika de la Garza Fellowship
(April 29, 2011)
NEWS MEDIA CONTACT
Name:

Iqbal Pittalwala


Tel:

(951) 827-6050


E-mail:

iqbal@ucr.edu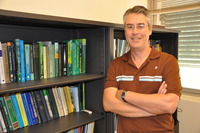 Enlarge
Louis Santiago is an assistant professor of botany and plant sciences at UC Riverside. Photo credit: UCR Strategic Communications. (More photos below.)
RIVERSIDE, Calif. – A plant scientist at the University of California, Riverside has received an education fellowship from the U.S. Department of Agriculture (USDA) that is designed to encourage more Hispanic students to take an interest in and perform science research.
Louis Santiago
, an assistant professor in the
Department of Botany and Plant Sciences
and a member of the
Center for Conservation Biology
, has been selected to participate in the 2011 USDA
E. Kika de la Garza Fellowship Program
which seeks to address challenges faced in the development of a well prepared Hispanic workforce.
As a fellow, Santiago will be part of a network of leaders from academia, government, and non-profit organizations that work to advance the excellence of education at
Hispanic-serving institutions
, such as UC Riverside.
The one-year fellowship will allow Santiago to spend two weeks in Washington DC this summer during which he will meet with program officers at USDA and other federal agencies to identify mutual collaborative interests and increase his understanding of these agencies.
It was an undergraduate student working in his lab, Fortino Morales, who inspired him to apply for the fellowship.
"Fortino is interested in agriculture and often spends his weekends with a grassroots student group that advocates food production systems based on agricultural sustainability," Santiago said. "Besides working in my lab, he spends nearly every weekend attending conferences, or working in the student community garden on campus."
Santiago believes this level of dedication illustrates the potential of UCR's Hispanic students to become part of a well-trained workforce in agricultural and natural resource management.
"Participating in the fellowship program will allow me to establish grants, partnerships, or other agreements with the USDA and other agencies that can provide the opportunities, experience, and training for students like Fortino to work at state and federal levels," he said."Many Hispanic immigrants in California have agricultural roots, and have both a tremendous traditional agricultural knowledge and a need to formalize this knowledge into careers in the natural and agricultural sciences. Indeed, a large proportion of the produce in Mexico is still produced on small family farms."
Santiago, the first E. Kika de la Garza Fellow at UCR, is excited that the fellowship ultimately will benefit students.
"I love working with undergraduates – they bring an energy and curiosity to science that is refreshing," he said. "They are not afraid to ask challenging questions."
Morales is such a student. With a keen interest in how food, agriculture and the environment interact with one another, he was instrumental in launching the community garden on campus and is a past president of Sustainable UCR, a student organization.
"I chose environmental science as a major and have, over the years, narrowed my interest to botany and plant sciences," said Morales, who joined Santiago's lab through UCR's
STEM
(science, technology, engineering, mathematics) Pathway Project and plans to take up a career in agricultural ecology. "Currently, I am researching how desert plant species in the Morongo Valley survive drought."
Another Hispanic student working in Santiago's lab is Jeffrey Ambriz, who recently graduated with a bachelor's degree from UCR and is finishing up a few research projects. Ambriz works on desert chaparral – specifically how drought and embolism (blockages in plant stems) affect plants. He majored in biological sciences and minored in history.
"The fellowship Dr. Santiago has received will benefit students like me," said Ambriz, who plans to attend law school and specialize in biological patent law. "I believe we have got to get more Hispanic undergraduates involved in doing science. My joining Dr. Santiago's lab as a lab assistant helped me decide what career I want to pursue."
Santiago believes hiring undergraduates like Morales and Ambriz into research positions in labs makes a big difference to students, UCR and science.
"I have three undergraduates working in my lab who do excellent research and have developed skills that can only be good preparation for professional schools later," he said. "The Kika de la Garza Fellowship will point me to ways UCR faculty can reach out to more undergraduates for doing lab research. I think it is terrific that the USDA is reaching out to Hispanic students this way and I welcome this opportunity to work collaboratively with USDA."
Santiago received his Ph.D. in botany at the University of Florida in 2003. Three years later, he joined UCR, where he is a co-director of the Facility for Isotope Ratio Mass Spectrometry. His research is focused on the connection between plants and their environment. He will visit Washington DC from June 27 to July 12 to meet with USDA and other federal officials.
The USDA E. (Kika) de la Garza Fellowship Program offers faculty and staff from Hispanic-serving institutions the opportunity to work collaboratively with USDA to gain insight and understanding of the federal government. To qualify, applicants must be faculty or staff at a Hispanic-serving institution or high school.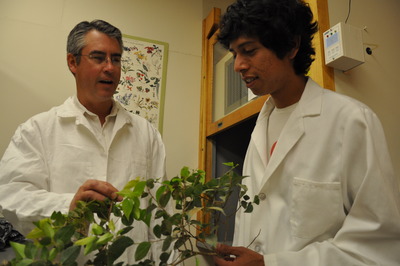 Enlarge
Louis Santiago (left) and Fortino Morales, an undergraduate student working in Santiago's lab, examine a plant. Photo credit: UCR Strategic Communications.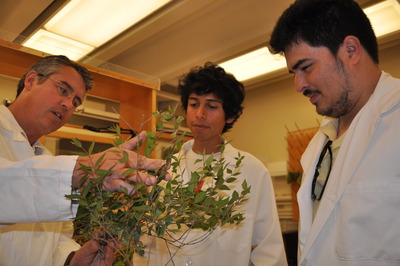 Enlarge
Louis Santiago (left) and his students Fortino Morales (center) and Jeffrey Ambriz in the lab. Photo credit: UCR Strategic Communications.
The University of California, Riverside (www.ucr.edu) is a doctoral research university, a living laboratory for groundbreaking exploration of issues critical to Inland Southern California, the state and communities around the world. Reflecting California's diverse culture, UCR's enrollment has exceeded 21,000 students. The campus opened a medical school in 2013 and has reached the heart of the Coachella Valley by way of the UCR Palm Desert Center. The campus has an annual statewide economic impact of more than $1 billion.
A broadcast studio with fiber cable to the AT&T Hollywood hub is available for live or taped interviews. UCR also has ISDN for radio interviews. To learn more, call (951) UCR-NEWS.