Founding Faculty Member Dies
---
UC Riverside Founding Faculty Member Dies

Francis M. Carney was known for his intellect, his passion and his dedication to justice.

(May 10, 2011)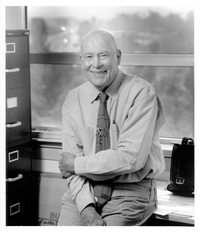 Enlarge
Francis Carney, founding faculty member at UC Riverside.
RIVERSIDE, Calif. – Francis M. Carney, a founding faculty member at the University of California, Riverside and a political strategist, died at his Riverside home on May 9. He was 89.
Services were held Saturday, May 14, at 11 a.m. at All Saints Episcopal Church, 3847 Terracina Drive, Riverside.
Mr. Carney moved to Riverside in January 1954 and began teaching political science courses when the campus opened the following month. UCR was his home campus during his entire career, but he also taught at the University of California campuses of Berkeley, Los Angeles and Santa Cruz. He retired from UCR in 1991, then volunteered to teach a history course in constitutional law from 1995 until 2003.
"UC Riverside has lost an invaluable piece of history with the passing of Francis Carney," said UCR Chancellor Timothy P. White. "He taught one of the very first classes here on opening day in 1954, and he dedicated his life to creating community both here on campus and in the city that surrounds us. He was a model professor who taught generation after generation about democracy and politics, and then practiced those principles in his own community – leading the fight for desegregated housing in Riverside, encouraging his daughters to join a picket against racist business practices. He will be sorely missed."
Max Neiman, a retired UCR political science professor who is a senior resident scholar at the UC Berkeley Institute of Governmental Studies, described Mr. Carney as one of his closest friends and colleagues.
"Francis was a genuine public intellectual, in a deep and expansive way that is rare in today's world," he recalled. "He was rooted in and obsessed by the written word, both as a scholar and as a teacher. Francis conveyed to his colleagues and his many admiring and grateful students his love of language and his intimate bond with California – its history, art, and its grand social tapestry. As the friend and colleague of so many and as a UCR citizen from very beginning of the campus as a university, he was unhesitatingly generous in every way."
Kyle Hoffman, assistant vice chancellor for alumni and constituent relations, said students adored Carney.
"I've been on campus for over 20 years. I've worked with thousands of our alumni, and I can tell you without reservation that Francis Carney was one of the most beloved faculty members to ever grace this campus," Hoffman said. "He would help out with alumni reunions, he led architectural tours of Los Angeles for alumni, he had a radio program at KUCR. He was a renaissance man and a great guy."
Born in New York City on Sept. 30, 1921, Mr. Carney's family moved to Hollywood, Calif., when he was 2. He graduated from North Hollywood High School and attended Stanford University before joining the Army Air Corps in 1943, where he served as a radio operator on C-47 troop transport planes, dropping relief to soldiers pinned down at the Battle of the Bulge, flying in the crossing of the Rhine and helping fly survivors out of the Buchenwald concentration camp. He was very proud of his military service, yet at heart, was a man of peace, his family said.
When he returned home in 1945, he resumed his academic studies, earning a bachelor's degree in social science from the University of Southern California. He earned a master's degree in political science from Stanford, and a Ph.D. in political science from UCLA.
Known for his analysis of California politics, Carney wrote "The Rise of the Democratic Clubs in California" (1958) and co-authored with Frank Way Jr. "Politics 1960" (Wadsworth continuing education series), "Politics 1964," "Politics 1968" and "Politics 1972." He also wrote numerous articles and newspaper opinion pieces, as well as "Voting Behavior in South Central & East Los Angeles, 1958-1965: A Study for the Governor's Commission on the Los Angeles Riots of 1965."
A lifelong Democrat, he organized the Riverside County campaign for Robert Kennedy in his 1968 presidential campaign. Although the Kennedy organization doubted he could swing the county away from Eugene McCarthy, Mr. Carney recalled in an oral history interview 30 years later, his focus on Latinos in the Coachella Valley, support from students at UCR and Riverside City College, and retired military proved to be a successful strategy.
"(T)he greatest thing any of us ever did in politics was to carry this county for Bob," he told an interviewer in 1998.
Mr. Carney also was instrumental in the desegregation movement in Riverside in the 1960s, leading a community activist group known as the Riverside Open Housing Committee. The committee's activities drew the attention of The Press-Enterprise, which advocated an end to segregated housing. He supported his daughters when they joined members of the local NAACP chapter in picketing Woolworth's in downtown Riverside to protest its segregated lunch counter. And he was a leader among UCR professors protesting the exclusion of women from the campus Faculty Club in the 1950s.
At UC Riverside he received the Academic Senate Distinguished Teaching Award in 1978 and chaired the Department of Political Science from 1988 to 1990. He also served on numerous Academic Senate committees over the years.
He recalled that UCLA tried to lure him away from UCR in the 1970s, but he remained in Riverside so his daughters could stay with their friends.
In 1994 he spent nine months in Albania on a Fulbright Scholarship teaching the basic principles of democracy to young people who grew up under communism and had no exposure to or understanding of the concepts, said daughter Lynne Westafer. "Even through an interpreter, he was able to ignite a passion and devotion among his Albanian students, some of whom he stayed in touch with for years after his return," she said.
For nearly 20 years, Mr. Carney hosted "Jazz on a Tuesday" at KUCR, spinning jazz standards and contemporary offerings to listeners. He continued to deejay every week until two years ago.
He was a member of the American Political Science Association and was elected to the association's council in 1986-88 and chaired the Rules Committee. He also served on the board of directors of Pi Sigma Alpha (national political science honorary fraternity), reviewed manuscripts for the Western Political Quarterly and Publications of the Modern Language Association, and served as a consultant on California politics and elections for ABC News.
He also volunteered at Highgrove Elementary School speaking with the students about history and many other things. He was named Volunteer of the Year by the Riverside Unified School District for his service.
Mr. Carney is survived by his wife of 34 years, Jane Carney; his children Susan and Robin Carney, Diane Rugg, Mike and Lynne Westafer, and Laura McGowan; and grandchildren Joe Rugg, Prahlad Papper, Rebecca and Jack Westafer, and Gavin McGowan.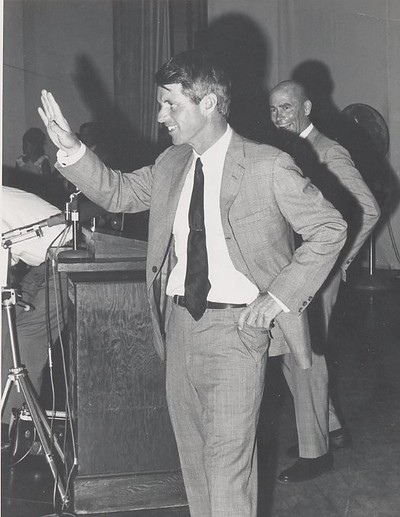 Enlarge
Douglas Coe (a student at UCR at the time) took this picture in Riverside at a rally for candidate Bobby Kennedy. Francis Carney can be seen in the background.
The University of California, Riverside (www.ucr.edu) is a doctoral research university, a living laboratory for groundbreaking exploration of issues critical to Inland Southern California, the state and communities around the world. Reflecting California's diverse culture, UCR's enrollment has exceeded 21,000 students. The campus opened a medical school in 2013 and has reached the heart of the Coachella Valley by way of the UCR Palm Desert Center. The campus has an annual statewide economic impact of more than $1 billion.
A broadcast studio with fiber cable to the AT&T Hollywood hub is available for live or taped interviews. UCR also has ISDN for radio interviews. To learn more, call (951) UCR-NEWS.