Sea Creatures Coming to Riverside Museum
---
Sea Creatures Coming to Riverside Museum
UC Riverside professor and his students will bring a collection of sea animals to the Riverside Metropolitan Museum on June 11
(May 25, 2011)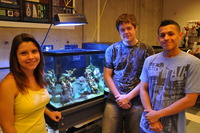 Enlarge
From left, Ana Bowles, Alexander "Sasha" Dudchenko and Steven Herrera in front of an aquarium in David Kisailus' lab.
RIVERSIDE, Calif. (www.ucr.edu) -- A UC Riverside
Bourns College of Engineering
professor and his students will bring a collection of sea creatures to the
Riverside Metropolitan Museum
on June 11 to show how they are inspiring the design of everyday materials.
David Kisailus
, an assistant professor of chemical and environmental engineering, and 11 undergraduate students and five graduate students who work in his lab, will be giving the presentation from 1 p.m. to 4 p.m. at the museum, 3580 Mission Inn Ave., Riverside. It's free and open to the public. Advance registration is not required.
"We are bringing the ocean to the Inland Empire," Kisailus said. "This will be a great opportunity for people to see our sea animals and how they have inspired us to make the next generation of engineering materials."
The talk is the part of the museum's Citizen Science program, which uses demonstrations, workshops and hands-on activities to show people the science that happens around them.
"This is a great opportunity to learn from living things how to construct tools that perform better and are more in tune with the environment," said James Bryant, the museum's natural history curator.
Marsha Ing
, an assistant professor of education at UC Riverside, will also be at the event. Ing is studying undergraduate students to assess what they gain from working in a lab.
"We are interested in improving undergraduate learning experiences by measuring what students do in the lab and relating their participation to different outcomes," Ing said.
Kisailus, also a participating faculty member in the new materials science and engineering program at UC Riverside, will be bringing a mantis shrimp, red abalone and a marine snail called a chiton, starfish and sea urchins in a recently built portable aquarium.
He is studying the composition of the mantis shrimp's arm, which is hard and durable and can accelerate faster than a 22-caliber bullet, and the red abalone, California's largest marine snail, for inspiration for stronger, lighter-weight body armor for soldiers.
He is interested in the chiton because they have abrasion resistant teeth that are harder than steel and could inspire everything from improved dental drill bits to tunnel boring machines.
Kisailus is also interested in further extending these lessons from nature.
"We are now learning how these organisms produce these incredible materials so that we can build materials for energy-based applications such as super efficient lithium ion batteries and solar cells," he said.
Among the students taking part in the museum event are:
• Steven Herrera, a fourth-year chemical engineering major from Riverside who is returning for another year to get a second degree in materials science and engineering, who is working with the mantis shrimp.
• Ana Bowlus, a fourth-year material sciences and engineering major from Temecula, who is working on synthesizing zinc oxide, a material found in sun screen, to make more efficient dye-sensitized solar cells, which are much less expensive to produce compared to traditional silicon-based solar cells, but not nearly as efficient.
• Alexander "Sasha" Dudchenko, a third-year chemical engineering major from Dublin, in the Bay area, is working with nanoscale titanium dioxide, a material found in household paints, to construct filters to clean water.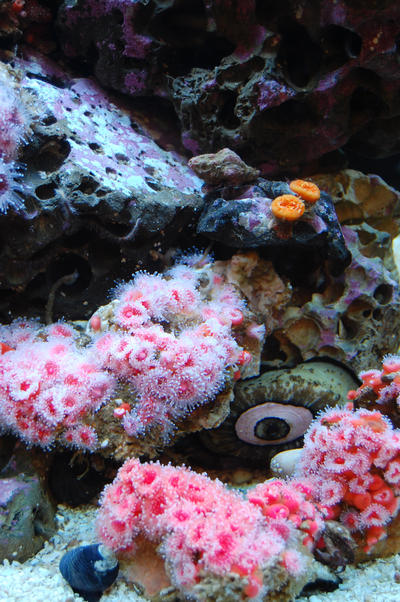 Enlarge
Some of the sea creatures in the Kisailus lab on campus. Photo by Judy Chappell.
The University of California, Riverside (www.ucr.edu) is a doctoral research university, a living laboratory for groundbreaking exploration of issues critical to Inland Southern California, the state and communities around the world. Reflecting California's diverse culture, UCR's enrollment has exceeded 21,000 students. The campus opened a medical school in 2013 and has reached the heart of the Coachella Valley by way of the UCR Palm Desert Center. The campus has an annual statewide economic impact of more than $1 billion.
A broadcast studio with fiber cable to the AT&T Hollywood hub is available for live or taped interviews. UCR also has ISDN for radio interviews. To learn more, call (951) UCR-NEWS.