Got ants? UCR entomologists want to know
---
UC Riverside Entomologists Invite Riverside and Moreno Valley Home Owners to Participate in Ant Study
Researchers will conduct a 12-week research project this summer and require access to areas outside home
(June 10, 2011)
NEWS MEDIA CONTACT
Name:

Iqbal Pittalwala


Tel:

(951) 827-6050


E-mail:

iqbal@ucr.edu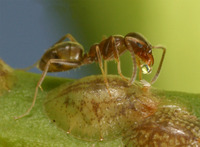 Enlarge
Photo shows a close-up of an Argentine ant. Photo credit: Dong-Hwan Choe. (More photos below.)
RIVERSIDE, Calif. – Argentine ants – small, black ones that form trails – are a common pest in California. Difficult to manage, they will often enter homes in search of food and water.
To better control ant populations in homes, entomologists at the University of California, Riverside are embarking on a 12-week-long research project this summer for which they are requesting the public's assistance.
"Ants are the number one reason people call pest management professionals in Southern California for treatment," said
Les Greenberg
, a specialist in the
Department of Entomology
, who will conduct the study along with colleagues. "We are looking for homeowners in the Riverside and Moreno Valley areas to participate in our study. We will need access to about 60 homes – specifically, outside the homes – where there are lots of Argentine ants."
There is no cost to participants of the study. Those who wish to take part need to call (951) 827-3217 for details on how to participate and for more information about the study.
Study details
The study will involve the use of outdoor sprays and baits. The researchers will test new spray and granular formulations of insecticides to be used outside of homes with Argentine ant infestations. A primary goal of the project is to reduce the amount of insecticide that is applied while still being effective in getting rid of ants.
"We are trying to reduce the amount of insecticide that runs into the street due to irrigation in the summer months," Greenberg said. "We may collect water samples at some houses, which we will then analyze in the lab for their insecticide content. We want to check if low doses of the insecticides are effective in controlling ants. If they are, runoff into the street, which ultimately winds up in urban waterways, will be minimized."
Some treatments the researchers will use are sprays applied to the base of a house. The spray uses a slow-acting poison that is spread from one ant to another by contact. Other treatments are granules placed around trees and bushes. Ants that touch these materials will be killed.
Greenberg and his research team also will place sugar water stations around the homes to estimate the numbers of ants present and to understand how well the treatments work. Each station is a 15-ml vial containing sugar water that is laid on the ground and covered with a flower pot to keep animals away and protect the vial from sprinklers. The vials will be left out for 24 hours and then retrieved.
"This takes about 15 minutes per house," Greenberg said. "It will be repeated every couple of weeks. So we will need access around the outside of the participating homes every week or two. To collect water samples from a house, we will turn on the closest bank of sprinklers and collect runoff into the street. This process will be repeated several times after the treatments are done."
Michael K. Rust
, a professor of entomology, leads the project, and has been the project's principal investigator for many years. The project is funded by a grant from the California Department of Pesticide Regulation.
The researchers plan to publish the results of their study in peer-reviewed journals.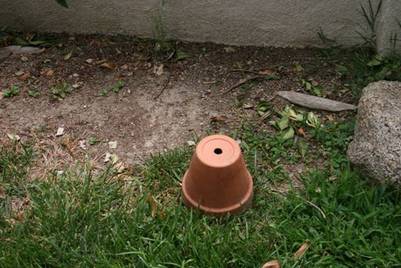 Enlarge
Photo shows a sugar water vial on the ground and covered with a flower pot. Photo credit: Rust lab, UC Riverside.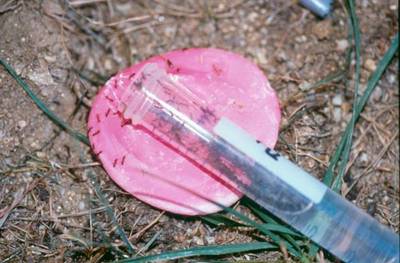 Enlarge
Photo shows Argentine ants in a sugar vial. Photo credit: Rust lab, UC Riverside.
RELATED LINKS
ADDITIONAL CONTACTS
The University of California, Riverside (www.ucr.edu) is a doctoral research university, a living laboratory for groundbreaking exploration of issues critical to Inland Southern California, the state and communities around the world. Reflecting California's diverse culture, UCR's enrollment has exceeded 21,000 students. The campus opened a medical school in 2013 and has reached the heart of the Coachella Valley by way of the UCR Palm Desert Center. The campus has an annual statewide economic impact of more than $1 billion.
A broadcast studio with fiber cable to the AT&T Hollywood hub is available for live or taped interviews. UCR also has ISDN for radio interviews. To learn more, call (951) UCR-NEWS.