Alexander Raikhel awarded $4.3 million to study mosquitoes
---
University of California, Riverside researcher Alexander Raikhel awarded $4.3 million to study mosquitoes


Research has implications on preventing transmission of deadly diseases
(September 10, 2002)
NEWS MEDIA CONTACT
Name:

Iqbal Pittalwala


Tel:

(951) 827-6050


E-mail:

iqbal@ucr.edu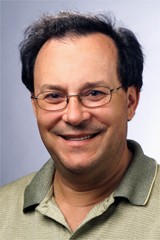 RIVERSIDE, Calif. - The University of California, Riverside today announced that the National Institutes of Health (NIH) has just awarded a ten-year, $4.3 million research merit grant to Dr. Alexander S. Raikhel, professor of entomology at UC Riverside, to support continuing investigation into the genetic and molecular mechanisms regulating egg development and maturation in mosquitoes.
Funded by the National Institute of Allergy and Infectious Diseases (NIAID), the research has implications on preventing mosquitoes' transmission of deadly diseases, including West Nile virus and Dengue Fever.
"NIH rarely grants awards of this duration or of this amount," said Steven R. Angle, dean of the College of Natural and Agricultural Sciences. "This award is a testament to the significance of Prof. Raikhel's work and his reputation for scholarly excellence."
Raikhel is the sole principal investigator on the project, entitled "Regulation of Vitellogenic Genes in the Mosquito." The grant is one of several he and his laboratory team have received from federal agencies to support their research on the mosquito species
aedes aegypti
.
"Mosquitoes have developed an evolutionary need to take blood, and it has been established that blood intake is closely tied to egg development," said Raikhel. "By understanding the mechanisms that regulate egg development and blood feeding, we can develop the means to interrupt the disease-transmission cycle."
Raikhel has been working to understand and manipulate the genetic and cellular mechanisms of yolk and egg development for 23 years. His accomplishments include being the first scientist to engineer a transgenic mosquito with an altered immunity system. His research focuses on genetic studies of blood-feeding arthropods, especially mosquitoes, which are responsible for transmitting many different diseases to animals and humans.
The ability to prevent mosquito-borne disease is of great importance to public health. Anywhere from 300 to 500 million cases of malaria are treated annually, according to the World Health Organization (WHO), and an estimated 1 million people die from the disease each year.
The West Nile virus has been a problem in the United States since 1999, with the Center for Disease Control reporting that there have been 1086 reported cases and 45 deaths so far in 2002 (as of today).
Dengue Fever is also a serious problem in Asia and Africa, with WHO estimating that 50 million people suffer from its effects each year. Although most people recover from Dengue Fever in a week, the fatality rate is about 2.5 percent, with young children being the most frequent fatalities.
Raikhel joined the UC Riverside Department of Entomology in January 2002. He is the editor of the journal Insect Biochemistry and Molecular Biology and a member of the editorial board of the Annual Reviews in Entomology. His honors include a 2000 Distinguished Faculty Award from Michigan State. He received his master's degree in biology, zoology and parasitology from St. Petersburg University in 1970 and his doctorate in zoology, cell biology and parasitology from the Zoological Institute of the Russian Academy of Science in 1975.
The University of California's entomological research in southern California dates back to 1906. Over the years the UC Riverside Department of Entomology has excelled in virtually all phases of entomological research and developed a scope of expertise unmatched by any other entomology department in the country. Today, the UC Riverside campus is on the cutting edge of advanced entomological research and features a unique new Insectary and Quarantine facility that permits the safe study of exotic organisms from around the world. The University of California, Riverside offers undergraduate and graduate education to nearly 15,000 students and has a projected enrollment of 21,000 students by 2010. It is the fastest growing and most ethnically diverse campus of the preeminent ten-campus University of California system, the largest public research university system in the world. The picturesque 1,200-acre campus is located at the foot of the Box Springs Mountains near downtown Riverside in Southern California. More information about UC Riverside is available at www.ucr.edu or by calling 909-787-5185.
The University of California, Riverside (www.ucr.edu) is a doctoral research university, a living laboratory for groundbreaking exploration of issues critical to Inland Southern California, the state and communities around the world. Reflecting California's diverse culture, UCR's enrollment has exceeded 21,000 students. The campus opened a medical school in 2013 and has reached the heart of the Coachella Valley by way of the UCR Palm Desert Center. The campus has an annual statewide economic impact of more than $1 billion.
A broadcast studio with fiber cable to the AT&T Hollywood hub is available for live or taped interviews. UCR also has ISDN for radio interviews. To learn more, call (951) UCR-NEWS.