Scholar to Study Historical Roots of Blues
---
Scholar to Study Historical Roots of Blues

UC Riverside alumna Karen Wilson wins a Fulbright fellowship to study in Nigeria and Ghana.

(August 3, 2011)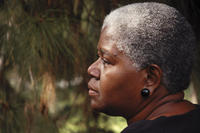 Enlarge
Karen Wilson
RIVERSIDE, Calif. – Jazz and blues singer Karen Wilson, assistant director of the Gluck Fellows Program of the Arts at UC Riverside, has been awarded a Fulbright fellowship for 2011-12 to study the roots of historical Blues in Nigeria and Ghana.
Wilson's research project, "Researching African Diaspora: Untangling the Interlaced Ambiguities of the Historical Blues," will take her to the University of Calabar, Nigeria, and the University of Ghana, Legon.
"What we call 'the Blues' is more than a musical form, but includes kinesthetic and socio-cultural strategies and approaches that are in play to some degree wherever Africans and their descendants have flourished," Wilson explained. "Urban musicians in the United States developed a Blues genre that privileged 8-, 12- and 16-bar forms, while rural musicians in the Southeastern U.S. created Blues of much longer and varied duration well into the 20th century."
If these formal elements are removed, what is left? "Called by many names around the Western Hemisphere, the strategies and approaches that remain are called 'Blues' in the United States and include driving, complex rhythm that links music with movement and actually demands it, improvisation, call and response, psychological uplift, community building, and a grounded, 'get down' aesthetic," she said. "These practices pre-date the late 19th century when they began to emerge from African-descended communities in the United States, and they exist in some form wherever Africans and their descendants have lived."
In order to identify and better understand the deep roots of these practices – which may well have begun to develop in multi-ethnic communities before Africans left the continent, Wilson will turn to the traditional games of African children. She will seek out multi-ethnic communities in both countries, hoping to find that in some places children are still learning and playing some of the games and songs that their parents and grandparents might have learned and played.
"The oldest and earliest musical – and social – practices of a community are often retained and shared in the music and movement of children's games and songs," said Wilson, who grew up in Harlem where learning to play children's games taught her the fundamentals of the blues. "If the children playing on the streets of Harlem learned the ancient Blues aesthetic through games and playing songs, what do African children in the multi-ethnic communities that poured participants into the transatlantic slave trade in the 15th through 18th centuries learn?"
She hopes to discover what persistent elements of the historical Blues might remain after 300 to 500 years of change in communities that thrive on improvisation.
Wilson is a professional jazz and Blues singer, and earned her Ph.D. in history from UC Riverside.
The Fulbright Program is the leading international education exchange program sponsored by the U.S. government and is designed to increase mutual understanding between the people of the United States and people of other countries, according to the program's website. The program, which awards approximately 8,000 new grants annually, was established in 1946 under legislation by Arkansas Sen. J. William Fulbright and is sponsored by the U.S. Department of State's Bureau of Educational and Cultural Affairs. It operates in more than 150 countries.
Enlarge
Karen Wilson performs in concert.
RELATED LINKS
ADDITIONAL CONTACTS
The University of California, Riverside (www.ucr.edu) is a doctoral research university, a living laboratory for groundbreaking exploration of issues critical to Inland Southern California, the state and communities around the world. Reflecting California's diverse culture, UCR's enrollment has exceeded 21,000 students. The campus opened a medical school in 2013 and has reached the heart of the Coachella Valley by way of the UCR Palm Desert Center. The campus has an annual statewide economic impact of more than $1 billion.
A broadcast studio with fiber cable to the AT&T Hollywood hub is available for live or taped interviews. UCR also has ISDN for radio interviews. To learn more, call (951) UCR-NEWS.