NSF Grant to Aid Women Faculty in STEM Fields
---
NSF Grant to Aid Women Faculty in STEM Fields

UC Riverside wins a $599,219 grant to help recruit, retain and support through leadership development women faculty in science, engineering, technology and mathematics.

(September 16, 2011)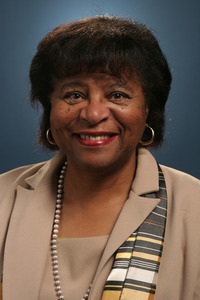 Enlarge
Yolanda Moses
RIVERSIDE, Calif. – The National Science Foundation has awarded the University of California, Riverside a $599,219 grant to develop a program aimed at recruiting, retaining and developing the leadership skills of women faculty in the sciences, engineering, technology and mathematics (STEM) disciplines, particularly women who are underrepresented minorities.
The three-year grant to establish the FORWARD (Faculty Organization foR Women's Advancement, Recognition and Development) project at UC Riverside is part of the NSF's 10-year effort to increase the number of tenured women faculty in STEM fields – science, technology, engineering and mathematics – in the United States. UC Riverside will take this mission one step further in that it plans to develop leadership skills for all women faculty as well. The grants are highly competitive; UCR was one of only 13 universities nationwide to receive NSF funding for this purpose.
The campus, which ranks 6th among U.S. research universities for diversity of its undergraduate student body, "strives and aspires to have its faculty begin to reflect the diversity of this undergraduate student body," said Yolanda Moses, professor of anthropology and associate vice chancellor for diversity, excellence and equity and the principal investigator of the FORWARD project. Co-principal investigators are: Cynthia Larive, professor of chemistry; Marylynn Yates, professor of environmental microbiology; and Sharon Walker, associate professor of chemical and environmental engineering. Lindsey Malcolm, formerly a co-PI and assistant professor of education at UCR, is teaching now at The George Washington University in Washington, D.C., and will continue as a member of the grant's national advisory board.
"Despite a proud history of promoting diversity at all levels, UCR still lags in achieving campus goals for women on our STEM faculty and of women faculty of color in all areas," said Moses, a professor of anthropology who is known nationally for her research on race and gender issues in higher education. "There is a dearth of senior STEM women – especially women of color – in leadership positions at UCR and in the University of California as a whole."
The issue is not confined to UC Riverside, or the University of California. "Nationally women comprise 10 percent of tenure-track engineering faculty and 18 percent of tenure-track faculty in the physical sciences. Women of color represent just 6 percent of all STEM faculty at U.S. institutions," Moses explained. "This project is our effort to tackle this disparity."
Systemwide the University of California has more than 3,700 faculty in STEM disciplines. Women comprise 18.4 percent of that number and underrepresented minority women in STEM (African American, Hispanic and Native American) total 1.1 percent. UCR has 723 tenure-track faculty in all disciplines. Of those, 31 percent are women and 9.1 percent are underrepresented minorities. The campus has one underrepresented minority woman in a STEM discipline as of the writing of the grant proposal.
The NSF grant will fund a series of mentoring, professional development and leadership programs, as well as a support network for women faculty of color in STEM disciplines within the 10-campus UC system, California State Universities and the state's community colleges. The goal of the network is to build a critical mass of women in STEM fields – especially women of color, Moses said. National studies show that the success of underrepresented minority women faculty in STEM disciplines depends on their being a part of supportive networks that include other women of color.
"Since the numbers of women of color in STEM faculty are so small on any given campus within California, our goal is to create that critical mass through a statewide network for both professional personal support," she said.
FORWARD kicks off with a reception on Sept. 26 that will introduce the program to the campus. Annual retreats will be open to all women faculty and will include workshops that Moses said are especially needed for junior women and underrepresented minority faculty in departments where they are significantly outnumbered and may feel isolated. Funds to support all women faculty at the Riverside campus will come from matching funds from the UCR Office of the Provost.
"Many of the challenges that women faculty in STEM fields face originate from the rigid cultures and structures of postsecondary institutions and the STEM departments nested within them," Moses said. "For example, despite the presence of family friendly policies such as family leave and stop-the-tenure-clock that intend to remove some of the structural barriers for women faculty, entrenched beliefs about the behaviors of 'successful' scholars prevent many women and men from taking advantage of such policies for fear of being judged negatively by their male colleagues."
Larive said she looks forward to the program's launch this fall because it will "foster career success and create leadership opportunities for women faculty."
The project will develop a toolkit to help STEM women identify the steps they need to take to achieve success; provide leadership and professional development training for women who want to become department chairs, deans or hold other administrative posts, including mentoring and a support network; create an interactive database to allow faculty and administrators to track the recruitment, retention and women faculty success at UCR; and create programs at UCR and statewide that will be sustained after the NSF grant expires.
"We are thrilled to have received this funding," said Walker. "It will start the conversation on this campus about the role women faculty play in the leadership of their fields, their departments, and on our campus. And hopefully, it will empower us to be even more engaged as leaders."
The University of California, Riverside (www.ucr.edu) is a doctoral research university, a living laboratory for groundbreaking exploration of issues critical to Inland Southern California, the state and communities around the world. Reflecting California's diverse culture, UCR's enrollment has exceeded 21,000 students. The campus opened a medical school in 2013 and has reached the heart of the Coachella Valley by way of the UCR Palm Desert Center. The campus has an annual statewide economic impact of more than $1 billion.
A broadcast studio with fiber cable to the AT&T Hollywood hub is available for live or taped interviews. UCR also has ISDN for radio interviews. To learn more, call (951) UCR-NEWS.