UCR is an engine of economic growth
---
UC Riverside Annually Generates $1.4 Billion National Economic Impact and Supports 16,335 Jobs
Student Spending Impact Tops $488 Million Annually
(October 3, 2011)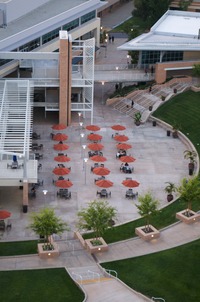 Enlarge
A view from the top of the carillon tower. Photo by Carlos Puma
RIVERSIDE, Calif., (www.ucr.edu) -- The University of California, Riverside annually generates $1.4 billion in economic activity in the nation, according to a new economic impact report.
The total impact of $1.4 billion is created by direct spending by the university as well as direct, indirect, and induced impacts of spending by the campus' students, visitors, and retirees.
Overall, the direct and induced impacts of UCR spending support 16,335 jobs annually – most of them located within Inland Southern California.
The study, created by the firm CBRE Consulting, was based on Fiscal Year 2009-10 figures.
"UC Riverside is an economic powerhouse within the Inland Southern California region and throughout California," wrote the report authors.
UC Riverside in FY 2009-10 had revenues of $544,442,000, and expenditures of $412,884,894. Spending by the university – for salaries, goods and services – was multiplied by subsequent transactions to achieve the overall $1.4 billion in impact. During the year studied, the university had 6,985 full and part-time employees.
"The public tends to think of UCR as a teaching institution for higher education," said UCR Chancellor Timothy P. White. "But as a research university, we contribute much more. Our faculty generate research funding and develop technologies and innovations that can be developed commercially. Our students bring business to local shops and restaurants. And UCR is both one of the biggest employers in the region and the developer of a knowledge-based workforce.
"It is an honor to be part of an enterprise that reliably, and, year after year, multiplies The State of California's investment." For fiscal 2009-10, UC Riverside received just $173 million in funds from the State of California.
Most of the impacts created by UCR spending occurred within the State of California, with statewide impacts totaling $1.1 billion in spending impacts, 13,340 jobs, and $503.8 million in induced earnings.
The majority of the university's statewide impacts were contained to Inland Southern California, with $757.9 million of spending impacts, 11,999 jobs, and $380.7 million in induced earnings for the year studied.
Economic benefits generated within the City of Riverside total $366.2 million in spending, 9,274 jobs, and $208.4 million in induced earnings.
A significant gain in economic benefits was achieved in the County of Riverside, with spending impacts totaling $628.0 million, accompanied by 11,095 jobs and $329.5 million in induced earnings.
UC Riverside ranks as the City of Riverside's largest employer, and a leading employer in Riverside County.
Student Spending
UC Riverside in FY 2009-10 enrolled 19,439 students in degree programs at the undergraduate, graduate, and doctoral levels. In addition, the university enrolled more than 23,700 individuals in non-degree, continuing education programs.
Total direct, indirect, and induced UC Riverside student spending throughout the nation was estimated at $488.9 million. Direct student spending also supported 4,818 jobs nationwide.
The City of Riverside received a considerable share of student spending impacts. An estimated $141.5 million of direct, indirect, and induced spending occurred in the City of Riverside as a result of student spending. This spending also resulted in an additional $51.4 million in earned wages and 1,545 jobs within the city.
Throughout Riverside County student spending impacts increased to $187.2 million, with direct student spending supporting 2,001 jobs in Riverside County and generating $69.8 million in personal income.
New Graduates Add to Alumni Base
UC Riverside's highly skilled graduates are among the university's most significant contributions to the state and regional economies. In FY 2009-10, UC Riverside conferred 3,822 degrees, including 3,189 bachelor's, 438 master's, and 195 doctorates. By 2011, UCR had about 86,000 alumni living in California, the Nation, and the World.
School of Medicine
The report indicates that the UCR School of Medicine generated more than $28 million in economic impacts for the fiscal year studied. [Those figures include an ongoing 2-year medical education program produced in partnership with UCLA, which enrolls 56 students.] By 2021, the study authors estimate the school could generate more than $150 million in spending, with more than 2,200 jobs supported by that activity. Additional economic activity would also be induced by future research grants gained by School of Medicine faculty.
"The UC Riverside School of Medicine will strengthen the university's economic role as well as achieve its unique mission to expand and diversify the region's physician workforce and to develop research and health care delivery programs," wrote the study authors.
Research Funding and Technology Transfer
For the year studied, UCR attracted $115 million in research funds. Of that total, $78.5 million came from the Federal government.
"Research funds provide considerable economic value to the region, with the funds turning over multiple times through employment of personnel and purchase of goods," said the study authors. "A primary added value is in the knowledge transfer within the region and nation."
In FY 2009-10, UC Riverside researchers reported 54 inventions, with 288 cumulative inventions based on the original breakthroughs. A total of 29 first and 36 secondary U.S. patent applications were filed and 4 patents were issued.
As of June 2010, the University had a total of 88 active U.S. patents. The University also had a total of 32 active license agreements, with an additional 170 active plant license agreements at the end of the year.
"The technologies developed through research at UC Riverside offer strong promise for commercial application," wrote the study authors. "The commercialization of these technologies could over time yield significant economic benefits to the Inland Southern California region, the State of California, and the nation."
University Extension
UCR University Extension provides adult continuing education courses to California residents as well as international extension programs that attract foreign students to participate in courses that range from week-long to semester-long.
UCR administrators estimate that there were 21,178 enrollments in continuing education courses in FY 2009-10. In addition, that year, 2,536 international students took part in a variety of offerings from University Extension.
Campus Visitors
Each year, UC Riverside attracts tens of thousands of visitors to its conferences, libraries, museums, performances, and athletic events. While no comprehensive source of data exists to measure the total number of visitors to the UC Riverside campus, the university keeps records of attendance at certain campus events that give an estimate of the number of annual visitors. According to information obtained from a variety of university offices, at least 120,000 visitors came to the UC Riverside campus during FY 2009-10 for a variety of events.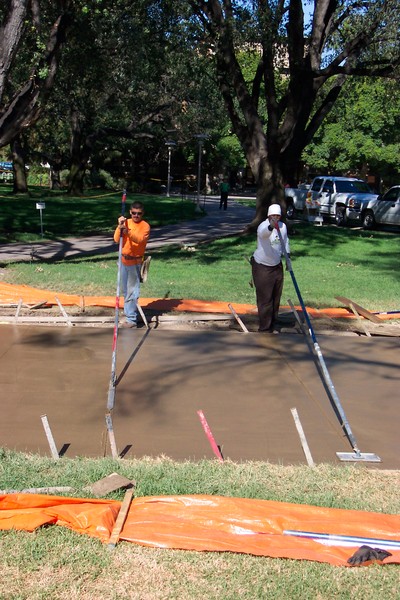 Enlarge
A new sidewalk at the center of campus.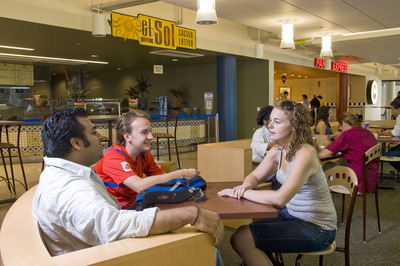 Enlarge
Students at the Highlander Union Building
RELATED LINKS
The University of California, Riverside (www.ucr.edu) is a doctoral research university, a living laboratory for groundbreaking exploration of issues critical to Inland Southern California, the state and communities around the world. Reflecting California's diverse culture, UCR's enrollment has exceeded 21,000 students. The campus opened a medical school in 2013 and has reached the heart of the Coachella Valley by way of the UCR Palm Desert Center. The campus has an annual statewide economic impact of more than $1 billion.
A broadcast studio with fiber cable to the AT&T Hollywood hub is available for live or taped interviews. UCR also has ISDN for radio interviews. To learn more, call (951) UCR-NEWS.