Ph.D. Student Places Third in National Book-Collecting Contest

---
Ph.D. Student Places Third in National Book-Collecting Contest

Sarah McCormick's collection of books centers on the Coachella Valley, date industry and National Date Festival in Indio.

(October 6, 2011)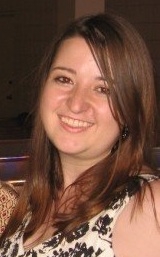 Sarah McCormick
RIVERSIDE, Calif. – UC Riverside graduate student Sarah McCormick placed third in the National Collegiate Book Collecting Contest for her collection of 32 books and other published materials about the Coachella Valley, where she was raised. Third place carries a $500 prize plus a $250 award for the UCR Libraries.
McCormick's collection previously won first place in the UCR Petko Book Collection Competition, one of only three dozen such competitions for college and university students in the country. Winners of local competitions for undergraduate and graduate students advance to the national contest, which is sponsored by the Antiquarian Booksellers' Association of America, the Fellowship of American Bibliophilic Societies, and the Center for the Book, and Rare Books and Special Collections Division of the Library of Congress, with financial support from the Jay I. Kislak Foundation.
"We are very proud to have one of our students place in this very competitive national book-collecting contest, as is Dr. Edward C. Petko, the founder and benefactor of our competition," said Melissa Conway, head of Special Collections of the UCR Libraries. "It is especially noteworthy that Sarah's prize-winning collection focuses on the nearby Coachella Valley – making her prize a triple win for her, UCR and the region."
The UCR Libraries' Student Book Collection Competition is named in honor of Adam Repán Petko (1896-1995), who immigrated to the United States in 1912. His son, Dr. Edward Petko, funded the contest to honor the memory of his father by providing an opportunity to undergraduate and graduate students at UCR to display their talents in assembling and organizing a personal book collection.
McCormick's winning collection, titled "Desert Dreams: The History of the Coachella Valley," originally focused on the glitz and glamour of Palm Springs, and eventually grew to encompass all of the Coachella Valley, judges of the UCR Petko competition noted. The judges said they were "impressed both by her solid scholarly approach and her obvious attachment for the region." Histories of Palm Springs and Indio, Cahuilla Indians and the valley's date industry and date festival, as well as letters, cookbooks and coffee-table books comprise the collection.
Winning the Petko Prize and then National Collegiate Book Collecting Competition validated her view that books are important and worthwhile to collect, McCormick said.
"My collection has allowed me to return home wherever I am in the world as long as I have a book with me. It's also allowed me to learn so much more about the place I came from, the people I've met along the way, the landscape I grew up loving, my family's history, and even myself," she said. "It was so wonderful to share my love of the area (and its books) with others and it was great to see that others appreciated a book collection about a local topic. The award will allow me to continue to purchase books for my collection, which will also help me complete my dissertation research. It also helps me to connect to others who have felt the same way about books that I do. The librarians I've met in the application process were unbelievably amazing – so encouraging, kind and helpful, and they share a same faith, if you will, in the power of books."
McCormick, a native of Indio, earned a bachelor's degree in history from UC Irvine and a master's degree in public history from UCR. She expects to complete her Ph.D. in June 2013. Her dissertation topic is the National Date Festival in Indio and the date industry in the Coachella Valley.
Books have been very important in her life, McCormick said.
"They can take you anywhere. They can take you to the deepest depths of the sea, the farthest reaches of the Universe, and the highest mountain top. They can take you back to the time of the Mayans, to the day your great-grandmother was born, or to some future yet to be. They can tell you almost anything you want to know and many things you didn't even know you wanted to know," she said. "In a time where more and more of us are relying on the Internet for our knowledge, there's something we still need from books – the concreteness of their information, the texture of their pages, the way they age and smell, a tactfulness you can't get from Google. You can return to them whenever, they are not fleeting, they will say the very same thing tomorrow and that is so powerful for historians who spend their days looking back at the way we used to think and the things we used to believe."
The book that sparked her collection is "Palm Springs First Hundred Years," a coffee-table book written by former Palm Springs Mayor Frank Bogert that traces the city's history and its reputation as a retreat for Hollywood stars. As a high school senior McCormick met Bogert, and a letter the former mayor wrote her after that meeting is part of the collection.
Also part of McCormick's collection is a book she edited, "Coachella Valley Mexican American Pioneer Families 2008 Cookbook," published by the Coachella Valley Historical Society as a fundraiser for the Coachella Valley Museum and Cultural Center. It includes recipes, photographs, and testimonies that McCormick said remind her of her family's history as a Mexican American family that came to the Coachella Valley before World War II.
One of her favorites, she said, is "It's a Date" by Wayland Dunham, published in 1948. "This remains one of my favorite books, despite its condition, because of its captivating recipes, including a date sandwich. I also love the great map of the Coachella Valley titled 'America's Garden of Allah' on the inside covers."
The University of California, Riverside (www.ucr.edu) is a doctoral research university, a living laboratory for groundbreaking exploration of issues critical to Inland Southern California, the state and communities around the world. Reflecting California's diverse culture, UCR's enrollment has exceeded 21,000 students. The campus opened a medical school in 2013 and has reached the heart of the Coachella Valley by way of the UCR Palm Desert Center. The campus has an annual statewide economic impact of more than $1 billion.
A broadcast studio with fiber cable to the AT&T Hollywood hub is available for live or taped interviews. UCR also has ISDN for radio interviews. To learn more, call (951) UCR-NEWS.