Exhibit Aims to Sends Suicide Packing
---
Traveling Exhibit Aims to Send Suicide Packing

Students suicide is the focus of a traveling exhibit at UC Riverside, with more than 1,000 backpacks, each representing the loss of a young person's life.
(October 7, 2011)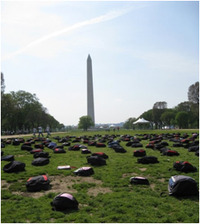 Enlarge
"Send Silence Packing" opened at the National Mall in Washington, D.C. in 2008. Photos courtesy of Send Silence Packing.
On Wednesday, Oct. 12, 1,100 backpacks will be scattered across the lawn at UC Riverside.
The goal: to bring awareness to the mental health issues in young people that can lead to suicide.
It's part of a nationwide traveling exhibit called "Send Silence Packing," which will be on display from 10 a.m. to 4 p.m. in front of the bell tower.
The backpacks represent the average number of students who die by suicide annually at universities across the nation. Some will include photos and personal stories provided by the young person's family or friends.
It's a visual symbol of a very real problem, said Stacey Grady, UC Riverside's Mental Health Educator.
Suicide, she said, is the second leading cause of death among college students.
"This is a very emotional representation of suicide, depression and mental health concerns that many students may experience," said Grady. "Stress, relationships, being away from home for the first time, or just being at an age when many mental health illness is diagnosed make this a very vulnerable time for students."
Since the inaugural display in 2008 on the National Mall in Washington, DC, "Send Silence Packing" has visited 29 cities in 18 states throughout the United States. The exhibit has been brought to the campus through the efforts of UC Riverside's chapter of Active Minds, a national organization founded in 2001 by Alison Malmon following the suicide of her older brother, Brian. The group has more than 350 student-run chapters nationwide.
The exhibit is designed to encourage students to take a different approach to mental health, said Reissa Decena, president of UCR's chapter of Active Minds and a junior majoring in creative writing.
"Students don't view mental health in the same way as physical health," she said. "If someone breaks a bone they would get that treated but when they have mental illness they often won't seek medical treatment. That can be very detrimental."
In conjunction with the "Send Silence Packing" exhibit, the campus will put on "A Mindful Expression" a hands-on exhibit that will encourage students to make two-sided masks, with one side representing their external persona, the other side their internal selves. The exhibit will also include a display of UCR-student submitted poetry, art, writing and other artistic expressions of mental health.
"We want people to see that art can provide a healthy and constructive way to express emotions," said Decena.
To continue the dialogue regarding suicide and depression, Jordan Burnham will present "A Lesson in Living" on Tuesday, November 8 from 7 to 8:30 a.m. at HUB 302 South, and from 9:30 to 11 a.m., at the Aberdeen-Inverness Residence Hall.
While a senior in high school, mounting pressures of academics, athletics, and social demands resulted in Jordan attempting to take his own life by jump from a 9-story building. Now a college student himself, Jordan shares his story of depression, suicide, coping, and survival.
This event is co-sponsored by UC Riverside's AVC/Dean of Students Office and the Riverside County Department of Mental Health. This partnership was developed to remind UCR, as well as the surrounding Riverside area, that programs and services are readily available to support positive mental health throughout the community. The AVC/Dean of Students Office is part of the campus and UC systemwide Mental Health/Healthier Campus Climate Initiative, which provides collaborative programs and services designed to promote physical, social, emotional, cultural and spiritual wellness.
The exhibit is free but there is a $6 fee for parking on campus lots.
Student Suicide Fast Facts:
Nearly half of all college students feel so depressed at some point they have trouble functioning.
Suicide is the second leading cause of death among college students, claiming the lives of 1,100 students each year. (Traffic accidents are the first)
Half of all college students have had suicidal thoughts and 1 in 10 students seriously consider attempting suicide.
An estimated 26 percent of Americans ages 18 and older — about 1 in 4 adults — live with a diagnosable mental health disorder in a given year.
Among 18-24 year olds the prevalence of serious psychological disorder is higher (18.6 percent) than all adults aged 18 or older; however, compared to older adults, the 18-24 yr old age group shows the lowest rate of help-seeking behaviors.
While not all students have a mental illness, all students have mental health. Mental health can dramatically impact relationships and academics, yet it is often ignored.
Stigma is a major reason why students do not seek the help they need – the help that could save their life.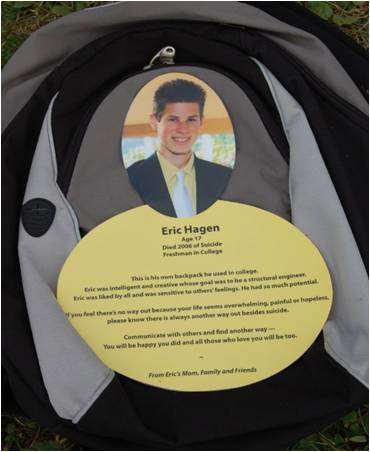 A backpack is dedicated to a young student who took his life when he was 17.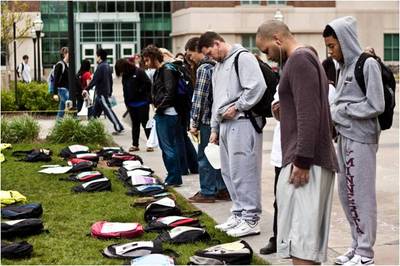 Enlarge
University students stop to view the "Send Silence Packing exhibit
RELATED LINKS
ADDITIONAL CONTACTS
The University of California, Riverside (www.ucr.edu) is a doctoral research university, a living laboratory for groundbreaking exploration of issues critical to Inland Southern California, the state and communities around the world. Reflecting California's diverse culture, UCR's enrollment has exceeded 21,000 students. The campus opened a medical school in 2013 and has reached the heart of the Coachella Valley by way of the UCR Palm Desert Center. The campus has an annual statewide economic impact of more than $1 billion.
A broadcast studio with fiber cable to the AT&T Hollywood hub is available for live or taped interviews. UCR also has ISDN for radio interviews. To learn more, call (951) UCR-NEWS.