Making a Big Statement
---
State Earns a Minus for Tuition Increase
Students make their unhappiness known about the rising cost of college by changing the giant concrete letter on the mountain above UC Riverside to a "C-minus"
(October 14, 2011)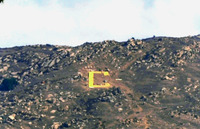 Enlarge
The C on the mountain has been changed. Photo by Kris Lovekin
RIVERSIDE, Calif. (www.ucr.edu) – The concrete "C" on the Box Springs Mountains above UC Riverside has been changed to a C-minus, apparently in protest against rising tuition costs.
At 9:30 p.m. Friday, an email sent to the UCR media relations office claimed responsibility for using cement, water and paint to add a minus sign to the "C" that stands for California.
The full message reads:
"Students from various disciplines came together to design and create this symbolic criticism of California. The diversity of the participants is reflected through work itself, which is a fusion of politics, philosophy, and art (among others). Most of the students involved were inspired by the Occupy Wall St. movement and its potential impact. Over 2 dozen inspired students carefully and inconspicuously scaled Box Springs Mountain with over 1,000 lbs. of cement, water, and paint. After construction all trash was removed. Continued budget cuts, rising tuition, and lack of commitment to higher education have led students of UCR to downgrade the state in this symbolic fashion. Additionally, we wanted to make the minus sign out of concrete to send the message that what California is doing to its higher education system may have permanent negative effects. However, we did not intend to construct an overbearing minus symbol above our campus or community, but rather to give the students on campus below a subtle reminder that their frustrations can be heard if they indeed take action to voice them. We are currently in contact with other inspired students throughout California who are planning similar activities. We urge all students of CA to take action and express their sentiments in a similar non-violent fashion until education is adequately funded.-Students of CA"
Generally, the state has been decreasing its investment in the UC system. Currently a UC education costs $30,000 per year for a California student living in the residence halls. Financial aid is available to families earning less than $80,000 per year under the "Blue and Gold Opportunity."
"This collegiate prank illustrates an important issue; that there is a deep concern on behalf of students, faculty and staff that the state's ongoing budget crisis has the potential to erode the quality of the world's best public university system," said James Grant, assistant vice chancellor for strategic communications.
This is not the first time the C has changed. Over the years it has also been painted white, green, pink and striped like a zebra. It has been turned into a zero, a C and part of the name "McCarthy" during a visit of "the peace candidate" Senator Eugene McCarthy in 1968. In the late '70s, pranksters covered the concrete with dirt and the C literally disappeared into the mountain. Luckily, they left a ransom note.
Started in 1955 and completed in 1958, the huge concrete letter serves as a UCR landmark, overlooking the campus. At 132 feet long and 70 feet wide, the C is the largest concrete block letter in the UC system. UCR tradition calls students to make an annual trek into the mountains to view the "Big C" up close and to help give it a fresh coat of gold paint.
In 1958, the E.L. Yeager Construction Company poured the "C" in cement. Periodically, and at significant campus events such as Homecoming, the "C" is lit up or painted blue and gold.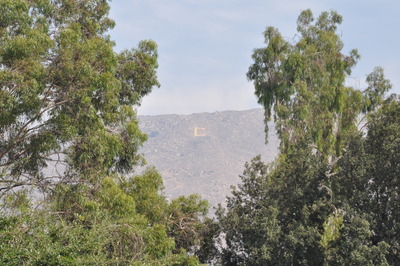 Enlarge
The C on the mountain looks more like a C- today. But it really takes a close look. Photo by Kris Lovekin
RELATED LINKS
The University of California, Riverside (www.ucr.edu) is a doctoral research university, a living laboratory for groundbreaking exploration of issues critical to Inland Southern California, the state and communities around the world. Reflecting California's diverse culture, UCR's enrollment has exceeded 21,000 students. The campus opened a medical school in 2013 and has reached the heart of the Coachella Valley by way of the UCR Palm Desert Center. The campus has an annual statewide economic impact of more than $1 billion.
A broadcast studio with fiber cable to the AT&T Hollywood hub is available for live or taped interviews. UCR also has ISDN for radio interviews. To learn more, call (951) UCR-NEWS.