"Says You!" to Visit UCR on February 19
---
Public Radio Game Show "Says You!" to Visit UC Riverside on February 19
UCR partners with KVCR 91.9 FM for fundraising event at University Theatre
(November 7, 2011)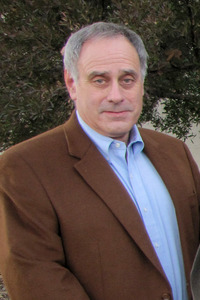 Says You! creator and host Richard Sher. (Photo courtesy of Lillian Vasquez, KVCR)
RIVERSIDE, Calif (www.ucr.edu) — The popular public radio quiz show "Says You!" will come to UC Riverside's University Theatre for a matinee performance on Sunday, February 19, 2012 at 2 p.m. The performance, which will be recorded for later broadcast, is co-sponsored by UCR and KVCR, 91.9 FM, the Inland Empire's NPR station.
Billed as "a game of words and whimsy, bluff and bluster," Says You! is hosted by creator Richard Sher and pits six panelists against one another in a series of word games. Two hour-long episodes will be recorded on the afternoon.
According to KVCR Marketing Coordinator Lillian Vasquez, it will be a great opportunity for fans of the show to see what goes into the production of a radio broadcast.
"Says You! has a loyal following, and the show has done well here," she said. "With the taping, you not only get to hear them, but you get to see them in person. Most people seem to think it is cool to see how it is done."
Tickets for the event were given to donors as part of KVCR's recent Fall Pledge Drive, and Vasquez said the event has been very popular. "I am sure a lot of UCR's faculty and staff are members of KVCR, so it has been a really nice fit," she said. "It's a win-win for us and the university."
"UCR had the opportunity to partner with KVCR to host this event, which gives our students and the UCR community an opportunity to see a nationally broadcast radio show recorded live," said Todd Wingate, director of the Highlander Union Building. "This will give UCR some great exposure both locally and nationally."
About 150 tickets remain for the show. Tickets are $60 each and may be purchased through the
KVCR website
. University Theatre seats 500, providing an intimate atmosphere for the performance. A meet and greet with the Says You! cast sold out within days of the event's announcement.
Wingate said that details are still being finalized and that "a couple" of UCR musical groups may have the opportunity to perform during the show.
Wingate said that his staff wasn't daunted by the challenges of having a national radio show come to his venue. "We produce UC Riverside Presents, which is a series of 11 events, some fairly complicated," Wingate said. "This one will be easy."
As for why the East Coast-based cast and crew want to come to Riverside, Sher had a simple response.
"February 19, Boston Massachusetts, minus nine degrees. February 19, Riverside, California, 74 degrees," he said. "You do the math."
"It will be great to be back out Southern California again," he added.
Says You! can be heard on KVCR on Saturday at 1 p.m. and Sunday at 7 p.m.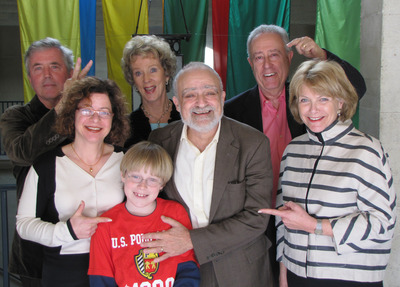 The Says You! cast. Clockwise from top left, Barry Nolan, Paula Lyons, Arnie Reisman, Francine Achbar, Tony Kahn, Benjamin Sher (scorekeeper), and Carolyn Faye Fox. (Photo courtesy of Lillian Vasquez, KVCR)
The University of California, Riverside (www.ucr.edu) is a doctoral research university, a living laboratory for groundbreaking exploration of issues critical to Inland Southern California, the state and communities around the world. Reflecting California's diverse culture, UCR's enrollment has exceeded 21,000 students. The campus opened a medical school in 2013 and has reached the heart of the Coachella Valley by way of the UCR Palm Desert Center. The campus has an annual statewide economic impact of more than $1 billion.
A broadcast studio with fiber cable to the AT&T Hollywood hub is available for live or taped interviews. UCR also has ISDN for radio interviews. To learn more, call (951) UCR-NEWS.