SoBA Students Lend a "Helping Hand"
---
UCR School of Business Volunteers Work with Habitat for Humanity to Refurbish Mobile Homes
Helping Hands program volunteers repaint and beautify four mobile homes for low-income residents
(November 18, 2011)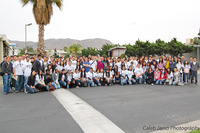 Enlarge
Over 100 UCR students, primarily from the School of Business Administration, painted and refurbished the exteriors of four mobile homes at Riverside's King Arthur Mobile Home Park as part of Habitat for Humanity Riverside's Helping Hands project. The event was organized by popular UCR lecturer Sean Jasso. (Photo by Caleb Jasso.)
RIVERSIDE, Calif. (www.ucr.edu) – Armed with paint buckets, rollers, tarps and a massive amount of energy and goodwill, over 100 UC Riverside undergraduate and graduate students came together on November 11, 2011 to refurbish and repaint four mobile homes as part of Habitat for Humanity Riverside's ongoing Helping Hands project.
A total of 104 UCR students, primarily from the School of Business Administration (SoBA), participated in the event at the nearby King Arthur Mobile Home Park according to event organizer and SoBA lecturer Sean Jasso.
"It was primarily business school students, including a large turnout of our MBA students, and then a few of their friends within the UCR family," Jasso said.
The Helping Hands program helps low and fixed income households make external improvements to mobile-home communities throughout Western Riverside County. The homeowners are typically veterans, seniors and the disabled. A variety of local corporations and organizations participate throughout the year. This was the third appearance of a SoBA-sponsored group.
Christine Morgando, volunteer coordinator for Habitat for Humanity, Riverside, was impressed with UCR's turn out, adding that the average Helping Hands volunteer group is between eight and 20 people.
"Having 100 people is a lot for us. We divided them into four groups with 20 to 25 people," Morgando said. "They painted the walls and the trim; they took down the awnings and painted them. They taped the windows. It's a very professional job for volunteers."
"I teach three large courses here, so I have access to over 700 students on any given day," Jasso said of the large turnout. "Having taught here a number of years, I've developed a rapport with the students. When I put out the call to serve, they show up."
Each of the four groups was assigned to repaint one home, with Jasso choosing an undergraduate student to serve as a team leader.
"I selected the four undergraduate students for their leadership strengths," he said. "These students did an excellent job leading their teams and finishing their work by our 12 noon deadline."
Jasso, who teaches business ethics and law, marketing and distribution and competitive and strategic analysis, said that the Helping Hands program provides a teachable opportunity for students outside the classroom.
"It teaches the power of
the good
," he said. "We are doing it because it is the right thing to do. It's fun, it brings camaraderie. People remember that service is a gift. And it was a time to get 104 students together and have some fun while serving our community."
"It was a good community service opportunity and a nice thing to do," said Alejandra Torres, a second-year law and society major who got involved with the event through the Gamma Beta Phi service organization. "You have fun while you do it, and it goes by really fast."
Jasso said he plans to offer the program every quarter, including summer, with dates in Early March, May and July to be announced. Anyone is welcome to participate, regardless of whether or not they are a SoBA student.
"It's open to the whole campus community," he said. "I've told my students that I would like to paint the whole city. If we get enough people, maybe we can do it."
The University of California, Riverside (www.ucr.edu) is a doctoral research university, a living laboratory for groundbreaking exploration of issues critical to Inland Southern California, the state and communities around the world. Reflecting California's diverse culture, UCR's enrollment has exceeded 21,000 students. The campus opened a medical school in 2013 and has reached the heart of the Coachella Valley by way of the UCR Palm Desert Center. The campus has an annual statewide economic impact of more than $1 billion.
A broadcast studio with fiber cable to the AT&T Hollywood hub is available for live or taped interviews. UCR also has ISDN for radio interviews. To learn more, call (951) UCR-NEWS.