Students Skipping Textbook Purchase, Surveys Show
---
Students Skipping Textbook Purchase, Surveys Show
Rising costs of higher education have repercussions on other spending.
(November 28, 2011)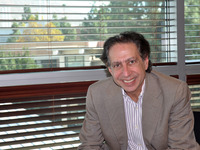 Enlarge
Steven Brint, vice provost of undergraduate education at UC Riverside, commissioned the report based on the two student surveys.
RIVERSIDE, Calif. (www.ucr.edu) — More than 70 percent of the University of California, Riverside undergraduate students who responded to a pair of recent surveys said that the rising costs associated with higher education are causing them to skip buying textbooks.
The 2010 University of California Undergraduate Experience Survey (UCUES) polled 4,822 UCR undergraduates and found that 78% said they bought fewer books, bought cheaper books or read books on reserve to help meet expenses. The next year, a survey conducted by the Office of the Vice Chancellor of Student Affairs of 5,396 UCR undergraduates showed that 73% of students had postponed buying textbooks and 74% had skipped buying them.
The 2011 survey also showed that 66% of UCR students postponed buying school supplies and 63% skipped buying them entirely. In addition, 81% spent less money on food and 83% went out with friends less often.
The textbook findings are detailed in a survey brief that was sent to UCR faculty in mid-November.
"I commissioned a report on these surveys because I wanted the faculty to be aware that the students' behavior with respect to textbook purchases may be different than they think," said UCR Vice Provost for Undergraduate Education Steven Brint. "It is important for faculty to do what they can to make sure that textbooks are available to all students."
Brint, who studies the history and culture of higher education, said the trend is nationwide. A 2010 survey of students at 18 public research universities, for example, found that 73% of students surveyed said they had bought fewer books during the current year, bought cheaper used books, or read books on reserve.
Brint emphasized that rising costs were only one factor behind this change in student behavior.
"Many instructors are putting course materials on their iLearn sites," he said. "Others have made a sufficient number of copies of books available on library reserve. These changes may reduce the sense among students that textbooks purchases are necessary. But undoubtedly these purchase decisions can also be affected by students' sensitivity to costs."
In response to the surveys, the UCR Campus Store and Student Affairs have created a pair of programs to help make it easier for students to get the books they need. The first is a textbook rental program that can save students 54% off of the purchase price of a new book compared to buying it.
"The textbook rental program really lowers the cost of a book. A rental is typically 50 percent of the new price," said Associate Vice Chancellor Danny Kim. He added that buying and reselling a book is another option, but it works best only when the book is in demand.
The second program is an online book exchange called R'Books, which is dedicated solely to UCR students.
"Also we saw that there were a lot of students who were buying and selling on Amazon and Craigslist, so we created R'Books," he said. "The idea with R'Books was to cut out the middle man – and therefore additional costs - and allow students to buy, sell and trade books themselves."
"These were something that we had been considering doing for a long time, but seeing these numbers really motivated us to act," Kim added.
Brint said a variety of options exist for putting reading material into the hands of students, including using existing online resources or by sharing content on the campus' iLearn website. "You want your students to be engaging with course materials. It is more important now to think creatively about what course materials they need to engage with and how to make those course materials available," he said.
He added that the results raise concerns about whether students are doing all of the reading for their courses. "As instructors, we need to think about how to make course materials available to our students," he said. "But at the end of the day reading is essential to learning. Instructors should continue to assess whether students are reading assigned materials. They can do so through quizzes and exams which require students to discuss reading materials. Those who are not currently making these assessments really should be making them."
He also emphasized that students should be made aware of the value of buying textbooks. "Buying a textbook can be a great investment. I have many of the books I used in college still in my library, and I consult them today. As reference tools, they can be a lifelong value to students."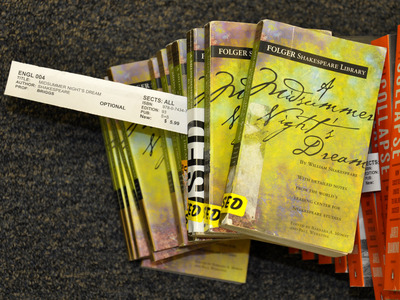 Enlarge
UCR students have several options for buying books. Books can be rented, purchased new or used, or in some cases can be checked out on reserve from the UCR libraries.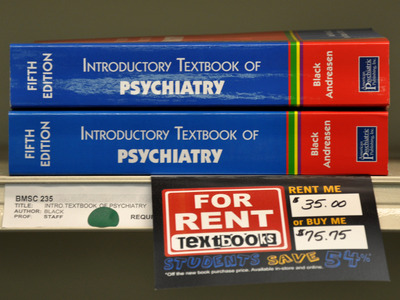 Enlarge
The option to rent books was made available to UCR students following the 2011 survey.
The University of California, Riverside (www.ucr.edu) is a doctoral research university, a living laboratory for groundbreaking exploration of issues critical to Inland Southern California, the state and communities around the world. Reflecting California's diverse culture, UCR's enrollment has exceeded 21,000 students. The campus opened a medical school in 2013 and has reached the heart of the Coachella Valley by way of the UCR Palm Desert Center. The campus has an annual statewide economic impact of more than $1 billion.
A broadcast studio with fiber cable to the AT&T Hollywood hub is available for live or taped interviews. UCR also has ISDN for radio interviews. To learn more, call (951) UCR-NEWS.