UCR Student Part of OAS Election Observation Mission
---
UCR Student Travels to Guyana as Part of Election Observation Mission
Diego Preciado, UCDC student and Organization of American States intern, participates in his third observation mission trip in two months.
(November 28, 2011)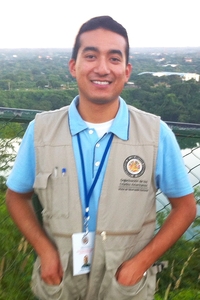 Enlarge
UCR student Diego Preciado during the election monitoring mission to Nicaragua in November.
RIVERSIDE, Calif (www.ucr.edu) – On November 24, as most of his peers were sitting down to a Thanksgiving feast with family and friends, UC Riverside senior Diego Preciado was on a plane from Washington, D.C. to Guyana to witness and support democracy in action.
Preciado, a 24-year-old senior political science/international affairs student from San Diego, has been serving an internship with the Organization of American States (OAS) in Washington, D.C. since late September as part of the University of California Washington Academic Internship Program (UCDC). As part of his internship, Preciado was selected to be an international observer for the OAS Election Observation Mission to the regional and general elections in Guyana scheduled for Monday, November 28.
The trip to Guyana was a surprise for Preciado, as it is his third excursion to Central and South America this fall. He participated in election observation missions in Colombia in late October and in Nicaragua in early November. The surprise was that while it is common for OAS interns to make one trip abroad during their internships, making three trips is extremely rare.
"It is an honor to be considered for another mission. I must be doing something right," he said, adding that he was told he would be making the trip less than a day before the departure. "I feel very, very appreciated."
The UCDC program was created to put some of the University of California's finest undergraduates into internships throughout Washington, D.C. Students in the program also take up to 16 units of courses, seminars and research projects. Over 250 undergraduates from across the nine undergraduate UC campuses participate each quarter, with 20 students coming from UCR.
"The UCDC program was really started so that we could saturate the Washington D.C. area with up-and-coming UC students," said Trina Elerts, UC Riverside's campus program coordinator. "We have great groups of students coming to Washington, D.C., and representing the University of California."
The chance to intern with the OAS, an organization made up of 35 independent nations in North, Central and South America that support democracy, human rights, security and development in the western hemisphere, gave Preciado the opportunity to experience the field of international relations first-hand.
"I would love to do more of this kind of work," he said. "I believe that election observation goes hand-in-hand with diplomacy. In order to intervene, an organization must first preserve and respect the values of that specific country."
After working several weeks in preparation for the mission, Preciado was one of 65 people sent to Colombia, arriving on October 25, five days before the October 30 elections. He worked as an assistant to members of the mission and sat in private meetings with Mexican politician Beatriz Paredes, the chief of mission.
"My father, who was born in Mexico, has always had a decent amount of knowledge about Mexican politics and politicians. Growing up, I would see Paredes and how much power and impact she had in Mexican politics. So, 10 years later, to be sitting in a room with her discussing the country's political context and the elections, it was surreal," he said.
On the day of the election Preciado was sent out to a polling place to watch the election as it happened.
"We deployed an hour before the polling place opened," he said. "We observed when the table opened and closed, how many people from each party were there, whether handicapped people and pregnant women were given priority, among other things. We then observed the count and went to where the vote transmission was going to take place."
Preciado was debriefed the next day, with the team's observations being incorporated into a report presented to the government of Colombia.
Within days of his return to Washington, Preciado was surprised to be heading south again, this time to Nicaragua where he helped oversee the November 6 elections.
"I was there as an observer and was deployed to a polling station in the city of Managua," he said, adding that the observation duties were very similar to his Colombia experience.
Preciado's UCDC experience will end in mid-December and he will return to UCR for the first of his final two quarters in January. After graduating he will take the Foreign Service officer exam knowing that his chances for success have been enhanced by his experiences working with the OAS in Latin American and with the UCDC program as a whole.
"It was a great honor to experience the different political climates in Latin America," he said. "I had the chance to meet a lot of people. The level of networking that this program provides you with is enormous. It is up to me to use that networking in order to achieve my future goals."
"The best part of this is the interaction and networking that we have in our hands," he added. "Both our professional and personal lives are changed by DC by exposing us to opportunity, it is up to us whether we leave it or take it."
The University of California, Riverside (www.ucr.edu) is a doctoral research university, a living laboratory for groundbreaking exploration of issues critical to Inland Southern California, the state and communities around the world. Reflecting California's diverse culture, UCR's enrollment has exceeded 21,000 students. The campus opened a medical school in 2013 and has reached the heart of the Coachella Valley by way of the UCR Palm Desert Center. The campus has an annual statewide economic impact of more than $1 billion.
A broadcast studio with fiber cable to the AT&T Hollywood hub is available for live or taped interviews. UCR also has ISDN for radio interviews. To learn more, call (951) UCR-NEWS.