Global Financial Crisis
---
Saudi Monetary Policy-Maker Addresses UCR Students

Muhammad Al-Jasser discusses global financial crisis and changing Saudi economy.

(December 2, 2011)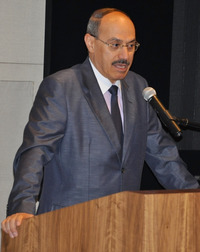 Enlarge
Muhammad Sulaiman Al-Jasser
RIVERSIDE, Calif. – The global economy is likely to remain fragile for some time, but double-dip recession is unlikely, Muhammad Sulaiman Al-Jasser, governor of the Saudi Arabian Monetary Agency, predicted in a lecture at the University of California, Riverside on Dec. 1. The root causes of the global economic crisis – extreme leveraging and regulatory lapses – must be addressed, however, he warned.
In a wide-ranging lecture and conversation with about 60 students and faculty, Al-Jasser – who earned his Ph.D. in economics from UC Riverside in 1986 – said that Saudi Arabia has weathered the global crisis reasonably well, having learned some difficult lessons from its experiences when oil prices plummeted between 1983 and 2002. The kingdom had budget deficits in 19 out of 20 years, and by 1999 the national debt was 100 percent of GDP (gross domestic product).
"The only reason we could sustain our economy then was because we had built up a cushion for a rainy day," he explained. "By 1999 our debt was 100 percent of GDP."
As oil prices rose and the Saudi economy began to recover, the government began replenishing reserves. Today the economy is far more diverse – "We are very aware of the vagaries of the oil market on which we depend" – and the kingdom has invested in education, establishing 10 new universities in the last seven years. All of those universities are aimed at educating young Saudis for jobs in medicine, engineering, computer science, business and information technologies.
"The challenge we face now is in creating jobs," Al-Jasser said of the kingdom whose population has tripled in the last 35 years to 28 million people today. "We have growth in the number of young people looking for jobs. We have invested in education and incentives to encourage use of more local labor than foreign labor."
Two particular challenges, he said, lie in persuading Saudis to fill jobs traditionally viewed as menial and suitable only for foreign workers, such as taxi drivers and construction workers, and in creating more jobs for women. Al-Jasser noted that about half of students attending Saudi universities are women, and more women graduate from high school than men.
"The name of the game is skills that come from education, and experience," he said.
As much of the world worries about whether there will be enough oil in a generation to fuel societies dependent of fossil fuels, Saudis worry whether there will be enough demand, Al-Jasser said. "The world has oil, but it costs so much to produce. Our reserves are increasing because of new discoveries and technologies." New clean-engine and oil-production technologies will assuage global environmental concerns and ensure adequate oil supplies for future generations, he said.
Responding to a question about the Arab Spring movement, Al-Jasser said the movement did not spread in the same way to the Middle East's monarchies because those governments did not "go out of their way to abuse their people."
Governments emerging from the on-going period of protest are reconsidering what their populations require: job opportunities and dignity, he said. "Youth won't take any diminution of their dignity. … All of us in policy positions are paying more attention."
The University of California, Riverside (www.ucr.edu) is a doctoral research university, a living laboratory for groundbreaking exploration of issues critical to Inland Southern California, the state and communities around the world. Reflecting California's diverse culture, UCR's enrollment has exceeded 21,000 students. The campus opened a medical school in 2013 and has reached the heart of the Coachella Valley by way of the UCR Palm Desert Center. The campus has an annual statewide economic impact of more than $1 billion.
A broadcast studio with fiber cable to the AT&T Hollywood hub is available for live or taped interviews. UCR also has ISDN for radio interviews. To learn more, call (951) UCR-NEWS.