Applications Due Dec. 15 for Graduate Library Science Scholarship Program

---
Applications Due Dec. 15 for Graduate Library Science Scholarship Program

Aid program funded by the Institute of Museum and Library Services aims to increase diversity, improve services of Inland area libraries.

(December 5, 2011)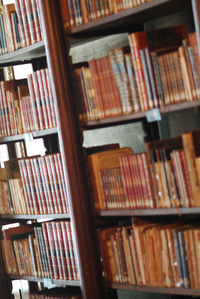 Enlarge
RIVERSIDE, Calif. – Sara Stilley, a library assistant in the UCR Libraries, was well on her way toward completing a Master of Library and Information Science (MLIS) degree when her graduate studies received a welcome financial assist: a scholarship from Inland Empire LEADS, a program aimed at recruiting and educating librarians to advance diversity and service in inland Southern California.
Stilley, who has worked for the UCR Libraries for 10 years, had completed two years of a three-year master's degree program at San Jose State University. The scholarship meant she did not have to apply for a loan to complete her final year. She completed her degree in May 2011.
"The MLIS degree is the only way to transition from para-professional to professional librarian," said Stilley, who is assigned to Special Collections and Archives, where she works with rare books and archives, and does preservation. "No matter how many years and experience, there is a hump you can't get over to advance."
Inland Empire LEADS (Librarians Educated to Advance Diversity and Service) scholarship applications are available for Inland area non-credentialed library staff from 12 partnering and six affiliate institutions, and other regional libraries, as well as graduate students and graduating students from partner, affiliate and regional institutions who are interested in pursuing an MLIS degree.
The deadline to submit application packets is Dec. 15 at 5 p.m. Application packets are available on the Inland Empire LEADS
website
. Another application period will open in late spring 2012.
The UCR Libraries received a $974,259 grant in 2010 from the Institute of Museum and Library Services (IMLS) to recruit and educate librarians to advance diversity and service in the Inland Empire. The Laura Bush 21st Century Librarian Program grant is designed to diversify the library profession and strengthen library services to communities with diverse language, cultural, economic and social needs.
The grant will support up to 25 students; 17 students have participated in the local program so far. Three grant recipients will have completed their MLIS degrees by the end of December.
Grant funds will help eligible non-credentialed library staff and students to realize their educational and career goals, said Patricia Smith-Hunt, head of Preservation Services for UCR Libraries and project director for Inland Empire LEADS.
A pre-grant survey of several libraries in the region indicated that while many library support staff are interested in attaining the MLIS degree they don't have the financial resources to do so, she said. "This IMLS grant is important on several levels including the support of educational opportunities for future librarians, the advancement of diversity within the library profession, and the development and expansion of programming and services to the diverse communities of the Inland Empire," Smith-Hunt said.
All applicants must be either currently enrolled or have been accepted into an American Library Association-accredited master's program in library and information science
and
be employed either full- or part-time at one of the Inland Empire LEADS partner, affiliate or regional libraries,
or
be graduate students or graduating seniors at one of the partner, affiliate or regional institutions.
Partner institutions include UCR; the San Bernardino Valley College Library; San Bernardino Public Library; San Bernardino County Library; Riverside Public Library; Riverside County Law Library; Rancho Cucamonga Public Library; University of Redlands-Armacost Library; San Bernardino County Law Library; Moreno Valley College Library; Moreno Valley Public Library; and UCLA Department of Information Studies.
Six affiliate institutions were added this year: Loma Linda University; Ontario City Library; Banning Library district; Riverside County Library System; Beaumont Library District; and Chaffey College.
Scholarships support tuition costs and the purchase of course materials, internships, mentoring, and opportunities for program participants to attend professional conferences while working toward their MLIS degree. Scholarships will be awarded for full- or part-time study up to one academic year. Students must reapply for scholarships each year.
The Institute of Museum and Library Services is the primary source of federal support for the nation's 123,000 libraries and 17,500 museums. The institute's mission is to create strong libraries and museums that connect people to information and ideas.
For more information contact Patricia Smith-Hunt, head of Preservation Services for UCR Libraries and project director for Inland Empire LEADS, at ieleads@ucr.edu or (951) 827-7702.
RELATED LINKS
ADDITIONAL CONTACTS
The University of California, Riverside (www.ucr.edu) is a doctoral research university, a living laboratory for groundbreaking exploration of issues critical to Inland Southern California, the state and communities around the world. Reflecting California's diverse culture, UCR's enrollment has exceeded 21,000 students. The campus opened a medical school in 2013 and has reached the heart of the Coachella Valley by way of the UCR Palm Desert Center. The campus has an annual statewide economic impact of more than $1 billion.
A broadcast studio with fiber cable to the AT&T Hollywood hub is available for live or taped interviews. UCR also has ISDN for radio interviews. To learn more, call (951) UCR-NEWS.