Eleven UCR Students to Visit Japan's Tohoku University
---
Trip to Japan Adds to Cultural Bridges Between UCR and Tohoku University
Instructor Reiko Sato and 11 student-ambassadors leave December 10 for a 10-day trip earthquake-ravaged Sendai, Japan. Generous scholarships make visit affordable.
(December 8, 2011)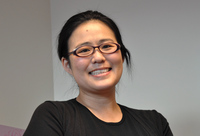 Enlarge
University of California, Riverside lecturer Reiko Sato will escort 11 UCR students on a 10-day trip to Tohoku University in Sendai, Japan. The students leave on December 10, 2011.
RIVERSIDE, Calif. (www.ucr.edu) – Building on a long-time friendship between the cities of Riverside and Sendai, Japan, University of California, Riverside lecturer Reiko Sato will lead a group of 11 UCR undergraduate students on a 10-day trip to Tohoku University as part of an exchange program between the two campuses.
Sato, who teaches Japanese language courses in the Department of Comparative Literature and Foreign Languages, said she hopes the students will have the opportunity to teach the Japanese people about America, as well as to learn about Japanese culture and more about the region that was devastated by a 9.0 earthquake and subsequent tsunami on March 11, 2011.
The trip was made affordable by a pair of $1,000-per-student scholarships from Tohoku University and the UCR International Education Program's (IEP) Seung Family Scholarship Fund.
"The scholarships make it so the trip is almost free for students," Sato said. "Most of them wouldn't have otherwise had the opportunity to go to Japan. It will be nice for these students who are interested in the culture and language to gain some first-person knowledge about the country."
Sato emphasized that the students, all of whom have taken Japanese language classes at UCR, will also be taking classes during their visit to the university.
"They will be taking a course in cross-cultural communications, as well as some economic, business and marketing courses from the host economics department," she said. "There will also be cultural experiences, including visits to a sumo wrestling stable and to city hall. We will also visit an elementary school in Sendai to teach the students some English and make a presentation about America."
Students will also spend two days staying in the homes of local families and will visit shelters that still house victims of the earthquake and tsunami.
For Saudith Sanchez, a fifth-year language major studying French, Russian and Japanese, the trip is an opportunity to benefit the people of both America and Japan.
"I hope to gain a better understanding of Japanese culture and to improve my Japanese language skills," she said. "I also hope to remove possible negative stereotypes of Americans and the U.S. and possibly implant a desire for English language study. I believe the best way to gain an understanding of another culture is through language."
Sato said that more than 40 students applied for the one of the 10 spots in the program. She added that one student, who was not initially selected, wanted to go so much that she planned to pay the cost out of her own pocket. Tohoku University administrators provided her with a $1,000 scholarship, cutting her cost in half.
Riverside and Sendai have been sister cities for more than 50 years, and UC Riverside and Tohoku University have had a strong relationship for several years. Sato has used video conferences between her students and students at Tohoku in her classes for the last several years and said that it has created a bond between the American and Japanese students.
In the weeks after the earthquake and tsunami, Sato and her students helped raise more than $4,700 dollars for relief efforts and created a banner of condolence and remembrance for UCR students to sign. Both were delivered to the Sendai mayor by a delegation of Riverside city officials in June.
In August, when Tohoku economics professor Kazuko Suematsu visited Riverside to talk about the aftermath of the disaster and to thank the campus community for its support, the idea of the exchange program was born. After Tohoku officials offered the scholarship, Bronwyn Jenkins-Deas, director of IEP, was able to match the funds through the Seung Family Scholarship Fund, helping to offset the cost of plane tickets during the high travel season. Sato said she hopes that the trip can become an annual event.
The students will leave on December 10 and return on December 21.
Tohoku University was founded in 1907 and has about 18,000 students. In the earthquake, a total of 526 student residencies were completely or partially destroyed and 28 campus buildings were damaged or destroyed. Despite that, classes resumed in May.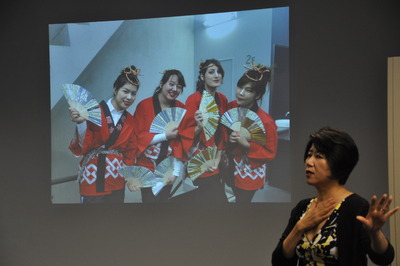 Enlarge
Kazuko Suematsu, an associate professor at Tohoku University, spoke at UC Riverside on Monday, August 15, 2011.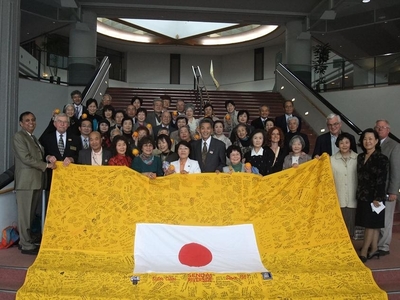 Enlarge
In early May, officials from Riverside delivered a banner signed by hundreds of UC Riverside staff, faculty, students and community members to officials in Sendai.
The University of California, Riverside (www.ucr.edu) is a doctoral research university, a living laboratory for groundbreaking exploration of issues critical to Inland Southern California, the state and communities around the world. Reflecting California's diverse culture, UCR's enrollment has exceeded 21,000 students. The campus opened a medical school in 2013 and has reached the heart of the Coachella Valley by way of the UCR Palm Desert Center. The campus has an annual statewide economic impact of more than $1 billion.
A broadcast studio with fiber cable to the AT&T Hollywood hub is available for live or taped interviews. UCR also has ISDN for radio interviews. To learn more, call (951) UCR-NEWS.