A Window on Health Care Reform
---
A Window on Health Care Reform
UCR and Osher Lifelong Learning Institute debut free lecture/debate series Thursday, Jan. 5 with a view into the debate over health care reform.
(December 19, 2011)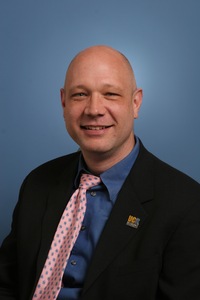 Enlarge
Dr. Paul Lyons, senior associate dean for education, UCR School of Medicine
RIVERSIDE, Calif. (www.ucr.edu) -- Health care issues have dominated national and local news since the federal Patient Protection and Affordable Care Act was signed into law on March 23, 2010, so little wonder it was chosen as the inaugural topic for UC Riverside's new series of free public forums designed to build more interactions between the university and the community while examining the pressing issues of our day.
The forum, "What is the Best Medicine for America?" will kick off the Windows of the World: Lecture/Debate Series 2012 on Thursday, Jan. 5 from 7 to 8:30 p.m. at UCR Extension Center, 1200 University Ave. Each forum will feature a panel of speakers to discuss timely events that are affecting our lives, both globally and locally, said Sandra Richards, director of the Osher Lifelong Learning Institute at UCR Extension, but it will also provide as an open forum for audience feedback.
"We thought, if we were going to be using somewhat provocative topics, we didn't want people to just hear someone lecturing," Richards said. "We wanted them to have an opportunity to ask questions and even make comments."
The forums will cover some thorny issues—future subjects under consideration include stem cell research and the future of humankind, immigration laws and the future of women in politics. But Richards said Osher Institute members and faculty chose healthcare reform for its first topic, because the issue is both concerning and confusing, especially for the Osher's primary clientele—people 50 or older.
"We're hoping for something to bring more clarity to this issue, because the news we get from the media is not always 100 percent correct, or truthful, or giving us what we need to make informed decisions," Richards said. "We need to find clarity: What does it (healthcare reform) mean? Why is it important? How will it change things? What do physicians think about this and how will it affect patients regarding the cost of insurance and whether they have it or don't have it."
The topic is also very important to UCR, which is trying to get the necessary funding to open its School of Medicine. Both university officials and community leaders believe the need is great, since Inland Southern California already faces a serious physician shortage and is expected to expand its population by 46 percent by the year 2020.
Creating a school of medicine in Riverside will draw doctors to the Inland Empire, while encouraging local students to get their medical degrees close to home, and return to work in their Inland Empire communities, supporters say. They also note that UCR has one of the most diverse student populations in the nation, which could help build diversity in the physician workforce.
By choosing healthcare reform, "we can do some outreach to the community on an important topic," said Richards, "but we also want to showcase the school and focus on the leadership of our school of medicine."
The panel for the Jan. 5 forum will include local physicians and patient representatives. The featured speaker will be Dr. Paul Lyons, a family physician and senior associate dean of the UCR School of Medicine.
Lyons is responsible for developing and managing the curriculum leading to a medical degree at UCR. He is formerly a professor and associate chair for clinical education at the Department of Family and Community Medicine at Temple University School of Medicine in Philadelphia, Pa., where he earned the Great Teachers Award, the university's highest teaching recognition, in 2008, and the student-chosen Russell and Pearl Moses Endowed Medical Award for excellence in clinical teaching in 2010.
Lyons and the other speakers will guide the audience through
• The pros and cons of universal healthcare
• A physician's perspective
• A patient's perspective
• A panel discussion and open forum
The Windows on the World forums will be held on select Thursdays from 7 to 8:30 p.m. at UCR Extension's sites in Riverside, Rancho Mirage and Hemet. For more information about upcoming talks, or to reserve a seat, call 951-827-7139 or go to www.extension.ucr.edu and click on the scrolling link near the top of the page when it reads FREE PUBLIC FORUM. Free and secure parking is available in the UCR Extension lots.
RELATED LINKS
ADDITIONAL CONTACTS
The University of California, Riverside (www.ucr.edu) is a doctoral research university, a living laboratory for groundbreaking exploration of issues critical to Inland Southern California, the state and communities around the world. Reflecting California's diverse culture, UCR's enrollment has exceeded 21,000 students. The campus opened a medical school in 2013 and has reached the heart of the Coachella Valley by way of the UCR Palm Desert Center. The campus has an annual statewide economic impact of more than $1 billion.
A broadcast studio with fiber cable to the AT&T Hollywood hub is available for live or taped interviews. UCR also has ISDN for radio interviews. To learn more, call (951) UCR-NEWS.