Documents, Photos of Eliza Tibbets Donated to UC Riverside

---
Documents, Photos of Eliza Tibbets Donated to UC Riverside

Author Patricia Ortlieb gives research materials used to write a book about the woman who introduced navel orange trees to Riverside.

(December 21, 2011)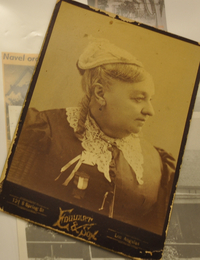 Enlarge
Eliza Tibbets
RIVERSIDE, Calif. – Century-old photographs, original documents and research compiled by San Diego author Patricia Ortlieb for a book about Eliza Tibbets – the woman whose introduction of the navel orange tree to Riverside spawned a thriving citrus industry in the 19th century – have been donated to the University of California, Riverside.
Ortlieb spent 10 years visiting libraries, archives and government offices in Washington, D.C., New York, Massachusetts, Ohio, Virginia and California to discover more about her great-great-grandmother, whose ancestors arrived in the United States on the Mayflower, who marched with Frederick Douglass in 1871 demanding the right to vote, and whose connections with experimental gardens in Cincinnati brought the first navel oranges to Southern California.
"Creating an Orange Utopia: Eliza Lovell Tibbets & the Birth of California's Citrus Industry," published in September by the Swedenborg Foundation, resulted from Ortlieb's desire to know her great-great-grandmother after reading an early 20th century article about her that was most unflattering.
"I needed to find out for myself," she recalled. "I wanted to set the record straight. I did that."
More than 5,000 pages of research material, original documents and family photographs gathered in the process reside now in Special Collections and Archives of the UCR Libraries, where they will be processed and made available to scholars and the general public.
"It is wonderful that this unique archival collection is coming to us," said Ruth M. Jackson, university librarian. "UCR has been a pioneer in citrus research since its inception, initially as an agricultural experiment station in 1907. As UCR has grown and matured over the past 50 years into one of the top-tier public research universities in the U.S., we view this gift as a major contribution to documenting the history of the citrus industry in southern California and the Inland Empire. Additionally, Ms. Ortlieb's gift records the largely unknown historical role that women have played in the development of citrus and agricultural enterprise development within the state."
Ortlieb said she wanted an academic library to have the documents because of the help she received from so many librarians while researching her book.
"I am very pleased that the documents will be in the UCR Library," Ortlieb said. "When my co-author, Peter Economy, and I visited the UC Riverside library we thought it was special and her (Eliza Tibbets) natural home."
Ortlieb's files, color-coded by subject, places and individuals, are so organized that they will require minimal processing, said Melissa Conway, head of Special Collections and Archives.
"There's a lot of material here that is public record, but not something people can readily get on their own," said Eric Milenkiewicz, assistant archivist. "Bringing this together in one place creates a good resource for local historians and students."
Eliza Lovell Tibbets was born into a family that belonged to the Swedenborgian Church, which was based on the writings of Swedish scientist and mystic Emanuel Swedenborg. The church advocated, among other things, the education of women. Ortlieb said her research showed Tibbets to be "charming, a good conversationalist and a pianist." She also was a spiritualist, an abolitionist, and was active in the women's suffrage movement. The city of Riverside erected a statue in her honor on the downtown pedestrian mall earlier this year.
Divorced twice, she and her third husband, merchant Luther Tibbets, moved to the utopian community of Riverside in the 1870s. Only one of her four children, a son, survived to adulthood.
When Tibbets and her husband arrived in Riverside, "She knew the colony needed a source of income because the silk industry had failed," Ortlieb said. "It was really bleak."
Ortlieb found references to Tibbets and the sweet, seedless navel orange trees she obtained from the U.S. Department of Agriculture in the diary of William Saunders, the first botanist and landscape designer employed by the USDA. Saunders was responsible for introducing many fruits and vegetables to the United States.
"We didn't have much variety in food in the U.S. at the time," Ortlieb explained. "This navel orange came from Brazil and kept evolving."
Ortlieb is at work on a children's version of her book, which she expects to finish next year.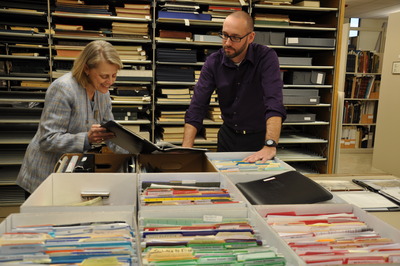 Enlarge
Melissa Conway, head of Special Collections and Archives,and Eric Milenkiewicz, assistant archivist, examine some of the documents Patricia Ortlieb donated.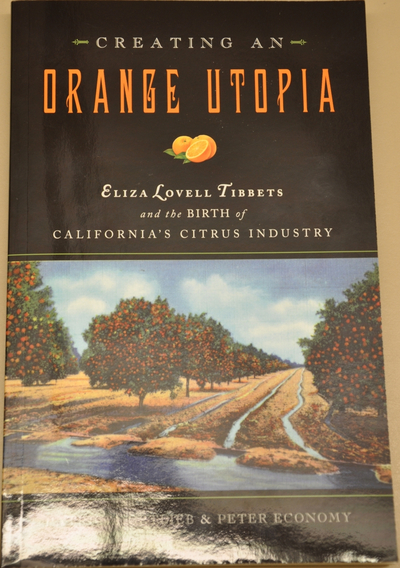 Enlarge
Patricia Ortlieb's book about her great-great-grandmother was published in September.
RELATED LINKS
ADDITIONAL CONTACTS
The University of California, Riverside (www.ucr.edu) is a doctoral research university, a living laboratory for groundbreaking exploration of issues critical to Inland Southern California, the state and communities around the world. Reflecting California's diverse culture, UCR's enrollment has exceeded 21,000 students. The campus opened a medical school in 2013 and has reached the heart of the Coachella Valley by way of the UCR Palm Desert Center. The campus has an annual statewide economic impact of more than $1 billion.
A broadcast studio with fiber cable to the AT&T Hollywood hub is available for live or taped interviews. UCR also has ISDN for radio interviews. To learn more, call (951) UCR-NEWS.