New Food Truck to Add to UC Riverside's Culinary Options
---
New Food Truck to Add to UC Riverside's Culinary Options
Part of a growing trend at colleges and universities across the country, the Culinary Chameleon will make its debut in mid-January
(January 5, 2012)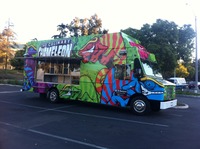 Enlarge
Dining Services expects to see long lines at the Culinary Chameleon food truck when it makes its debut in mid-January.
RIVERSIDE, Calif. (www.ucr.edu) – The Culinary Chameleon is coming to the University of California, Riverside, and the 32-foot food truck will provide the campus with a new gourmet dining option. It will make its debut the week of January 16, 2012.
UCR Executive Director of Dining Services Cheryl Garner said that on-campus food trucks are part of a growing trend across the country. The trucks are valued for their ability to serve a variety of high-traffic areas throughout the day, compared to a regular restaurant.
"A few campuses have launched into this new type food venue," she said, citing the University of Massachusetts, Rhode Island School of Design and Ferrum College as examples. "Food trucks allow us to lower our overall investment and maximize our versatility and location by going where the customer is, when they are there. We hope to service portions of our campus which are currently under-penetrated with restaurants."
While some area schools have contracted with independent food trucks to cater to their campus, UC Riverside is believed to be one of the first Southern California institutions to have its own truck.
"It's a trend that's really taken off in the last year," said Rachel Warner, director of communications and marketing for the National Association of College & University Food Services. "I expect to see it happen more and more as campus dining programs look for new and innovative ways to reach their customers."
The Culinary Chameleon's debut menu will feature some familiar items from the now-defunct Taco Fresco, which closed earlier this year due to construction on the Stat-Comp Building. But the menu will evolve over time based upon customer input.
"How our customers feel about our food is critically important," said David Henry, director of Dining Services. "It will be a challenge to our culinary team to follow the local restaurant and street-food trends, while at the same time creating recipes that are built for high flavor, consistency and, most importantly, speed."
The truck's unique name and branding came from the planned menu versatility.
"Anyone who follows food trucks knows that they are trendy and edgy. We wanted our truck to have an identity that wouldn't change, even when the menu changed," Garner said. "We landed on the chameleon with input from students and staff because a chameleon changes it colors depending on where it lives – much the same as we will change our menu based on seasons, trends, times and customer feedback."
The truck features high-performance, high-productivity commercial kitchen equipment that will permit it to conduct 95-100 transactions an hour, keeping wait times and lines short. Equipment includes a four-basket deep fryer, a four-foot griddle surface, a three-compartment sink, hand sink, three-door full-sized refrigerator, single-door freezer, a cold-prep table and a three-well steam table. Additional features include a public address system, a stereo system, two security cameras on both the inside and the outside, a pair of air conditioning units and 500 watt halogen lighting around the perimeter of the truck. The truck cost about $250,000, a fraction of the estimated $1 to $2.5 million needed to build a typical restaurant.
Even with all the features and conveniences, Henry said that operating the truck will have its challenges.
"Even though it is a full kitchen to a large degree, it's still a truck." Henry said. "The limitations we have are storage and, during peak periods, maybe speed of service. And of course everything has to be sealed and closed down when we move – we don't want things flying around inside."
Like most food trucks, the Culinary Chameleon will have a Facebook page and Twitter account, allowing people to learn about specials, promotions and locations. Customers will be able to pay with credit and debit cards, Bear Bucks and cash.
The Chameleon won't have much in the way of competition from other food trucks, as they are prohibited by ordinances in both the city and county of Riverside except for certain special events. But as a state institution, UC Riverside follows state code guidelines and can have the truck operate anywhere on campus.
"Oversight for the Culinary Chameleon comes from the Environmental Health and Safety Department here on campus," Garner said. "They can allow food trucks to operate here on campus daily even though the city and county have restrictions."
Garner said another reason for purchasing the truck was that it could serve as a mobile kitchen in the event of a campus-wide emergency.
"The truck can run off of a generator and much of the equipment uses propane gas, so we will be able to serve a hot meal or hold product in our freezers during an emergency," she said. "This provides us with a method to service our student population in an emergency where the availability of electricity and hot water are disrupted."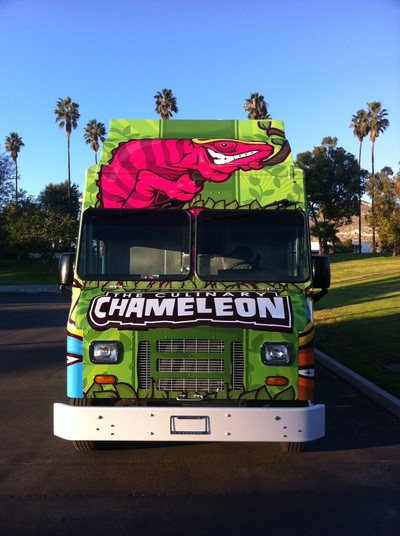 Enlarge
A wild and distinctive look will make the Culinary Chameleon stand out as it travels across campus. The truck will also have a Facebook page and Twitter link to allow fans to keep track of hours and specials.
The University of California, Riverside (www.ucr.edu) is a doctoral research university, a living laboratory for groundbreaking exploration of issues critical to Inland Southern California, the state and communities around the world. Reflecting California's diverse culture, UCR's enrollment has exceeded 21,000 students. The campus opened a medical school in 2013 and has reached the heart of the Coachella Valley by way of the UCR Palm Desert Center. The campus has an annual statewide economic impact of more than $1 billion.
A broadcast studio with fiber cable to the AT&T Hollywood hub is available for live or taped interviews. UCR also has ISDN for radio interviews. To learn more, call (951) UCR-NEWS.