UCR Faculty to Go Back to the Classroom to Improve the Educational Experience
---
UCR Faculty to Go Back to the Classroom to Improve the Educational Experience
"Making the Large Class Small" to kick off Scholarship of Teaching and Learning Colloquium series
(January 20, 2012)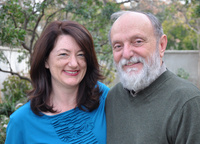 Enlarge
Goldberry Long (left) and Leo Schouest will present "Making the Large Class Small" as part of the Scholarship of Teaching and Learning Colloquium at UC Riverside.
RIVERSIDE, Calif. (www.ucr.edu) - University of California, Riverside faculty members will once again become students through a series of on-campus educational colloquiums designed to improve the undergraduate educational experience.
Presented by the UCR Office of Undergraduate Education, the "Scholarship of Teaching and Learning Colloquium" is a quarterly series that will expose UCR faculty to the best practices in higher education. The series will begin with the program "Making the Large Class Small," presented by Goldberry Long, professor of creative writing, and Leo Schouest of the Instructional Technology Group in the office of Computing and Communications.
Vice Provost of Undergraduate Education Steven Brint said that the subject of teaching effectively in large classes was a perfect topic to kick off the series, as UC Riverside faces increasing class sizes due to growing enrollment and shrinking budgets. Undergraduate classes now range in size from three to 570 students, with 19% of classes containing 50 or more students.
"There has been a great deal of applied research on methods of encouraging student engagement and participation in large lecture courses," Brint said. "The techniques are not difficult to learn, but faculty members need to be willing to be students themselves to learn them."
The colloquium series is intended for UCR faculty members, but interested students and staff are encouraged to attend. The first colloquium will be offered twice, on Tuesday, Jan. 31 and Wednesday, Feb. 1, from 11:30 a.m. to 1 p.m. in HUB 379.
Schouest and Long are an ideal pair to teach the seminar, with each bringing a unique perspective and experience. With over 30 years experience in higher education, Schouest has had a hand in the implementation of a variety of integrated technology classroom resources across the UCR campus and designed the campus' Hyper-Instruction Studio. Long, an assistant professor, is one of the most popular teachers on campus and her Introduction to Creative Writing class regularly has 270 students enrolled, giving her first-hand knowledge in the subject matter.
"The classic teaching model in creative writing is an apprentice to mentor. But my job is really to inform students of writing activities that will make them better writers and to have them use those behaviors to practice elements of craft," Long said. "In this large class it is perfectly reasonable for me to ask them to do that on a nearly daily basis. The logistics are different, but the outcomes are excellent."
Schouest and Long said that the colloquium will try to give each attendee something that they can apply to the unique situation within their classrooms. Scheduled topics include how professors and students see each other in a large classroom, the "ecology" of a large classroom and its effect upon student-learning, and creating community in the large classroom. He added that attendees will "learn by doing" and will have the opportunity to engage in activities and technologies that may be helpful in the classroom.
"We are going to put the people who come to the colloquium in the role of a student," Schouest said "They are going to participate and work with the material, they are going to have to do some collaborative work, they are going to be able to be exposed to dividing up large classrooms into smaller components."
"There is no single model that can be used in every particular class or even used in any single 50-minute period," he added, saying that he recommends instructors use a variety of styles throughout the term. "I recommend that you constantly change the environment, so you are teaching in different ways in that 50-minute period. Sometimes it's me, sometimes it's you, and sometimes it's the group."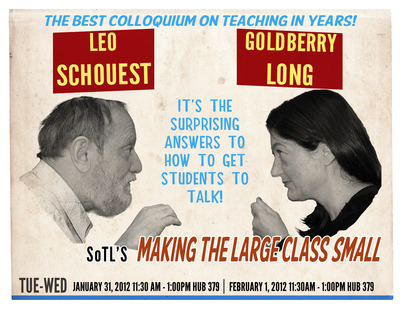 Enlarge
The promotional poster for the colloquium.
RELATED LINKS
ADDITIONAL CONTACTS
The University of California, Riverside (www.ucr.edu) is a doctoral research university, a living laboratory for groundbreaking exploration of issues critical to Inland Southern California, the state and communities around the world. Reflecting California's diverse culture, UCR's enrollment has exceeded 21,000 students. The campus opened a medical school in 2013 and has reached the heart of the Coachella Valley by way of the UCR Palm Desert Center. The campus has an annual statewide economic impact of more than $1 billion.
A broadcast studio with fiber cable to the AT&T Hollywood hub is available for live or taped interviews. UCR also has ISDN for radio interviews. To learn more, call (951) UCR-NEWS.