UCR awarded highest number of 2002 AAAS Fellows in the country
---
UC Riverside leads the country with the highest number of 2002 AAAS Fellows
Thirteen fellows breaks previous record of twelve for the university
(October 25, 2002)
NEWS MEDIA CONTACT
Name:

Iqbal Pittalwala


Tel:

(951) 827-6050


E-mail:

iqbal@ucr.edu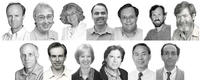 Editor's note: High-resolution pictures of the fellows are available upon request. Please see photo caption and larger photo at the end of this release.
RIVERSIDE, Calif. - For their work of scientific or social distinction, 13 faculty members at University of California, Riverside were named as 2002 Fellows of the American Association for the Advancement of Science (AAAS), the highest number of fellows a single institution has received this year. Thirteen fellows is also the new record for UC Riverside; the university's previous record was 12 AAAS Fellows in 1997.
The AAAS, founded in 1848, is the world's largest, general scientific organization. It represents more than 138,000 members and 272 affiliated societies in the world, and conducts programs in science policy, education and international scientific cooperation. It publishes the prestigious peer-reviewed journal
Science
.
A total of 291 scientists in the world became AAAS Fellows this year. In 2001, UC Riverside employed 593 full-time-equivalent professors. With this year's 13 fellows, a total of 102 UC Riverside faculty are now elected to AAAS fellowship or 17.2% of the faculty.
"I am delighted that UC Riverside professors received such well-deserved international recognition in a respected peer review," said UC Riverside Chancellor France Cordova. "Our goal is to bring together research and teaching excellence for our students and our state."
Richard Luben, UC Riverside's interim vice chancellor for research, said, "We're very pleased that the excellence of UC Riverside's scientists continues to be recognized by their national peers. This is a tremendously strong group of fellows, a group that reflects the strengths of the UC Riverside basic research enterprise."
This is the eighth year in a row that UC Riverside has been in first or second position with the greatest number of new AAAS Fellows. Among the UC campuses, UC Berkeley ranked next this year with six AAAS Fellows.
To be considered for the rank of fellow, the AAAS council votes on a final aggregate list that was reviewed by respective steering groups representing specialty sections.
The 13 new AAAS Fellows at UC Riverside are:
Michael E. Adams
, professor of entomology. Dr. Adams research interests span molecular and cellular physiology of chemical signaling, pharmacology of ion channels, and peptides and behavior.
Citation:
For pioneering contributions to our knowledge of the biological chemistry and actions of ion channel-specific toxins from venoms, and discovery of ecdysis-triggering hormones in insects.
Janet Arey
, professor of atmospheric chemistry. Dr Arey's research includes gas-phase atmospheric chemistry and air pollution.
Citation:
For research identifying the products of atmospheric reactions of volatile organic compounds, and particularly of polycyclic aromatic hydrocarbons.
Mary Ann Baker
, professor of biomedical sciences. Dr. Baker researches neural and hormonal factors controlling body temperature in mammals.
Citation:
For research in the physiology of mammalian thermoregulation and for excellence in teaching.
Laxmi N. Bhuyan
, professor of computer science. Dr. Bhuyan's research addresses computer architecture, interconnection networks, Internet routers, performance evaluation, and parallel and distributed computing.
Citation:
For research in high-performance computer architecture and parallel processing.
Alexander Raikhel
, professor of entomology. Dr. Raikhel's research includes molecular endocrinology, molecular immunology, transcriptional control, biomedical research and molecular biology of insect disease vectors.
Citation:
In recognition of pioneering research that defined the hormonal and molecular genetic pathways for mosquito vitellogenesis and led to generation of the first transgenic mosquitoes refractory to plasmodium transmissions.
Derek A. Roff
, professor of biology. Dr. Roff is an evolutionary population ecologist with wide-ranging interests in population and quantitative genetics, life-history, and the biology and ecology of dispersal and migration.
Citation:
For contributions to evolutionary biology in the area of life history evolution and quantitative genetics, especially with regard to advancing theory by empirical tests.
John T. Rotenberry
, professor of biology. Dr. Rotenberry studies community ecology and conservation biology, particularly how environmental factors interact to determine species diversity and community composition, and how the relative importance of those factors varies.
Citation:
For research on how spatial and temporal patterns of environmental heterogeneity affect the distribution and abundance of birds, and for service in ornithology and conservation.
Michael K. Rust
, professor of entomology. Dr. Rust studies insects and arthropods associated with people in cities. He explores the basic biology of pests that attack stored foods, museum objects, fiber, structures, and pets and to develop integrated pest management strategies.
Citation:
In recognition of seminal contributions to our understanding of the biology and control of major fleas, and for outstanding administrative service.
Prudence Talbot
, professor of cell biology. Dr. Talbot studies reproductive biology using mammalian systems including the hamster, mouse, and human.
Citation:
For research in the field of reproductive biology and the effects of environmental toxicants on reproduction.
S. Nelson Thompson
, professor of entomology. Dr. Thompson specializes in biochemistry and nutrition of parasites and also the interactions of parasites with their hosts.
Citation:
For pioneering research on the nutrition and nutritional biochemistry of parasites and parasite-invertebrate host interactions involving parasitic Hymenoptera, insect parasitic nematods and schistosomes.
Lung-Wen Tsai
, professor of mechanical engineering. Dr. Tsai's research interests include kinematics and dynamics of mechanisms, machine design, design theory and design automation, automotive engineering, robot manipulators, micro-mechanical-systems and other intelligent servomechanisms.
Citation:
For research in mechanisms and machine theory and robotics and automotive engineering and electromechanical systems.
Mark S. Springer
, professor of biology, focuses on molecular evolution and molecular systematics, with an emphasis on the use of molecules to unravel mammalian evolutionary history.
Citation:
For fundamental studies of mammalian evolution, particularly for molecular phylogenetic studies that reveal the major groups of placental mammals and their historical biography.
Kambiz Vafai
, professor of mechanical engineering. Dr Vafai's current research interests include transport through porous media, multiphase transport, natural convection in complex configurations, analysis of porous insulations, heat flux applications, free surface flows, unconventional heat pipes, and power electronics.
Citation:
For pioneering work for phenomenological description, modeling and analysis for single and multiphase transport through porous media and original, in-depth analysis of buoyancy induced flows.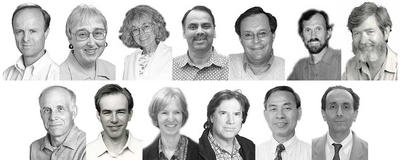 The thirteen 2002 AAAS Fellows at UC Riverside. Top row, L to R: Michael E. Adams, Janet Arey, Mary Ann Baker, Laxmi N. Bhuyan, Alexander Raikhel, Derek A. Roff, John T. Rotenberry. Bottom row, L to R: Michael K. Rust, Mark S. Springer, Prudence Talbot, S. Nelson Thompson, Lung-Wen Tsai, Kambiz Vafai.
The University of California, Riverside (www.ucr.edu) is a doctoral research university, a living laboratory for groundbreaking exploration of issues critical to Inland Southern California, the state and communities around the world. Reflecting California's diverse culture, UCR's enrollment has exceeded 21,000 students. The campus opened a medical school in 2013 and has reached the heart of the Coachella Valley by way of the UCR Palm Desert Center. The campus has an annual statewide economic impact of more than $1 billion.
A broadcast studio with fiber cable to the AT&T Hollywood hub is available for live or taped interviews. UCR also has ISDN for radio interviews. To learn more, call (951) UCR-NEWS.