Congratulations Angels!
---
UC Riverside Proud of World Baseball Champions
Troy Percival and Adam Kennedy are Campus Favorites
(October 25, 2002)
RIVERSIDE, Calif., Oct. 27, 2002 -- Rally monkeys aside, UC Riverside's Braveheart bear is jumping for joy at the World Series victory of the Anaheim Angels over the San Francisco Giants.
Troy Percival, closing pitcher for the Anaheim Angels, played baseball for the Highlanders of UC Riverside from 1987 to 1991, until the Angels drafted him.
In addition to stellar play that has made him an All Star in the American League, Percival remains active as a role model, bringing signed souvenirs to UCR baseball camps and raising money for charitable causes. Along with his wife, Michelle, a former Highlander volleyball player, he established "Percival's Perch," in the left field pavilion of Edison Field, which provides free tickets to charity groups in the Inland Empire.
His mother, Barbara, works as the management services officer in Design and Construction on campus, and she watched this World Series with intense interest. "I was hoping that the home field advantage was not just a saying," she said. "I am very proud of Troy both as an athlete and a person. He has remained a kind and giving individual."
UC Riverside Alumni Tom Kennedy ('72) and Susan Pascoe Kennedy ('69) made their own contribution to the World Series victory. Their son, Adam, is in his second year as an infielder for the Angels. Adam Kennedy recently joined Babe Ruth, Reggie Jackson and George Brett, among others, in hitting three home runs in a postseason game. Tom Kennedy played baseball for the Highlanders and now teaches sociology and history at Riverside's North High School, where he was the long-time baseball coach. Susan Kennedy teaches elementary school. Their younger son plays baseball in the minor leagues.
"This is an outstanding area for baseball,'' said UC Riverside coach Jack Smitheran, who over his 29 seasons has become an expert observer of the local baseball scene. "Look at the college sector, how many kids are from Riverside in programs throughout Southern California -- and the country. They're all over the place.'' He theorized that Riverside's pleasant year-round weather means that local children get lots of sports practice. "Kids get to play 12 months a year out here,'' he said.
A Moreno Valley upbringing seems to have served Percival well. Back when he was first recruited to UC Riverside, he was tall and skinny, a catcher with a miraculous arm. Smitheran recalled one game when a ball got past Percival behind the plate. Percival scrambled back to get it, then threw a bullet about 2 1/2 feet off the ground, from the backstop to second base, nailing a runner who had dared try to advance. Smith said he saw the arm that would later make Percival a major league pitcher. "This has been a heck of a fun series to watch," he said. "I was pulling for the Angels."
(This release benefits from stories in The Press Enterprise and the Los Angeles Times)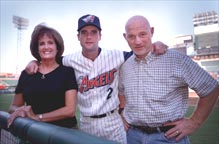 Adam Kennedy with his parents, Susan and Tom.

Troy Percival in his official Angels portrait
The University of California, Riverside (www.ucr.edu) is a doctoral research university, a living laboratory for groundbreaking exploration of issues critical to Inland Southern California, the state and communities around the world. Reflecting California's diverse culture, UCR's enrollment has exceeded 21,000 students. The campus opened a medical school in 2013 and has reached the heart of the Coachella Valley by way of the UCR Palm Desert Center. The campus has an annual statewide economic impact of more than $1 billion.
A broadcast studio with fiber cable to the AT&T Hollywood hub is available for live or taped interviews. UCR also has ISDN for radio interviews. To learn more, call (951) UCR-NEWS.