Federal Grant Expands College Opportunities
---
UC Riverside Receives Federal "Talent Search" Grant to Expand Opportunities
To Attend College for Low-Income Students

U.S. Department of Education Grant Aimed at Students Who Will be First in Family to Attend College
(November 21, 2002)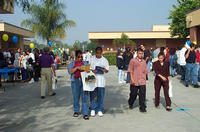 The Federal grant will expand existing programs and create new ones.
RIVERSIDE, Calif. — Nov.21, 2002 — The University of California, Riverside has received a $960,000 grant from the U.S. Department of Education to expand its ability to help low-income students, many who would be the first in their families to attend college.
UC Riverside's Office of Early Academic Outreach Programs (EAOP) will use the five-year, federal Talent Search grant to help disadvantaged students as young as 6th grade who show promise for success in college. The program allows UC Riverside to provide students and their families with college visits, academic, financial and career counseling through high school graduation.
Talent Search also helps high-school dropouts to reenter the educational system. The program's goal is to increase the number of students from disadvantaged backgrounds who complete high school and go on to get a college education.
Talent Search will complement other programs the EAOP office is currently running such as Upward Bound, and the Upward Bound Math/Science Center, which focus on promising high school students.
"The grant will allow us to focus on approximately 600 students, a portion of whom are no longer in school," said Javier Hernandez, director of the UC Riverside EAOP office. The Riverside EAOP office is among the busiest in the University of California system, serving more than 14,000 students in 155 schools, according to the 2002 annual report on early academic outreach from the UC Office of the President.
"At-risk kids, those in adult education or in group homes could be helped under this program, which is designed to get them back into school, get them graduated, and into college, " Hernandez added.
UC Riverside's Talent Search program will include very strong parent education, to help them become their child's advisor and advocate at home on a variety of issues that could affect their chances of attending college, according to Hernandez.
Under the grant, parents will learn which classes their children need to take in order to stay on track to attend college, and how to advocate to get their children into those classes. They will learn the importance of the grade-point average and how to calculate it. And parents will learn what options are available to help finance their children's college educations. Even issues not directly pertaining to college will be explored, Hernandez said, such as parenting skills, detecting signs of drug use, depression or burnout in their children.
Through the Talent Search grant, about $10,000 will be used to develop a digital arts and graphics education component that serves students who have grown up without a computer in the home, Hernandez said.
UC Riverside will work with local community agencies, three area high schools and three middle schools that have a high percentage of economically disadvantaged students. The high schools include: Moreno Valley High School, where 60 percent of students are classified as low income; and Pacific and San Bernardino high schools in San Bernardino, where low-income students account for 76 and 75 percent of their respective enrollments.
The middle schools in the program include Badger Springs in Moreno Valley where low-income students account for 80 percent of pupils; and Curtis and San Bernardino middle schools, with 95 percent and 90 percent low-income student populations respectively.
RELATED LINKS
ADDITIONAL CONTACTS
The University of California, Riverside (www.ucr.edu) is a doctoral research university, a living laboratory for groundbreaking exploration of issues critical to Inland Southern California, the state and communities around the world. Reflecting California's diverse culture, UCR's enrollment has exceeded 21,000 students. The campus opened a medical school in 2013 and has reached the heart of the Coachella Valley by way of the UCR Palm Desert Center. The campus has an annual statewide economic impact of more than $1 billion.
A broadcast studio with fiber cable to the AT&T Hollywood hub is available for live or taped interviews. UCR also has ISDN for radio interviews. To learn more, call (951) UCR-NEWS.