Richard Chabrán Wins National Award
---
University of California, Riverside Director Wins National "Scholar Award"
Richard Chabrán will accept the award in April from the National Association for Chicana and Chicano Studies

(November 25, 2002)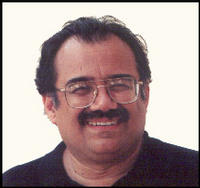 RIVERSIDE, Calif. — (Nov. 25, 2002) Richard Chabrán, who was appointed at UC Riverside to narrow "the digital divide" between those with computer access and those without, has earned a 2003 "Scholar Award" by The National Association for Chicana and Chicano Studies.
Chabrán is director of Communities for Virtual Research at UC Riverside, and founder of the Chicano Periodical Index, now the Chicano Database. He also contributed to the development of the Chicano Studies libraries at UC Berkeley and UCLA. Among his applied research projects is the Community Digital Initiative (CDI), a computer lab in Riverside available to young people who otherwise would have limited access to a computer.
The award goes to two people in the nation this year, both from the UC system. The other winner is Patricia Zavella, a professor at UC Santa Cruz in the department of Latin American and Latino Studies. She is the director of the Chicano/Latino Research Center. Both Chabrán and Zavella will be recognized officially during the annual meeting of NACCS at the Millennium Biltmore Hotel in Los Angeles in April.
Since 1980, the association has given the Scholar Award to recognize lifetime contributions to the field of Chicano and Chicana studies, and to the community in general.
"Richard Chabrán is tremendously deserving of this recognition," said Carlos Vélez-Ibáñez, director of the Ernesto Galarza Applied Research Center and professor of anthropology at UC Riverside. "He is in very prestigious company, like Julian Samora, Ernesto Galarza, Tomás Rivera, Luis Leal, and Renato Rosaldo from Stanford. Richard's work is nationally and internationally recognized and UC Riverside is especially indebted to him for his foresight, creativity, and the singularly important impacts of his work."
Chabran arrived at UC Riverside in 1994. In 1997 he received the UCLA Latino Alumni Association's Padrino Award and was named as one of America's most influential Latinos by Hispanic Business. In 2001, he received the first 21st Century Librarian by Syracuse University's School of Information Studies. In 2002, he was named one of Library Journal's Movers and Shakers. Earlier this year Governor Gray Davis selected CDI for California's Technology and Innovation Award.
For Information on NACCS and the forthcoming meeting please visit http://www.naccs.org.
For Richard Chabran's website, go to http://clnet.ucr.edu/chabran.info.html
BIO
Richard Chabrán
Throughout his career, Chabrán has exemplified the ideal of what it means to be a NACCS Scholar. As a librarian, Richard has been a teacher, a mentor, a scholar, and an activist. Richard has developed Chicana and Chicano studies library tools; he has provided students and researchers with resources to succeed in their universities. He has also published extensively on Chicana and Chicano studies research tools and accessibility and he has been key in making Chicana and Chicano studies accessible to all researchers. He has contributed to the development of two major Chicano collections in the University of California-the Chicano Studies Library at Berkeley and the Chicano Studies Research Library at UCLA. In 1993, Chabrán focused his efforts on developing the Chicano/Latino Net (CLNet), now recognized as a major Latino Internet site.
During his tenure at UC Los Angeles, 1979-1995, Richard established himself as the foremost Chicano librarian, and his work has benefited many of our premiere Chicana/o studyists. His knowledge of materials and library resources proved to be pivotal to their success. Chabrán transferred to UC Riverside to develop the Center for Virtual Research, now called the Communities for Virtual Research. The center investigates the impact of the Digital Divide on low-income communities and tests various interventions to remedy the problems. He directs a hands-on computer lab available to students and their families on the Eastside of Riverside, not far from the UC Riverside campus. Chabrán received a master's degree in library and information studies at
the University of California, Berkeley in 1975. He has taught courses at UC Berkeley, UC Los Angeles, Michigan State University, the University of LaVerne, and at Pitzer College in Claremont. There are few scholars in the field who have not been touched by what Richard has established, and his influence will last. He is the first librarian recognized for this honor.
Award Recipients
1981 Américo Paredes
1982 Julian Samora
1985 Ernesto Galarza
1985 Tomás Rivera
1988 Luis Leal
1989 Rodolfo Acuña
1989 Adaljiza Sosa-Riddell
1990 Juan Gomez Quiñones
1991 Arturo Madrid
1992 Margarita Melville
1996 Yolanda Broyles-Gonzalez
1997 Jorge Huerta
1997 Tey Diana Rebolledo
1998 Renato Rosaldo
1998 Salvador Rodriguez del Pino
1999 Mario Barrera & Carlos Muñoz, Jr.
2000 Elizabeth "Betita" Martinez
2001 Cordelia Candelaria
2001 Cherrie Moraga
2002 Rodolfo Anaya
2002 Dennis Valdes
2003 Richard Chabrán and Patricia Zavella
The University of California, Riverside (www.ucr.edu) is a doctoral research university, a living laboratory for groundbreaking exploration of issues critical to Inland Southern California, the state and communities around the world. Reflecting California's diverse culture, UCR's enrollment has exceeded 21,000 students. The campus opened a medical school in 2013 and has reached the heart of the Coachella Valley by way of the UCR Palm Desert Center. The campus has an annual statewide economic impact of more than $1 billion.
A broadcast studio with fiber cable to the AT&T Hollywood hub is available for live or taped interviews. UCR also has ISDN for radio interviews. To learn more, call (951) UCR-NEWS.