2,000 brown recluse spiders in a home ... and no bites!
---
2,000 brown recluse spiders in a Kansas home and no bites, UC Riverside study notes
Doctors often misdiagnose skin lesions as brown recluse bites
(December 1, 2002)
NEWS MEDIA CONTACT
Name:

Iqbal Pittalwala


Tel:

(951) 827-6050


E-mail:

iqbal@ucr.edu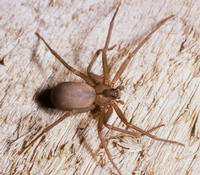 A brown recluse female from Missouri. Photo credit: Rick Vetter, UC Riverside. Another photograph is included at the end of the release.
RIVERSIDE, Calif. -- A UC Riverside study shows that where brown recluse spiders are common, people can co-habitate with them and bites are infrequent. The study by Rick Vetter, staff research associate in the department of entomology at UC Riverside and an internationally known expert on spiders, focused on 2,055 brown recluse spiders collected in a Kansas home of a family of four. Despite the abundance of spiders, no one in the family received bites from the potentially dangerous arachnids.
Throughout the United States, however, physicians routinely make brown recluse bite diagnoses when no brown recluses are known to exist in their states. The results of the study point to the conclusion that doctors are severely overdiagnosing brown recluse bites in non-endemic recluse areas.
"In areas lacking brown recluses, doctors routinely make bite diagnoses," said Vetter. "If brown recluse spiders were truly responsible for these wounds as doctors claim, then, brown recluse spiders should be readily found in these areas."
Vetter and Diane Barger report their findings in a paper published in the November 2002 issue of the Journal of Medical Entomology. Barger collected 2,055 brown recluse spiders from June to November 2001 in her 19th century-built home in Lenexa, Kansas, and shipped them to Vetter for recluse verification.
The paper's findings are important because factions of both the medical community and the general public remain convinced that brown recluses are not only ubiquitous throughout the United States but are also biting people. The actual causes of these wounds may be infections, insect bites, diabetes, or bed sores. Some of the conditions misdiagnosed as brown recluse bites, such as lyme disease, anthrax, and necrotizing bacteria, can be fatal if they are not treated in time.
Overdiagnosis of brown recluse bites is a nationwide problem. In 1990 in South Carolina, 940 physicians reported 478 brown recluse bites. In 2000 in Florida, 95 brown recluse bites were reported from the 21 counties under the jurisdiction of the Tampa Poison Control Center. Yet arachnologists who have worked for years in these regions and have collected thousands of spiders, have never found recluses, and homeowners have yet to submit a local brown recluse to them for verification.
Vetter himself has verified less than 10 brown recluse specimens in California but has been informed of 120 California bite diagnoses in the last three years. "If a family like the Bargers could live in a home with thousands of potentially poisonous spiders and not be bitten," said Vetter, "how many thousands and millions of brown recluses would have to live in South Carolina, Florida and California for bite diagnoses there to be correct?"
Vetter noted that, typically, the finding of one brown recluse in a non-endemic recluse area results in a newspaper story that starts a wave of arachnophobia, spider-stompings and recluse bite diagnoses. "The public reaction to only one spider is far out of proportion to the actual threat the spiders pose," Vetter said. "Until you can reliably find dozens of brown recluses in an area, there is no reason to consider them as being responsible for skin lesions. The medical community is overdiagnosing the affliction. It comes down to the simple premise that in order to have brown recluse spider bites, you must first have lots of brown recluse spiders."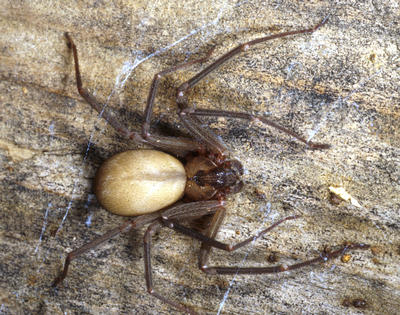 A brown recluse female from Missouri. Photo credit: P. Kirk Visscher, UC Riverside.
The University of California, Riverside (www.ucr.edu) is a doctoral research university, a living laboratory for groundbreaking exploration of issues critical to Inland Southern California, the state and communities around the world. Reflecting California's diverse culture, UCR's enrollment has exceeded 21,000 students. The campus opened a medical school in 2013 and has reached the heart of the Coachella Valley by way of the UCR Palm Desert Center. The campus has an annual statewide economic impact of more than $1 billion.
A broadcast studio with fiber cable to the AT&T Hollywood hub is available for live or taped interviews. UCR also has ISDN for radio interviews. To learn more, call (951) UCR-NEWS.