Digital Posse Develops New Art
---
"Digital Posse" at the University of California, Riverside Means Classes in Computer Games, Music and Animation

UC Riverside Students May Soon Be Able to Major in the "Digital Arts"
(December 11, 2002)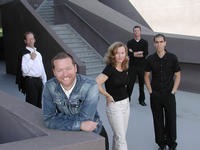 Enlarge
The 'digital posse' near the UC Riveside Arts building. From left to right: Timothy Labor, James Tobias, Renee Coulombe, Derek Burrill, and Amir Zaki. This is a print-quality image that can be downloaded and used, credited to UC Riverside.
RIVERSIDE, Calif. - (Dec. 11, 2002) Computer gaming, animated films, media music and digitized dance are touchstones of popular culture. They are also the newest wave in academic disciplines at research universities such as the University of California, Riverside.
The campus has hired five faculty members - informally dubbed "the digital posse." Together, they will work with computer engineering faculty to develop new undergraduate and graduate programs in the digital arts. The first students may be enrolled by Fall, 2004.
"Digital media affects the way we learn things and the way we know things," said Dean Patricia O'Brien, who leads the College of Humanities, Arts, and Social Sciences, the home of these new faculty members. "It is exciting to be on the ground floor of a movement that will affect every part of the campus. We have faculty in Engineering wanting to work with us and now we have the right people to build a world class program."
This "digital posse" includes:
• Derek Burrill (Dance) connects dance and movement to video game design
• Renee Coulombe, (Music) a composer, improviser and theorist, has been a UC Riverside faculty member for two years.
• Timothy Labor (Music) composes digital music for concert, theater, dance and computer games.
• James Tobias (English) studies the theories of interactive narrative and design in multi-media art, including computer games.
• Amir Zaki (Art) creates digital photography and has been a lecturer on campus for the past three years.
"This puts us on the map now in digital arts," said O'Brien, after meeting with the five faculty members inside the campus' Arts building. O'Brien introduced them to each other and advised them to consider themselves a team, since research funding tends to find projects that cross traditional disciplines and involve more than one researcher.
"We have some major advantages in the UCR/California Museum of Photography downtown and the Culver Center for the Arts now being built," O'Brien said. UCR/CMP used a $45,000 National Endowment for the Arts grant to create a Digital Studio where people can learn how to be digital filmmakers or a Web designers. Funding from the Gluck Foundation has taken that Digital Studio technology to local high schools.
The Culver Center for the Arts will be built, again in downtown Riverside, with digital capabilities embedded in the building, including motion capture technology. The building will be designed specifically with the kinds of dark "cave" spaces required for digital media. Also, each faculty member has an equipment budget to buy the kinds of computers, cameras and recording devices they will need.
Dean Satish Tripathi, from the Bourns College of Engineering, said computer engineering faculty will also be part of the team that creates an undergraduate and graduate program in the digital arts.
Coulombe and Labor are already on a committee to draft a Ph.D. program in digital performing arts for the music department that will be largely performance-based. They said they will also work with the rest of the team to create a new digital arts major for undergraduates that will be a hybrid program for artists and technologists.
"The classical models become new again in a digital way," said Tobias. "The marketplace became the place where people have done their research. Now it is time to bring it back into an academic setting." He said UC Riverside's ethnically diverse student population makes it an especially good place to create the next generation of designers, composers and story-tellers for computer games, television and digital film-making.
"If anyone is going to address the idea of diversity in the digital age, it should be UC Riverside," said Coulombe.
Bios
Derek Burrill, Assistant Professor of Dance
Ph.D., 2001, University of California, Davis
Professor Burrill's expertise and research includes digital media and video games, particularly in relation to theories of the body and masculinity. His dissertation focused on digital culture and how live performance practices, video games, and masculinity coalesce to produce a new technological subjectivity for the 21st century. Secondary areas of research include cinema, televisual studies, and communications theory, as well as informatics and digital media production.
Renee T. Coulombe, Assistant Professor of Music
Ph.D., 2000, University of California, San Diego
www.reneetcoulombe.com
Professor Coulombe is a composer, performer, improviser and scholar whose works range from traditional instrumental compositions (she has a string quartet premiering in February 2003) to large-scale performance art works that incorporate various media and "interactive" digital elements. Her most recent hybrid project, New Media/New Work (which received funding through the University of California Institute for Research in the Arts), featured digital video and music with various cross-media collaborations. Her works have been performed across the United States, in Europe, Asia and Oceania, and broadcast internationally on Concert FM 92.5. She is a professional pianist and co-founder of the Los Angeles-based free improvisation collective, Erroneous Fun, whose genre-bending performances and digital savvy are challenging the dominant industry paradigms for musical production and distribution with web-streamed performances and digitally-documented tours.
Timothy Labor, Assistant Professor of Music
Ph.D., 1995, University of California, San Diego
Professor Labor specializes in music technology, music for media, and theatrical sound design. He has taught at UC San Diego and Chapman College. His research interests include developing surround music sequencing tools, exploring sound in gaming, theatre and film. He is currently interested in musical symbolism, which can be uniquely enhanced through computer audio technologies (such as sound editing, processing, and spatialization). He is also co-authoring a book on sound design aesthetics for film and video. He composed the theme music used for the original version of EverQuest, the most popular multi-player online fantasy game.
James Tobias, Assistant Professor of English
Ph.D., 2001, University of Southern California
Professor Tobias analyzes the audio, visual, and gestural dimensions of time-based media works and puts them in cultural and critical context. His research, conference presentations, work as interaction designer and installation artist, and scholarly publications have emphasized how people construct their own identities in the virtual world, whether public or private. His interactive work has been installed at venues including the Sundance Film Festival and the Fisher Gallery of the University of Southern California.
Amir Zaki, Assistant Professor of Art
MFA, 1999, University of California, Los Angeles
Professor Zaki's work uses photography, video, and digital presentations to create works that are exhibited across the country in major museum permanent collections, including the Orange County Museum of Art, the New York New Museum of Contemporary Art, the Santa Barbara Museum of Art, as well as several corporate collections. In conjunction with two upcoming exhibitions in Los Angeles and Seattle, he is currently publishing a book consisting of images of suburban, domestic structures that, through intensive digital reworking, start to resemble mausoleums rather than people's homes. His specialization also entails expertise in technical aspects of large format drum scanning, digital archival pigment printing, and color management theory.
The University of California, Riverside (www.ucr.edu) is a doctoral research university, a living laboratory for groundbreaking exploration of issues critical to Inland Southern California, the state and communities around the world. Reflecting California's diverse culture, UCR's enrollment has exceeded 21,000 students. The campus opened a medical school in 2013 and has reached the heart of the Coachella Valley by way of the UCR Palm Desert Center. The campus has an annual statewide economic impact of more than $1 billion.
A broadcast studio with fiber cable to the AT&T Hollywood hub is available for live or taped interviews. UCR also has ISDN for radio interviews. To learn more, call (951) UCR-NEWS.