Dual-Language Teacher Training Funded
---
Dual-Language Teacher Training Institute Under Development at UC Riverside
Five-year, $1.5 million Grant Helps Prepare Highly Skilled Teachers to Instruct Students in English and Spanish
(December 16, 2002)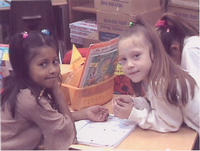 From left, Lincoln Elementary School First Graders Xochilt Zamora and Alejandra Perez study in a two-way immersion program in the San Bernardino City Unified School District
RIVERSIDE, Calif. — Dec. 16, 2002 — The University of California, Riverside is developing a specialized institute for instructional aides, beginning, and veteran teachers that will improve the way they conduct classes in English and Spanish in a process known as dual language or two-way immersion.
The practice, in which classes are held alternately in Spanish and English, holds promise in fulfilling both state and federal goals of improving the educational achievement of English-language learners and in educating students who are fluent in speaking and reading two languages.
The Two-Way Immersion Biliteracy Specialist Institute will help 272 classroom professionals to more effectively teach children in two-way immersion classes in San Bernardino County. A $1.5 million grant through the U.S. Department of Education funds the institute over five years. It will work with educators at eight schools in the Ontario-Montclair and San Bernardino City unified school districts, and at the Victor Elementary School District in Apple Valley. The goal is to expand two-way immersion programs and to double the number of children in San Bernardino County who are in such classrooms. UC Riverside researcher Teresa Márquez-López and Francisca Sánchez, assistant superintendent at the San Bernardino County Superintendent of Schools office will run the institute.
The institute will provide classroom personnel a five-tiered professional development program and assistance amounting to up to 65 percent of tuition costs. "The tiers are designed to help educators at all levels develop the skills that will improve their teaching abilities and help them advance up the professional ladder," according to Márquez-López.
The first-tier helps instructional aides earn their Associate of Arts degree. At the other end of the spectrum, fully credentialed teachers will receive help in obtaining the much sought-after Bilingual Cross-Cultural Language and Academic Development credential.
The project will focus on the early elementary grades, where schools are most affected by students who are learning English. A hallmark of two-way immersion programs is the high level of parental participation. In California, parents of students in such programs have asked for additional program years and participate in school activities more fully because the teachers and school personnel are bilingual.
Two-way immersion has been gaining acceptance over the past 15 years in California and may address one of the more-than 60 recommendations made in the California Master Plan for Education released Dec. 3, which calls for the state's six million public school students to become bilingual. The U.S. Department of Education, as part of the No Child Left Behind Act, is studying approaches to best teach children whose first language is Spanish to read and write in English. As part of this thrust, the federal department is also studying how to develop the teacher skills to effectively instruct such children.
In the two-way immersion approach, the class is divided roughly in half between English and non-English speaking students. Teachers spend half their instructional time in English and half in Spanish, according to Márquez-López. There are 266 such programs in 23 states nationwide. The approach, which began in the 1960s, has recently become a promising alternative to English immersion or to standard bilingual education classes, where non-English speaking students were transitioned to English over time and then enter English-only classrooms. Dual immersion incorporates both languages without sacrificing instructional hours used to teach subjects such as reading, mathematics or social studies. Both English and Spanish are viewed, and used, as an avenue for teaching academic subjects.
"Two-way immersion places both groups of students as learners and teachers alternatively, and helps both groups learn the other's language," Márquez-López said. "This approach helps students meet the state's content standards while valuing the ability to learn in two languages."
RELATED LINKS
ADDITIONAL CONTACTS
The University of California, Riverside (www.ucr.edu) is a doctoral research university, a living laboratory for groundbreaking exploration of issues critical to Inland Southern California, the state and communities around the world. Reflecting California's diverse culture, UCR's enrollment has exceeded 21,000 students. The campus opened a medical school in 2013 and has reached the heart of the Coachella Valley by way of the UCR Palm Desert Center. The campus has an annual statewide economic impact of more than $1 billion.
A broadcast studio with fiber cable to the AT&T Hollywood hub is available for live or taped interviews. UCR also has ISDN for radio interviews. To learn more, call (951) UCR-NEWS.