UC Riverside Hosts Jerry Brown
---
UC Riverside Presents Former Governor Jerry Brown Saturday, Jan. 11
Free Public Forum: Do Our Cities Have a Future?
(January 7, 2003)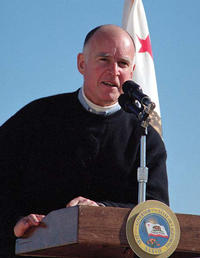 Former California Governor and current Oakland Mayor Jerry Brown will speak at UC Riverside at 10 a.m. Saturday, January 11 in a wide-ranging public forum on the question "Do Our Cities Have a Future?"
Brown's talk in the University Theatre will be followed by a panel discussion with UC Riverside faculty, Georgia Warnke (Philosophy), Max Neiman (Political Science), and Ann Goldberg (History); Riverside County Supervisor Tom Mullen; and members of the audience.
Brown's talk is hosted by Riverside Mayor Ron Loveridge, a faculty member at UC Riverside. It is co-sponsored by United Campus Ministry and several academic departments at UC Riverside, including Religious Studies, Philosophy, Political Science, African Students Programs and Chicano Student Programs.
"We wanted to generate discussion about the plight of our cities in California, given the exponential population growth predicted for the next thirty years," said Terry Mathis, director of United Campus Ministry, an ecumenical/interfaith group that works with other faiths represented on campus.
Mathis said Jerry Brown brings a unique perspective on the just distribution of wealth and how to build a city while still helping the poor and oppressed. "It's a secular concern as well as the concern of many religious groups," he said.
Parking is $5. Signs will be posted directing traffic to Lot 6 and to the University Theatre.
For more information, contact Dr. Terry Mathis at (909)334-1859 (trmath@earthlink.net) or Dr. Rob Garáfalo at (909)233-1513.
Jerry Brown Biography
Edmund G. Brown Jr., known as Jerry, was born in San Francisco on April 7, 1938. He received his B.A. degree in classics from the University of California at Berkeley in 1961, and graduated from Yale Law School in 1964.
In 1969 Brown was elected to the Los Angeles Community College Board of Trustees. In 1970, he was elected California Secretary of State. Four years later, he was elected Governor. He was reelected in 1978.
As governor, Brown presided over a state where 25% of the nation's new jobs were created. He established the first agricultural labor relations law in the country, started the California Conservation Corp (CCC), enacted into permanent law the California Coastal Protection Act, successfully pushed for the country's first building and appliance energy efficiency standards and made California the leader in solar and alternative energy. He appointed an extraordinary number of women and minorities to high government positions, including the first woman, African-American and Latino to the California Supreme Court. Brown also legalized the practice of Acupuncture and strongly supported the rights of chiropractors, osteopaths and lay midwives.
After leaving the Governor's Office, Brown spent six months in Japan and worked briefly with Mother Teresa in India. He practiced law in Los Angeles and in 1989 became chairman of the state Democratic Party.
He resigned that position in 1991, expressing his disgust with the growing influence of money in politics, and sought the 1992 Democratic Presidential nomination. During that campaign he refused to take contributions larger than $100 and used an ''800" number to raise funds.
Brown defeated Bill Clinton in Maine, Colorado, Vermont, Connecticut, Utah and Nevada during the 1992 Presidential primaries and was the only candidate other than Clinton to receive enough voter support to continue until the Democratic National Convention.
Brown was elected Mayor of Oakland, California in June, 1998, gaining 59 percent of the vote. In 2002, he was elected to a second term. His central focus as Mayor has been to revitalize the center of the city in a spirit of "elegant density." He has also opened two new charter schools, one involving the performing arts and the other, a military academy.
Information from: http://www.oaklandnet.com/government/mayor/biography.html
RELATED LINKS
ADDITIONAL CONTACTS
The University of California, Riverside (www.ucr.edu) is a doctoral research university, a living laboratory for groundbreaking exploration of issues critical to Inland Southern California, the state and communities around the world. Reflecting California's diverse culture, UCR's enrollment has exceeded 21,000 students. The campus opened a medical school in 2013 and has reached the heart of the Coachella Valley by way of the UCR Palm Desert Center. The campus has an annual statewide economic impact of more than $1 billion.
A broadcast studio with fiber cable to the AT&T Hollywood hub is available for live or taped interviews. UCR also has ISDN for radio interviews. To learn more, call (951) UCR-NEWS.