W. M. Keck Foundation awards UCR grant of $1.25 million
---
UC Riverside receives $1.25 million from W. M. Keck Foundation
Award to UCR Genomics Institute will fund proteomics instrumentation for studies to enhance the world's food supply
(January 27, 2003)
NEWS MEDIA CONTACT
Name:

Iqbal Pittalwala


Tel:

(951) 827-6050


E-mail:

iqbal@ucr.edu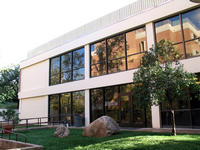 The Core Instrumentation Facility, UCR Genomics Institute, where the new proteomics instruments will be housed. Photo credit: Kathy Barton.
RIVERSIDE, Calif. - Jan. 27, 2003 - The W. M. Keck Foundation has awarded UC Riverside a grant in the amount of $1.25 million for the establishment of the W. M. Keck Proteomics Laboratory within the Center for Plant Cell Biology (CEPCEB) in the Genomics Institute. The award will allow the institute to purchase proteomics instruments to study functional genetics in key plants, insects, and pathogens that are important for protecting the world's food supply.
Proteomics, or the analysis of the total protein complement possessed by an organism, includes the identification, sequencing and structural characterization of proteins, the determination of their localization, modifications, interactions, activities, and their function.
The W. M. Keck Foundation is one of the nation's largest philanthropic organizations. Established in 1954 by the late William Myron Keck, founder of The Superior Oil Company, the foundation's grantmaking is focused primarily on the areas of medical research, science, and engineering. Eligible institutions in the fields of science, engineering, medical research, and liberal arts are accredited universities, colleges, medical schools, and major, independent medical research institutions.
"We are grateful to the W. M. Keck Foundation for its financial assistance to the Genomics Institute and its Center for Plant Cell Biology," said UC Riverside Chancellor France Córdova. "Thanks to the grant, faculty and students associated with UCR's Genomics Institute will be able to establish a proteomics laboratory to produce knowledge on plants, insects, and pathogens that is essential to enhancing the world's food supply."
"The award is an important validation of our activities at the Genomics Institute," said Michael Clegg, director of the Genomics Institute and Distinguished Professor of Genetics at UC Riverside, "especially because it comes at a time when many philanthropic foundations have had to scale back activities. The W. M. Keck Foundation award is a strong statement about the foundation's confidence in UC Riverside."
Scientific innovation in biotechnology holds great promise for meeting the food needs of a growing world population and for protecting human health through novel strategies to improve the nutritional qualities of plant crops and prevent the transmission of insect-vectored diseases.
UC Riverside, recognized as a world leader in teaching and research related to basic plant biology and pest-plant and pathogen-plant interactions, is uniquely positioned to conduct innovative and groundbreaking scientific research in genomics and proteomics that will help farmers combat pests and pathogens and increase production without damaging the environment.
The establishment of a proteomics laboratory facility in the UCR Genomics Institute will directly enable UCR researchers to meet their research goals by providing key equipment required to undertake proteomics research on plants, their pathogens, and their insect pests.
"For example, at CEPCEB, we will be using the new proteomics technologies to study how plant cells function and how plants function as a whole," said Natasha Raikhel, director of CEPCEB and Distinguished Professor of Plant Cell Biology at UC Riverside. Like Clegg, Raikhel will serve as a principal investigator for the project. "The award will help us create a sophisticated infrastructure housing proteomics technology within the Genomics Institute and CEPCEB Core Instrumentation facility.
"At CEPCEB we are building an interdisciplinary infrastructure that is required for frontier research in the field of plant cell biology and for training students and scientists who are most capable of postgenomic biological research and education. Proteomics addresses qualitative and quantitative changes in the entire protein complement in response to alterations in the environment and is an integral part of the CEPCEB infrastructure."
The science of genomics depends on capital-intensive instrumentation, explained Clegg. "In the past, the campus provided resources to the Genomics Institute," he said, "but what was missing from this investment was instrumentation for protein characterization. The W. M. Keck Foundation award will complete this for us, and our understanding of the relationship between protein structures and cellular function will be enhanced and accelerated."
Some of the instruments that the Genomics Institute will purchase are mass spectrometers for protein characterization and an automated protein sequencer. The equipment will be purchased during a 19-month budget period and is expected to greatly facilitate agricultural and medically-oriented research at UC Riverside.
"We will now perform many procedures here on campus," said Brian Federici, professor of entomology and one of the three principal investigators for the project, "rather than farm them out to industry or technical units at other universities. The instruments will help synergize our efforts, speeding up research and lowering costs. They will make it easier to identify proteins and their encoding genes and to study how these proteins interact with one another so that we can improve our understanding of how cells function. More knowledge about the latter enables us to design ways to find cures for diseases, make plants more nutritious, and control insect pests using environmentally safe methods."
The UCR Genomics Institute, established in summer 2000, developed a Core Instrumentation Facility in July 2001 to provide UCR scientists and students the tools of functional genomics, proteomics, microscopy and bioinformatics. These tools will enable the scientists and students to develop the new knowledge needed to control pests and pathogens, solve complex problems in plant biology, increase food production efficiency and analyze genes and proteins of plants, their pathogens and pests, as well as the relevant genes from phytophagous insects. The ultimate aim of such research is to develop new strains of crops that will be the basis of sustainable agriculture and food production over the next 50 years. Researchers at the Genomics Institute use the latest genomic, proteomic and bioinformatic techniques to also address questions in mammalian molecular cell biology and human health.
The Center for Plant Cell Biology, or CEPCEB, was established in early 2002 and attempts to answer significant outstanding questions in plant biology by integrating genomic, bioinformatic, cellular, molecular, biochemical, and genetic approaches. The mission of the center is to incorporate scientists from diverse disciplines in a team approach toward determining the function of proteins within living plant cells in the context of whole plants. The center addresses a broad spectrum of research topics, including cell architecture, intracellular protein transport, cell-cell communication, signal transduction, cytoskeleton, cell cycle control, mechanisms of gene regulation, responses to environmental changes, and mechanisms of plant-pathogen interactions.
UC Riverside traces its roots to 1907 and the opening of the Citrus Experiment Station at Riverside as a branch of the Statewide Agricultural Experiment Station of the University of California. The College of Natural and Agricultural Sciences (CNAS; www.cnas.ucr.edu) integrates the agricultural, biological and physical sciences under one umbrella to create an atmosphere favorable for multidisciplinary research. Plant disease such as Pierce's Disease, which threatens California's grapevines, and exotic insects such as the olive fruit fly, one of the most damaging pests of the olive in southern Europe, North Africa and the Middle East, are among the subjects of today's intensive research efforts in CNAS. The college has 215 faculty members in 13 academic departments and conducts research that explores the fundamental principles underlying biological activity, the nature of the physical universe, and mathematical and statistical operations.
RELATED LINKS
ADDITIONAL CONTACTS
The University of California, Riverside (www.ucr.edu) is a doctoral research university, a living laboratory for groundbreaking exploration of issues critical to Inland Southern California, the state and communities around the world. Reflecting California's diverse culture, UCR's enrollment has exceeded 21,000 students. The campus opened a medical school in 2013 and has reached the heart of the Coachella Valley by way of the UCR Palm Desert Center. The campus has an annual statewide economic impact of more than $1 billion.
A broadcast studio with fiber cable to the AT&T Hollywood hub is available for live or taped interviews. UCR also has ISDN for radio interviews. To learn more, call (951) UCR-NEWS.