Pinyung Feng's research group synthesizes new porous materials
---
UC Riverside scientists synthesize new porous materials
New materials will have applications in electronic and optoelectronic devices, electrocatalysis, electroanalysis and sensors
(February 7, 2003)
NEWS MEDIA CONTACT
Name:

Iqbal Pittalwala


Tel:

(951) 827-6050


E-mail:

iqbal@ucr.edu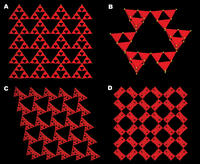 Enlarge
Four different topological types, named UCR-20, UCR-21, UCR-22 and UCR-23, that the new zeolite analog materials possess. Each topological type can be made in a variety of chemical compositions. (A) The 3-dimensional sodalite-based framework in UCR-20. (B) Supertetrahedral clusters are joined into a 6-membered ring in UCR-21 with a cubic ZnS (zinc sulfide) type framework. (C) The 3-dimensional framework of UCR-22 with the cubic ZnS type framework decorated with the core-less supertetrahedral cluster. (D) The 3-dimensional framework of UCR-23 showing channels with the pore size consisting of 16 tetrahedral atoms.
RIVERSIDE, Calif. - Scientists at the University of California, Riverside have synthesized a large family of semiconducting porous materials that have an unprecedented and diverse chemical composition.
The new materials show several different properties such as photoluminescence, ion exchange, and gas sorption. They also have a large surface area and uniform pore sizes. In addition, they have a pore size larger than zeolites. The synthetic approach has the potential to generate new materials with even larger pore sizes, the scientists report in
Science
.
"This research represents a major advance in the development of crystalline porous materials," said Pinyung Feng, assistant professor of chemistry and one of the co-authors of the paper. "Porous materials have widespread commercial applications."
Currently, the most important porous materials are zeolites. Zeolites are currently used as adsorbents for non-cryogenic air separation and as solid acid catalyst to crack down large hydrocarbon molecules to make small hydrocarbon molecules such as gasoline and other petrochemical products. Porous materials are also called molecular sieves because their unique pore size allows the distinction of molecules based on their size and shape.
"Properties of porous materials are intimately related to their framework topological features and chemical compositions," explained Feng. "Therefore, the development of porous materials with new compositions and topologies can lead to new applications or much improved current applications."
Today's porous materials such as zeolites have various limitations. Their pore size is less than 1nm and, therefore, they have little utility in reactions involving large molecules such as pharmaceutical molecules. In addition, because zeolites are made from aluminum, silicon, and oxygen, they are insulators. Therefore, they have little use in applications that utilize electronic, optical, or electrooptical properties.
The new materials reported in Science are a new class of porous materials and are made of a divalent anion (sulfur or selenium), a trivalent cation (gallium or indium), and a tetravalent cation (germanium or tin). Like traditional porous materials, e.g., zeolites, they may find applications in areas such as catalysis and separation. More important, because they combine zeolite-type porosity with semiconductivity, they may have unique applications that are not possible with other materials.
The combination of porosity with semiconductivity in the new materials opens up more applications such as electronic and optoelectronic devices, electrocatalysis, electroanalysis and sensors. These materials may be used as high surface area electrodes for electrochemical cells to molecular scale composite materials for microelectronics and sensor technologies.
"More research is needed to realize the application potential of these materials," said Feng. "Zeolites have a direct impact in many aspects of people's lives - gasoline production, smog reduction, water softening, cleanup of radioactive wastes, and so on. The materials we have developed are designed to improve and extend the applications of zeolites and, as such, the potential for direct impact on people's life is significant."
Some examples of possible applications of the new porous materials are:
Electrochemical sensors
The new materials can be used as electrodes in electrochemical sensors. Because of the uniform pore size, the new materials can selectively adsorb pollutants in air or water such as toxic organic molecules and allow these pollutants to be detected selectively based on their size and shape.
Photocatalysts
The new materials can absorb visible lights and serve as photocatalysts. Photocatalysts such as anatase have been used in applications such as water and air purification because they promote photochemical reactions that destroy pollutants.
Solid electrolytes for batteries
Open channels in these new porous materials allow easy ion movement. Therefore, these materials may be used as solid electrolytes in batteries.
Adsorbents for gas separation
Gas separation is a large-scale industrial processes. For example, the manufacture of oxygen is dependent on the separation of air. Porous materials such as zeolite X have been used for this process for many years. The new porous materials developed by UC Riverside researchers possess some structural features that are superior than zeolite X. Further studies are still necessary to determine their efficiency for gas separation.
RELATED LINKS
ADDITIONAL CONTACTS
The University of California, Riverside (www.ucr.edu) is a doctoral research university, a living laboratory for groundbreaking exploration of issues critical to Inland Southern California, the state and communities around the world. Reflecting California's diverse culture, UCR's enrollment has exceeded 21,000 students. The campus opened a medical school in 2013 and has reached the heart of the Coachella Valley by way of the UCR Palm Desert Center. The campus has an annual statewide economic impact of more than $1 billion.
A broadcast studio with fiber cable to the AT&T Hollywood hub is available for live or taped interviews. UCR also has ISDN for radio interviews. To learn more, call (951) UCR-NEWS.