Frankenberger team isolates microorganisms that break down a toxic pesticide
---
UC Riverside scientists isolate microorganisms that break down a toxic pesticide
Research is key step in detoxifying endosulfan toward improving soil and water quality
(February 27, 2003)
NEWS MEDIA CONTACT
Name:

Iqbal Pittalwala


Tel:

(951) 827-6050


E-mail:

iqbal@ucr.edu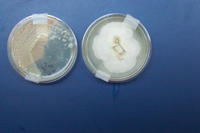 Enlarge
Isolated purified bacterial (left) and fungal (right) strains decomposing endosulfan. (Photo credit: Judy Chappell.)
RIVERSIDE, Calif. -- Scientists at the University of California, Riverside report in the
Journal of Environmental Quality
(JEQ) that they have isolated microorganisms capable of degrading endosulfan, a chlorinated insecticide widely used all over the world and which is currently registered to control insects and mites on 60 U.S. crops. JEQ, established in 1972, is published jointly by the American Society of Agronomy, Crop Science Society of America, and the Soil Science Society of America.
Bioremediation of contaminated sites and water bodies by using these microbial strains will provide an environment free of endosulfan toxicity, the researchers argue in their paper. The research stands to benefit the agrochemical industry and environmental agencies involved in remediation of soil and water contaminated with organochlorine pesticides. Currently, bioremediation is considered the most cost-effective technology to remediate contaminants, including pesticides. The usefulness of the new technology may be best measured economically in soil and water quality impacted by pesticide spillage, overdosing, and cleanup of agrochemical equipment.
Many health hazards are associated with endosulfan. Endosulfan is a persistent organic pollutant or "POP" that enters the air, water, and soil during its use and manufacture. Owing to the persistence in the environment, residues of endosulfan can enter the food chain and directly affect public health. Endosulfan's residues have also been found in sediments and in surface and ground waters. Endosulfan affects the central nervous system, kidney, liver, blood chemistry and parathyroid gland and has reproductive, teratogenic (causing birth defects) and mutagenic (causing genes to mutate more frequently) effects.
"We have been successful in isolating strains that can use endosulfan as a carbon and energy source," said William Frankenberger, director of the UCR Center for Technology Development and professor of soil science and soil microbiologist at UC Riverside. "Pollutants are rapidly degraded by microorganisms when used as a carbon and energy source. Out of 10 microorganisms isolated and screened for their degradative capabilities towards endosulfan degradation, the strains we isolated -
Fusarium ventricosum and Pandoraea sp.
- degraded about 90% and 83% of 100 ppm endosulfan, respectively, in 15 days using the pesticide as a carbon and energy source. Other bacterial strains that we isolated using endosulfan as a sulfur source could degrade about 70% endosulfan."
Total average annual use of endosulfan is estimated at approximately 1.38 million pounds of active ingredient. Classified as an organochlorine (the same family of pesticide as DDT and dieldrin), endosulfan and its breakdown products are persistent in the environment with an estimated half-life of 9 months to 6 years. It is one of the most commonly detected pesticides in U.S. water (38 states).
"In isolating these microbial strains, various environmental samples were collected from different sites," said Frankenberger, who is one of the co-authors of the JEQ paper. "Enrichment techniques were used to isolate microbial strains which were capable of degrading endosulfan. The isolated microorganisms were intensively screened for their degradative capabilities towards endosulfan degradation, purified and identified by molecular tools."
The results of the study suggest that these strains are a valuable source of endosulfan-degrading enzymes and may be used for the detoxification of endosulfan in contaminated soils, wastedumps and water bodies, as well as agricultural dealership sites, waste water from recycling plants and unused or expired stockpiles of endosulfan.
This research was conducted in the Department of Environmental Sciences at UC Riverside during 2001-2002. The department offers B.S. and B.A. degrees in Environmental Sciences, and M.S. and Ph.D. degrees in Soil and Water Sciences. The department is part of the College of Natural and Agricultural Sciences. The forerunner of the department was an agricultural chemistry research unit in the world-renowned California Citrus Research Center and Agricultural Experiment Station established in Riverside in 1907.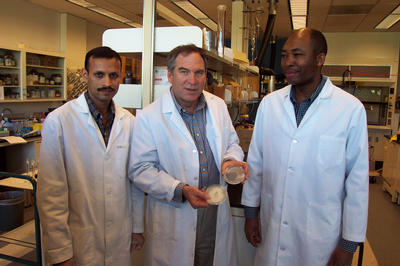 Enlarge
UC Riverside researchers Tariq Siddique, William Frankenberger and Ben Okeke with samples of isolated purified bacterial and fungal strains that decompose endosulfan. (Photo credit: Judy Chappell.)
RELATED LINKS
ADDITIONAL CONTACTS
The University of California, Riverside (www.ucr.edu) is a doctoral research university, a living laboratory for groundbreaking exploration of issues critical to Inland Southern California, the state and communities around the world. Reflecting California's diverse culture, UCR's enrollment has exceeded 21,000 students. The campus opened a medical school in 2013 and has reached the heart of the Coachella Valley by way of the UCR Palm Desert Center. The campus has an annual statewide economic impact of more than $1 billion.
A broadcast studio with fiber cable to the AT&T Hollywood hub is available for live or taped interviews. UCR also has ISDN for radio interviews. To learn more, call (951) UCR-NEWS.